Writer: Tom King / Artist: Clay Mann / DC Comics
I'm Just Warming Up
We expect our heroes to be above it all, both in the literal and figurative sense. In the DC canon, we expect Superman to be patrolling the skies as the Watchtower orbits the earth. We expect our heroes to be stalwart, unwavering, and unshakeable. Even with all their power, however, these characters are still ostensibly human. They are capable of being hurt, and hurting. That is to say, they can be traumatized. They can have histories of domestic abuse, substance abuse, anxiety, or PTSD. Tom King posits two simple question:
1) Where do those heroes go?
2) What happens when all those heroes are in one place?
Heroes in Crisis is the latest crossover event, although it's certainly a very different beast than Final Crisis or Infinite Crisis. This is not a story with 'a vast multiversal reach that will forever rewrite the histories of the DC pages'. It is a self-contained story about a small group of heroes in the Midwest, and how our perceptions of hero work will be changed forever. It's a much simpler premise that cuts significantly deeper due to the content.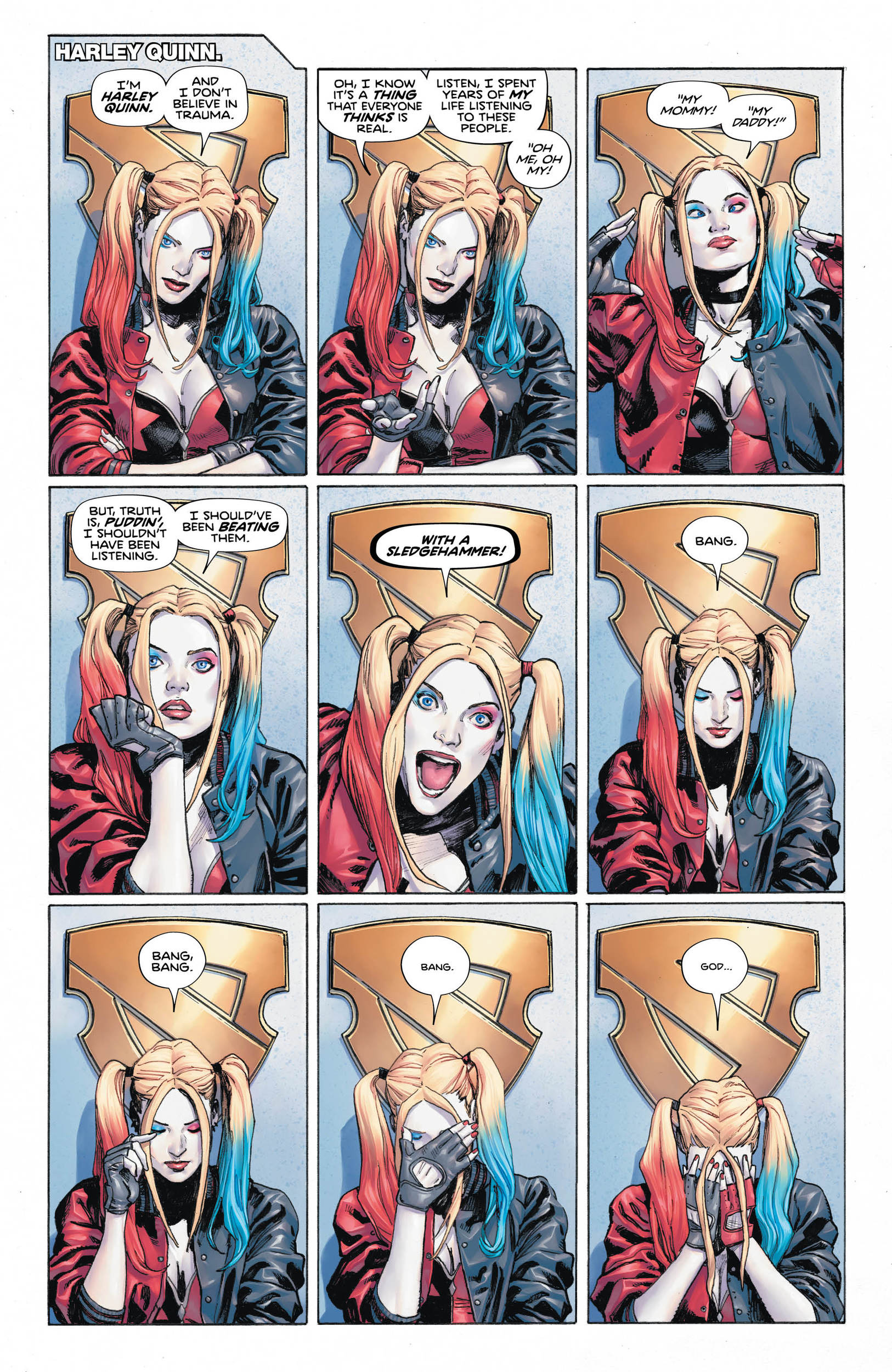 Bits and pieces of the story have been scattered throughout the universe. You may have seen references to the enigmatic Sanctuary in Batman, Green Arrow, Red Hood and the Outlaws, or even in Mister Miracle. There are probably a dozen more nods to the pending events in other comics, but the set up is as follows: for heroes that need help, there is a place called Sanctuary where they can get that help. Heroes in Crisis is centered around Sanctuary and a horrible incident that occurs there.
Heroes in Crisis #1 specifically deals with the two prime suspects of the incident, fan favorites Harley Quinn and Booster Gold. While they linger in a diner somewhere in the Midwest, the Trinity conducts an investigation. Interwoven throughout are brief interviews with the different members of Sanctuary. My God, does King continue to deliver on emotional wrenching content that challenges the reader on their perception of heroes. This is no surprise given his resume, but reading Heroes in Crisis is a slow burn of a story. Every page digs at you just a little bit deeper as the small quirks in the dialog begin to chip away at your soul.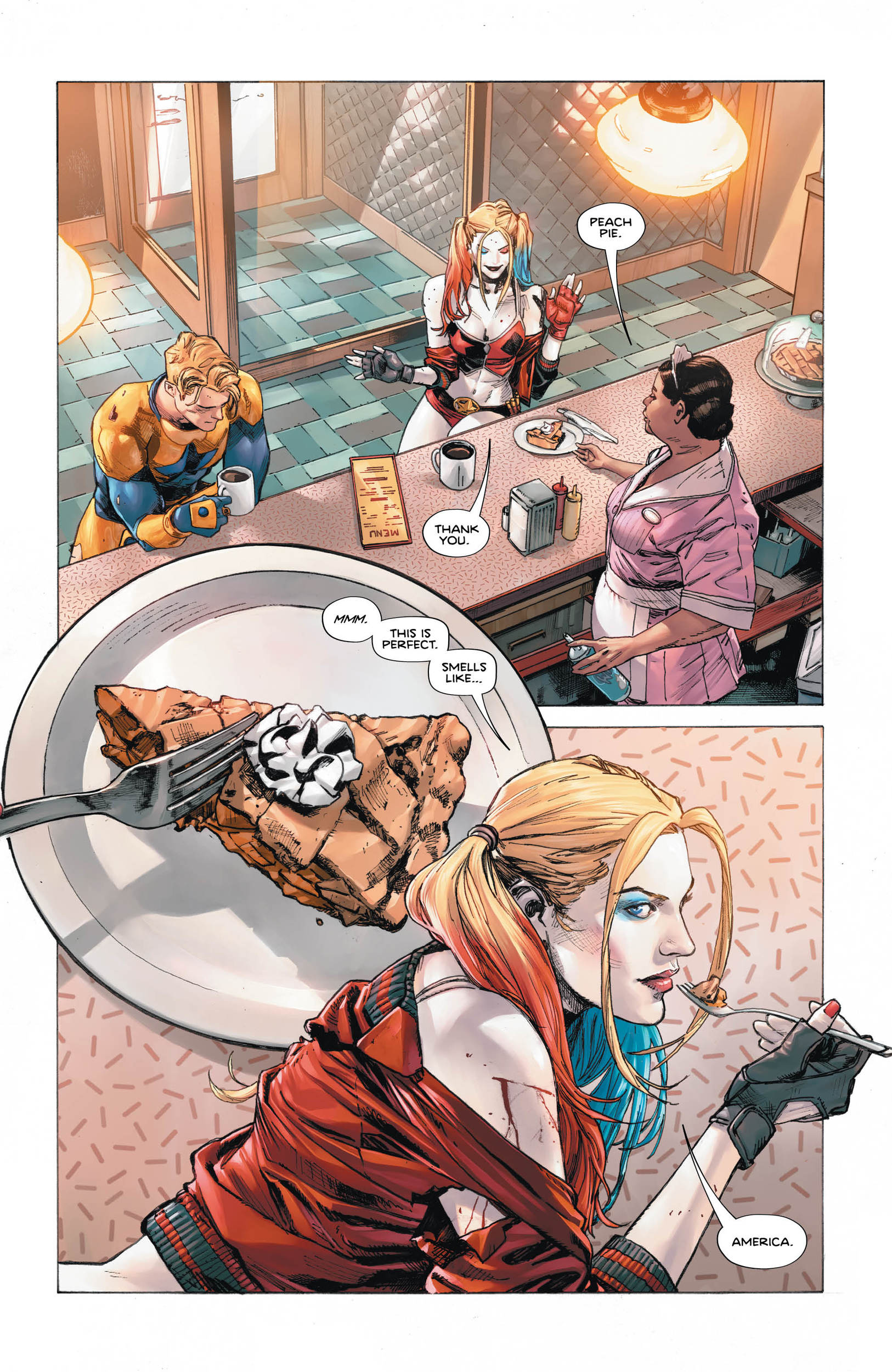 Mann's artwork bolsters the impact of each moment. The nine panel interviews are a masterclass in microexpressions. The central story lines capture the gothic majesty of the Midwest: whether it's the classic American dinner, or a farm in the goddamn middle of nowhere. The gravity of each moments weighs you down enough to crush you just a little.
This is going to be a difficult series to read. It's delved into some pretty dark subject matter already, and future installments will continue even deeper in this 9-issue run. At its core King asks us to remember that our heroes are still human, that we are still human. That we're all just trying to get better, and that it's okay to ask for help. I have no idea what's going to happen next, but I can't wait to see the story unfold.
9.4 "… is Confirmed" out of 10
Want to get Black Nerd Problems updates sent directly to you? Sign up here!
Are you following Black Nerd Problems on Twitter, Facebook, Tumblr or Google+?