I'm a day one Spider-Man fan, and the great thing about being a Spider-man fan is having a great legacy of games to act out your every fantasy of being the famed wall-crawler. You know, when it comes to adapting popular properties, it's pretty tricky. Especially in gaming, you end up with a lot of shameless cash-ins that are terrible. However, what makes a large portion of Spider-Man games so good is the love that developers have for the character.
A new Spider-Man game is on the horizon and it seems to share the same sentiments. I couldn't be more excited. There is a lot to love and the past week threw a lot of new information our way. So, let's look at why games featuring the webhead are so great and why nobody can stop me from getting hyped about Marvel's Spider-Man when it hits the PS4 this fall.
A Legacy of Swinging in this Streets
Spider-Man is Marvel's most popular character. It's no surprise to see that over the course of gaming our boy spidey has a long history dating all the way back to the Atari 2600. Now, I could list every Spider-Man game under the sun but that's boring. Instead, I'll point out why the Spider-Man games work so well.
It all comes down to two things – Spider-Man and NYC. These are the crucial elements that developers always focus on nailing down because they are so important to the Spider-Man mythos. Peter Parker is the down on his luck New Yorker that's just trying to live up to his promise and do good – pretty relatable. All of the powers of Spidey – including the web-slinging, acrobatics, and crawling on walls – are key to his appeal as well. When done right, it's a spectacular feeling for players to experience the freedom of flying through the air and making New York your playground.
Spider-Man 2 changed the game because it took the series open world first and showed everyone the missing ingredients to the perfect Spider-Man game. It eliminated everything that restricted players from using Spider-Man's powers to the fullest and most of all, it made the city of New York feel alive. Almost every game based on the Webhead has taken inspiration from this game in one way or another.
One of my favorite Spider-Man game is Ultimate Spider-Man, which I personally believe is criminally underrated. Yes, I said Ultimate Spider-Man and not Spider-Man 2. While I love Spider-Man 2 for giving us the open world gameplay we deserve, it was Ultimate Spider-Man that perfected it and allowed us to play in the world of Brian Micheal Bendis' updated reimagining of the character.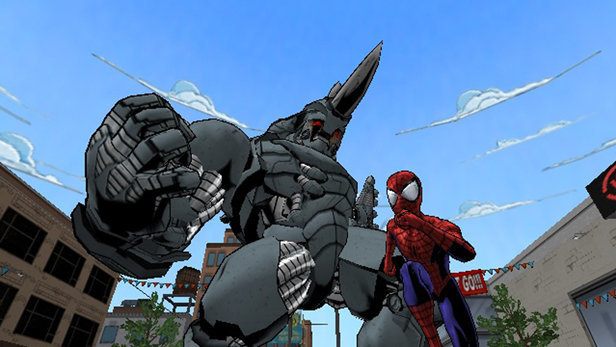 From its fresh new story taking place in the world of the Ultimate Universe to the voice cast and gameplay, the Ultimate Spider-Man game was the comic book come to life. Not only that, we got the ability to play a separate story as Venom in all his destructiveness. Add in a Spidey that knows how to quip with the best of them, amazing boss battles featuring Wolverine, the Ultimate Green Goblin, and more and this was a game truly made for fans.
Throughout the years more Spider-Man games have come into existence aside from these two classics. With some, there is a lot to love and others leave more to be desired. The newest entry into the legacy seems to be the former and there are plenty of reasons why.
The New Hotness
Spider-Man's great legacy in gaming only continues as Marvel's Spider-Man hits the PS4. This time around Insomniac Games takes the reigns and if that's not enough to excite you then shame on you. Insomniac is responsible for great games like Spyro the Dragon, Resistance, Ratchet and Clank, and most recently, the overlooked Sunset Overdrive. That last game is important because while not perfect Sunset Overdrive was a fun game with a great open world feel. The team at Insomniac is known for making quality titles, and having their talents on a Spider-Man game just feels right.
One of the things that I like the most about this interpretation is the heavy focus on the story. Insomniac is digging deep in Spider-Man lore to create their own interpretation of the character into their game. It's cool because this Spider-Man story truly feels like something new but familiar at the same time. Also, the team at Insomniac is taking the chance to showcase some lesser-known villains like Mr. Negative, which makes me excited to see what other villains they will introduce. So far, the Kingpin, Shocker, and Taskmaster are also confirmed.
In Game Informer's interview with Creative Director Brian Intihar, they discuss some new information about the game. This includes how players can interact with the citizens of New York, combat, and exploration. Insomniac really wants to nail down making the city feel alive and making it fun for players to explore. There seems to be an amazing amount of fluid and dynamic movement to how Spidey makes his way through the city. From the trailers alone, you can see that Spider-Man never stops. In the interview, Intihar states, "We didn't want to stop the players' momentum at all. If you slam into a building, you run along it or up it, depending on the angle."
Players can also craft new suits to fit their play style. Choice seems to be a big factor in how your face enemies. Stealth and melee action are two roads that you can take. Combat largely involves players using a mix of the gadgets, acrobatics, and webs. Another cool aspect to combat is that you can use the environment to your advantage. The Game Informer interview holds a lot to digest including a playable Mary Jane (weird), unlockable classic suits and has Miles Morales incorporated into the story. I highly recommend reading their hands-on impressions.
This news makes me confident in Insomniac's take. From what we can see, they are taking the best of past games and ironing them out for players to get the true experience of being Spider-Man. It also has a cinematic feel unlike any Spider-Man game I have seen before. Overall, I'm stoked to play this game in all its glory. It's also been too long since we've had a Spider-Man game this ambitious and I'm happy to see it in good hands. I'll be grabbing my copy when the game releases for the PS4 on September 7.
Are you following Black Nerd Problems on Twitter, Facebook,Instagram, Tumblr, YouTube or Google+?