[Cover Art by Koyote 974]
Hip-Hop and Nerd/Geek Culture have always been bound, some might say the two are 'down by law'. The last few months we at BNP have documented some of those amazing cultural collaborations. Yet another entry into the field is the OG Xbox /Sega classic: Jet Set Radio Future.
I could not stop playing Jet Set Radio Future. Could. Not. Stop. Playing. I was breaking night trying to earn those Grafitti Souls. Tapping the life out of my controller to hit those forty-plus grind combos!
The cel-shaded beauty of JSRF drew me to the game, which came free with my Xbox, but being able to invest in mad amounts of counterculture kept me coming back. Between the inline skating (which was so anti-establishment back then), reading through wild style (the OG name for long graffiti pieces) and the best soundtrack ever. Ever. Not for nothing, I have the entire soundtrack on my Google Drive and that shit is on rotation when I'm in the gym to this day.
The music was a whole another beast. If I'm being honest, this soundtrack helped solidify my musical identity. What other game would bridge the gap between Cibo Matto, The Beastie Boys, and The Arsonists? Trip-hop, techno, and rap? No other video game music has been that culturally ambitious and innovative.
Who can forget the dancing? Every character whether main or NPC had a diddy bop derived from the deepest annals of 80s and 90s choreography. Waacking, top rocking, boogie, locking, popping, house, waving, uprocking – I need some cardboard and linoleum just talking about it!


The plot of JSRF was profound as hell: a giant corporation taking over Tokyo and silencing hip-hop culture! Kicking poor people out of their neighborhoods and over-policing them? Sounds like a dystopian Brooklyn circa 2009, and this game was on the wave early – in 2002! Jet Set Radio Future was handing out urban prophecies on a console!
JSRF had all four artistic elements of Hip-Hop on deck. In a video game. After the prologue, the narrator, DJ Professor K offers a straight up soliloquy about the perils of greed; a shoutout to the fifth and most important element: knowledge. If Jet Set Radio Future isn't one of the greatest nerd culture homages to all of Hip-Hop, I don't know what is.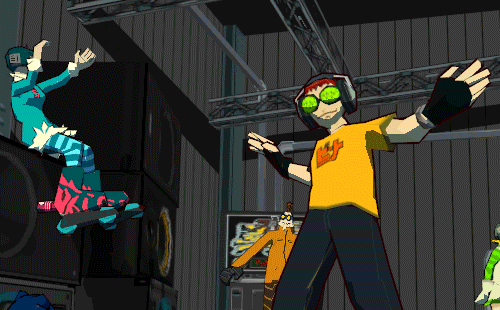 Are you following Black Nerd Problems on Twitter, Facebook,Instagram, Tumblr, YouTube or Google+?