The Pertinacious Champion of Fantasy and Sci-Fi, N.K. Jemisin, is back with a new short story collection out this week, How Long 'Til Black Future Month?. She's had a whirlwind year: in addition to completing her book, she won her third Best Novel Hugo Award for The Stone Sky, and has moved on to adapting The Fifth Season into a TNT TV show. During all of that, she has been open about the passing of her mother, and how that impacted the themes of her work. Next year, she'll be featured in A People's Future of the United States from Penguin/Random House and that's just in February. Who knows what other goodies she'll announce by the end of 2019.
Jemisin is the tour de force that's showing all of us the full potential of #BlackGirlMagic. The final installment of The Broken Earth trilogy, The Stone Sky is the jewel in her crown. While awaiting the new collection, I turned my attention back to The Stone Sky.
The World Revealed
At her heart of hearts, Jemisin has described herself as a world-builder — and it shows. The first two books, The Fifth Season and The Obelisk Gate are full of characters and folklore. Jemisin crafts a world that engulfs the reader in the environment. I constantly found myself wanting to tear away from the main character, Essun, and ask how did we get here? Tell me more about the history, the people, the world! This mystery of how the Stillness came into being propels you through the first book and gently teases you through the second book. While you want to explore more of this history the protagonist, Essun, doesn't need to, so you get bits and pieces along the way.
By the time I started reading The Stone Sky, I found myself so immersed in the world that I accepted that I wouldn't get all the answers I wanted. As in previous Jemisin series, I expected to take what I could get about the Stillness, not knowing its full history and being content with that.
Then Jemisin starts the book with Hoa talking to the reader. For those of you familiar with The Fifth Season, or even Jemisin's other works, this is surprising-not-surprising. Hoa's been a brooding, mysterious Stone-Eater-of-Good from book one who was just begging for his own point-of-view story. I mean, dude get's his own dramatic entrance in Book 1 that has nothing to do with Essun, so you know the boy's going places.
It turns out that Hoa's the perfect character for Jemisin's last book. Not only does Hoa know how we got Stillness, Hoa was there *before* Stillness was Stillness. Hoa only *looks* like a child. Hoa knows things, and he's here to spill the tea.
Jemisin loves playing with time: each story unfolds as it needs to and the concept of linear time be damned. Using Hoa as a POV character also allows for Jemisin to come back to her classic, deftly executed, framing device of storyteller-telling-you-how-you-got-here. (We saw this framing used in the second book of The Inheritance Trilogy.) I won't spoil the book too much by telling you who Hoa's talking to, but fans that are deep within Jemisin's worlds could probably guess, like I did, by Chapter 2.
Motherhood, and Daughterhood, in the Spotlight
While Hoa's the storyteller in The Stone Sky, Essun and Nassun stay the protagonists and antagonists, respectively, driving the story forward. Jemisin pulls a Parable of the Talents here by bringing mother-daughter tensions to the forefront of the book. Hoa's matter of fact delivery of what's currently happening, and what has happened, helps take away from the pain that is rife within the book. And there's a lot of pain. Jemisin doesn't pull punches.
In the afterword, Jemisin tells us that she wrote this book while/just after her mother died — and you can feel it. Essun's tireless search for her daughter, and Nassun's unrequited, churning anger toward her mother, ripples through every scene in this book. The only reprieve we get from these feelings is when Hoa stops the story to attend to another parental conflict: that between Father Earth and his children. Throughout the book, the parent-child conflict plays out over a micro and macro scale. The height of the conflict, however, ends up being much less about saving the world and much more about a mother and a daughter trying to bridge a divide.
Side-note: As someone who's currently going through losing a matriarch right now I felt personally attacked by the bombs of truth that Jemisin — through Essun — drops about motherhood throughout the story. Ma'am, ma'am; I was not prepared to cry that much, ma'am. I was not prepared to spend an afternoon listening to Tracy Chapman and taking a long bath for self-care but then I read The Stone Sky. And all I can I say is: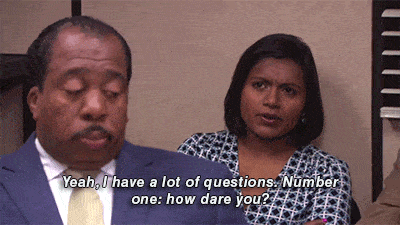 Balance at a Price
The resolution, more than any other Jemisin book before, is bittersweet. Essun and Nassun reconcile but at what cost? The Earth is returned to some kind of balance sure, but you don't feel at ease. Like in The Dreamblood Duology and The Inheritance Trilogy, The Broken Earth Trilogy ends not with an old balance harmoniously struck, but a new balance painstakingly reached. It's a balance in which we find while some things are familiar, nothing will be the same. The Fifth Season ends much as it began, with death, rebirth, and reconciliation of the past.
This article is by Guest Contributor: Jordan Green.
Read our site's other literature reviews here. This is the first in our new series: #LibraryFinds. These are slightly older books you can find at your local library. Look for more #LibraryFinds on our Bookstagram account on Instagram.
Want to get Black Nerd Problems updates sent directly to you? Sign up here!
---
Follow us on Twitter, Facebook,Instagram, Tumblr, YouTube and Google+?