Writer: Matthew Erman / Artist: Lisa Sterle / Scout Comics
This second issue of Long Lost picks up right back at Piper's place with her sister, Frances and an unwanted masked visitor. Yet, this visitor's presence brings not just creepiness but an invitation that is not so kindly received and it comes with a stipulation of gaining back something Piper lost in the first issue that's obviously very dear to her. The girls are given an invitation to a birthday party, not just anyone but their very own mother's. This encounter brings new depth to the our speculation that one, the girls are estranged and two, they are so very much estranged that it looks like that they've attempted to cut off all connections to their former home, as it is suggested that they've been running from something…or multiple somethings which still doesn't sit at ease with me.
Off the bat, we learn that Frances is not with the shits, she's ready to protect her sister and she is not afraid to be aggressive in that regard. I love it. Despite the two sisters not being close or perhaps as close as they once were, she's fiercely protective of Piper. It is a great scene to demonstrate this part of her character and a great setup to what happens to them later in this issue.
As noted in the first issue, I really adore the small moments of joy and humor that peek out and make themselves known throughout each issue. It certainly helps with the pacing and even works with the overall tone of the comic so that it isn't underwhelming scary or sitting in the horror genre. My favorite examples would be of the girls making the road trip back home to this forgotten sleepy town place neither of them seems thrilled to come back to. Frances, is obviously the more chipper, extroverted sister and Piper has already cemented herself as the introverted, sometimes always awkward one. It's been almost a day and Piper hasn't made a true effort to say much and Frances intervenes with this amazing gift for her big sister. I love how the energy changed in the car to where Piper has to crack a slight smile?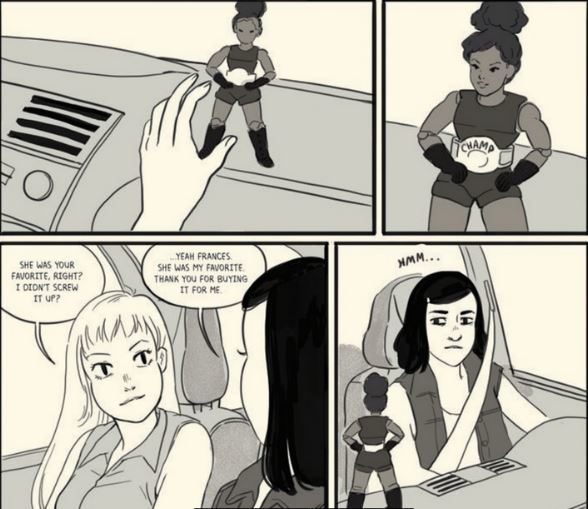 The girls are headed back home and the closer they get, the more charged this place becomes: stranger things start happening starting with cell phones going dead. Things go from 0-100 and the creep factor increases. Can I say I appreciate the facial expressions–they're done well on Sterle's part. They are realistic to where I feel the fear, distress, and annoyance in the faces of certain scenes of the girls which help put me in the moment and digest whats going on. On the writing end for Erman, I'm enjoying feeling out each sister and finding out how they are and who they are to each other after whatever traumatic has separated them.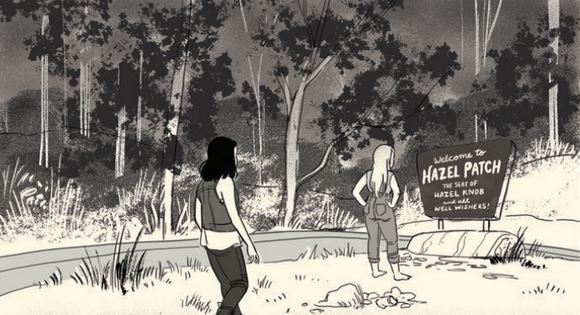 This issue ends with the girls stranded, at odds with each other but still together, trying to figure things at as night falls quickly. Piper stands with a flare raised in her hands with the words "beware the woods when you get home…" on the last page, hinting that, again, something is watching the girls from a distance.
Something wicked. Something strange. Something defiantly "other" and it probably been watching them for a long time, perhaps it never left them. The sisters have made this journey and they are on the cusps of coming home, and they've already been noticed. Just what awaits them and I wonder what they're presence truly means here now?
8.5 That Wasn't A Finger Snap out of 10
Stay tuned for my review of Issue #3 next week as we've now officially caught up on the series!
Does Long Lost look like something you'd be interested in? You can ask your LCBS to add Long Lost to your pull list. Here's the preview code for the second issue:(OCT171774). You can also order issues online here. You can follow along the creative team Matthew and Lisa on Twitter.
Wonderful news! Long Lost #1 has been picked up for a second printing which is great for all new readers:
January 29th is the final order cut off for our second printing of Long Lost #1.

If you want in on the exclusive 2nd print cover or want to nab a physical copy, tell your local comic shop to order by using @PREVIEWSworld code: (SEP171868)

Ask about us! Add us to your pull list! pic.twitter.com/Y8p0dRIK5x

— Matthew Erman (@MatthewErman) January 23, 2018
Are you following Black Nerd Problems on Twitter, Facebook,Instagram, Tumblr, YouTube and Google+?