It's Summertime in Harlem, and Luke Cage is still serving up piping hot beatdowns in the new Netflix trailer. The Bulletproof Black man of Harlem got the sauce, and everybody wants a taste. He's got a hypeman filming him takedown bad guys. He's got his own mural on the side of a building. The ladies got their eyes glued to him like Elmer when he walks by, so if things don't work out with Claire he's got plenty of options.
Jk jk, Luke and Claire are looking like a power couple in their scenes together, slow dancing when she's not telling him to watch his bulletproof ass. The trailer started all good, so you know there had to be some bad thrown in. Homeboy in the slick suit walked up to Luke and snuffed him like he owed six months of back rent. Considering his financial situation last season, I wouldn't be surprised if the Hero For Hire deflected a bill or 8.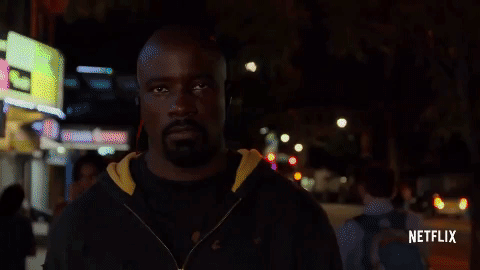 Stephen A. Smith's color commentary made this scene.
The man who Eddy Gordo button mashed Cage into the ground is called Bushmaster, and he's looking to take control of Harlem now that Cottonmouth is out of the picture. You hear that island accent? Them boys don't play. There's a scene with him surrounded by candles sniffing herbs out of a pot, so we might just have a voodoo user coming to shake up the city. Luke better watch his back around the neighborhood. If he asks for one too many sides of plantain at Little Ochie, the Bushmen might come out the back and flip the table on him.
Black Mariah is back and badder than ever. Her empire is growing in Harlem, and the only thing keeping her from her crown is Luke's thick skull. But this time, he's bringing back up. Or is Luke Cage Misty Knight's back up? After being severely injured in The Defenders, Misty is ready to come back even stronger with a little help from her new prosthetic arm. That shot with of her smacking fire out that punk is proof that the comic book gods are smiling on us. Things are heating up in Harlem. The Heroes For Hire will be quite busy this summer.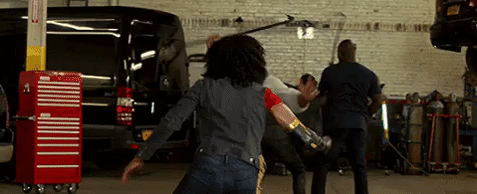 Luke Cage Season 2 premieres June 22nd on Netflix.
Want to get Black Nerd Problems updates sent directly to you? Sign up here!
Follow us on Twitter, Facebook,Instagram, Tumblr, YouTube and Google+.