Stepping up: Storm of the X-Men
Ja-Quan: What need be said bout Ororo?! Who on Bast's green earth needs to be told that Storm is out here manipulating every aspect of the atmosphere and weather? NOBODY. That's why Storm is the G.O.A.T. She is one of the most formidable opponents in the entire superhero universe. I'm talmbout Marvel, DC, Image, video games, tv shows and movies. There are literally only a handful of individuals who could come close to Storm's capabilities.
Quiet?! Who are we even kidding with this glorified PP7 with a silencer? Shush ain't ready for the lightning bolt that could end her life at a moment's notice. Hush wouldn't even be able to see Storm and use those trashly named butterfly sniper rifles, once the murda mist starts cascading down and covers Quiet's eyes. Oh, you think you're cute trying to get in close to knife an OG member of The Brotherhood?! Too bad mute button would get flash frozen to death before getting anywhere close to Storm. Oh, you think your 3rd-grade gas transformation is going to be your trump card? Child, I control chemical composition. I been on that move before Snake was born. I could literally kill you by flying into the air and raising the water level. Try breathing through your skin underwater, peasant. Quiet stands no chance.
Maaannn, I ain't got time to waste my breath. The North Carolina Tarheels don't entertain the Binghamton Bearcats for good reason. It's quiet for this battle.
Stepping up: Quiet from Metal Gear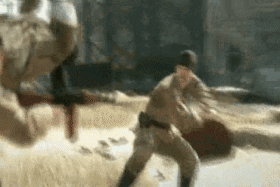 Frantz:
Long game: From three-hundred yards away with nothing but the glint of the sniper scope. If you peep that shine, there's already a bullet with your name, zodiac sign, and social security number on it. Quiet has two 'master eyes' – she can use them separately! Two guns at once if need be! Just to show off she shot between helicopter blades. The list of feats is long: Quiet one-shot sniped a fighter jet doing evasive maneuvers out the side of a helicopter, using a Snake as a tripod. Quiet is the physical embodiment of a battle rapper: her gun so big.
Hand to Hand: Up close, with the tactical knife and two hands for that ass. Homegirl put mitts on Venom Snake! The man who inherited CQC from the gods! What conversation are we even having? Storm is a leader, but Quiet is on some old samurai 'one-hit, on-kill' stuff. She put seasoned vets in the ECU just for putting clothes on her. Nobody that petty is gonna be deterred by some weather changes. Some soldiers tried to get handsy and she maimed them. For life. Oh yeah, and Quiet can go intangible, invisible, and move at subsonic speeds. Storm has nothing in her catalogue for what Quiet is bringing to the table.
The extra tidbits, of course, are that Quiet can't be drowned, she doesn't breathe through her mouth or nose; she's super strong and durable enough to take a tank round the chest; and she doesn't care what you think about her outfit. There's really not much more to say here, Storm is cool and whatnot – but she ain't got what it takes to take out the Wicked Butterfly herself, the absence of words. It IS Quiet for this battle.
*Plays "Quiet Storm" in the background*
MATCH 5: Storm v. Quiet!#MarchMultimediaMultiverseMadnesshttps://t.co/dThSnnqvcI

— Black Nerd Problems (@BlkNrdProblems) March 6, 2018
Check all of our matches in this year's March Multimedia Multiverse Madness, and vote in our Twitter polls, following the hashtag #MarchMultimediaMultiverseMadness.
Are you following Black Nerd Problems on Twitter, Facebook,Instagram, Tumblr, YouTube or Google+?