Writer: Charles Soule / Artist: Mateo Buffagni / Marvel Comics
SQUAD UP
The first installment of the four issue, four series "Hunt for Wolverine" event finds the Devil of Hell's Kitchen assembling his crew for the most pressing mystery of the Marvel Universe. As a mutant, Canadian, X-Man, Avenger, former S.H.I.E.L.D. agent, amongst other affiliations, Wolverine is very well the Kevin Bacon of the House of Ideas. Dead or alive, he is more valuable than Captain America, Spider-Man, or even Iron Man. His healing factor, Adamantium skeleton, and almost two centuries of various combat techniques and experience have already led to his DNA being compromised and being spread more thinly than Donald Trump's toupee comb-over. For the past four years, when anyone speaks of Wolverine, the first question is – "Which One?"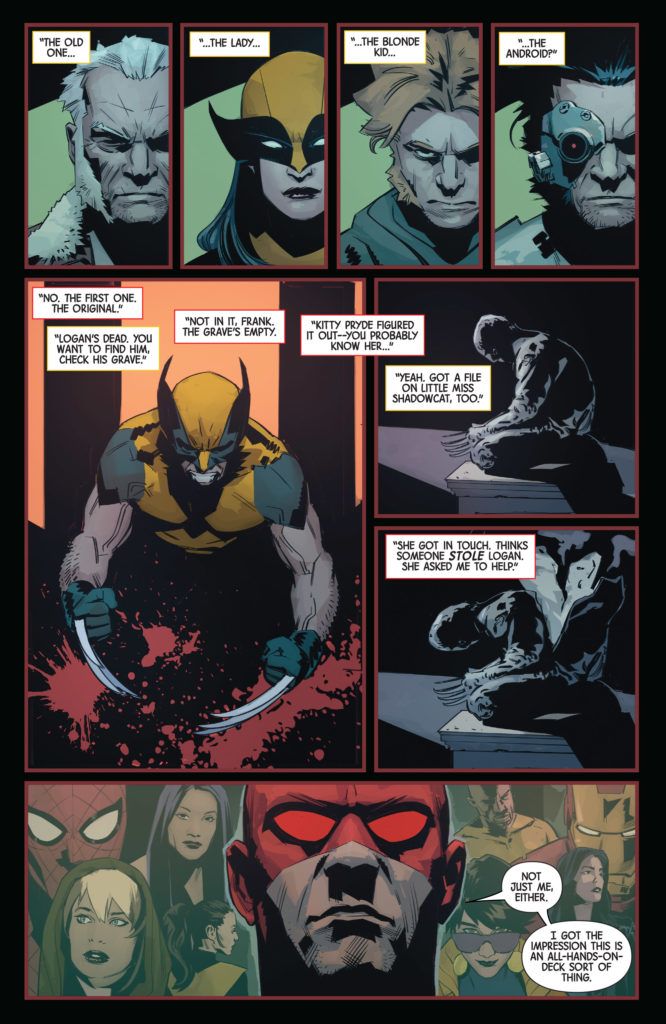 Recruited by Kitty Pryde to join in the hunt in the event primer comic, Hunt for Wolverine #1, Daredevil hits the mean streets to put together the perfect oddball team for this Noir leaning chapter. First on his list is Frank McGhee, former NYPD and current Inhuman. Although reluctant to join the search because of the "play nice, but not that nice" truce between mutants and Inhumans after that little war in 2016 ("Inhumans vs. X-Men), McGhee agrees mostly due to the fact that he has New Attilan locked down like Singapore. From there, the two men head to Brooklyn to recruit Marvel's resident cybernetic- armed Nubian Queen Investigator – Misty Knight. Reluctant to join as well after leaving the force, it is McGhee who actually brings Misty into the fold. Both as former cops and humans who have experienced the prejudice that comes from being othered – Knight as a Black woman, with a cybernetic arm, and McGhee as a former cop whose Inhuman genes were unleashed in the Terrigen mists.
Pause. Misty Knight's Monte Carlo Convertible. Recognize.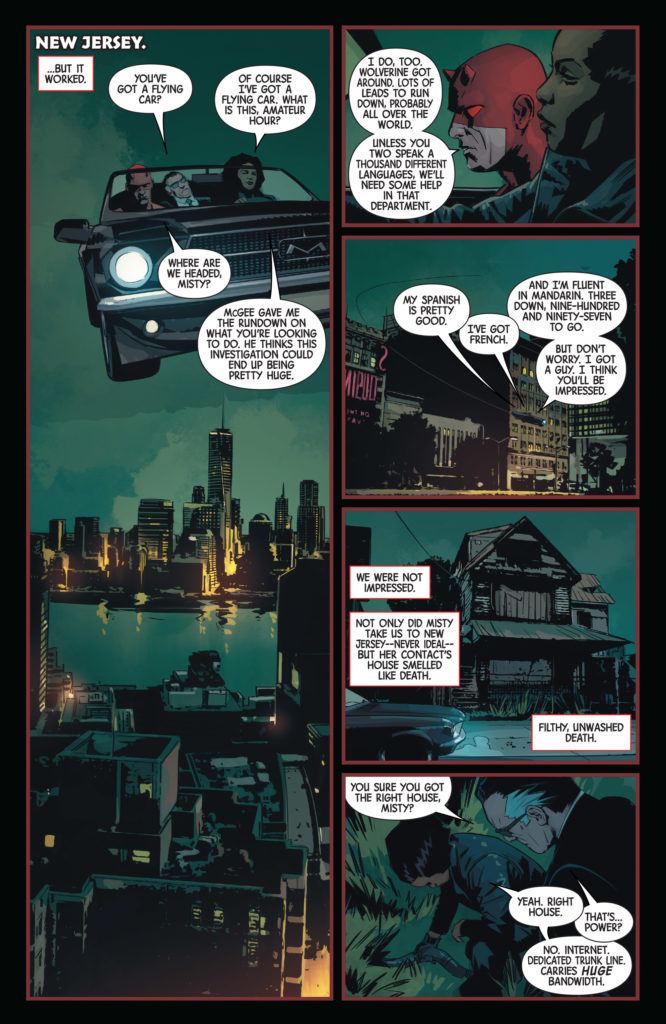 Now three deep, Daredevil, Knight, and McGhee head to New Jersey to recruit the invaluable, albeit eccentric and obsessive, mutant known as Cypher. With the ability to decipher any code or pattern, whether it is digital, linguistic or otherwise, he will be instrumental in the search for the real Wolverine.  The only problem – Wolverine has more alleged sightings worldwide than 2Pac and Elvis combined.
THE WEIRD AND WILD BUNCH
Although a pretty standard setup chapter for any noir/detective story, the first issue of "Weapon Lost" carries some promise as voice-over by Daredevil drives the narration. As the embodiment of gray-area between justice, vengeance, and legality on the streets of the Marvel Universe, Murdoch is the perfect lead for the series. The addition of ex-cops Misty Knight and Frank McGhee add an additional edge that should lead to some great action sequences in future issues. Nestled comfortably against the darkness of Murdoch, Knight, and McGhee is Cypher, the mutant who gets so entranced by his decoding work that he nearly starved himself to death. Firmly in place as the technical wizard and sometime comic relief on the team, Cypher brings the right amount eccentricity and levity to a pretty otherwise melancholy crew.
As the writer behind The Death of Wolverine (2014) and The Hunt for Wolverine, Soule is deeply invested in bringing Wolverine back to Marvel World with a lot of narrative threads. One can only hope that when all of the mini-series are complete, more threads are closed than opened. Thus far, the pacing, tone, and characters of "Weapon Lost," are already quite compelling. If you are a fan of Soule's work on "Daredevil," a good old fashioned noir, or anything remotely involving (the real) Wolverine, then this series will definitely ease your fix.
7.3 Batons out of 10
Want to get Black Nerd Problems updates sent directly to you? Sign up here!
Follow us on Twitter, Facebook,Instagram, Tumblr, YouTube and Google+.