BNP has repeatedly put you on to the fact that Matt Murdock is the trillest hero out chyea. Chip Zdarsky's current run has been straight flames. Writers continue to come correct when they step up to write Daredevil and I've been loving Chip's take on the Man without Fear. He showed us why Daredevil is the most lethal, yet morally responsible street level hero doin it, and why his arch nemesis Kingpin is still the most dangerous villain lurking in these crime infested streets or sitting proudly in the Mayor's chair.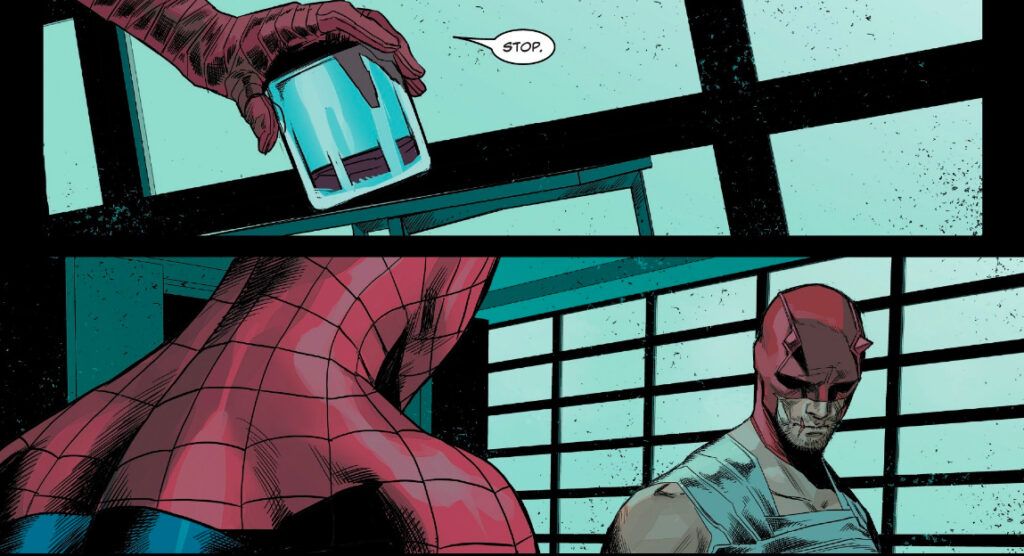 Zdarsky also penned one of the best angles of the early issues, involving the classic idea of vigilantism: who gets to uphold the law and who is above it. In an extremely well drawn scene, the homie Spider-Man pulls up on Matt Murdock to keep it real after Daredevil murdered someone. He essentially tells him to hang up the cleats, respectfully speaking. Daredevil disappears, Fisk becomes Mayor, sparking a wild series of events that brings the best out of everyone in the city, and residents of Hell's Kitchen in particular.
Marvel at the Martyr
More recently, Matt Murdock has been paying for his mistakes in the form of a jail cell and assassination attempt. He had chance after chance to beat the case but decided to become be the martyr superheroes need right now. Murdock believed hero's needed to see someone holding themselves fully accountable for the slip ups and transgressions, in order to make this vigilante world a fair and balanced one.
Real talk, I love that Chip is sticking to his guns with this martyrdom decision. Murdock has had chances to escape prison, but keeps making the decision to show everyone that hero's aren't above the law. He could've walked out the door when Knull invaded but instead, he zapped the symbiote from his brain and body then went to therapy. Freedom could've been the sweetest gift after some undercover prison investigator work but cha boy is determined to serve his 2 year sentence and it's the most admirable shit I've seen in a hot minute.
If folks Want To Pop Off ¯\_(ツ)_/¯
Remember when I mentioned an assassination attempt? Yeah, I was talking about the warden. The slimeball, prison plantation pedaling piece of shit got Murdock jumped by half the prison, poked up and left for dead. Of course, we knew he wasn't dead but it was nice to see the stakes get raised because we would've never gotten this series of panels and BARZ.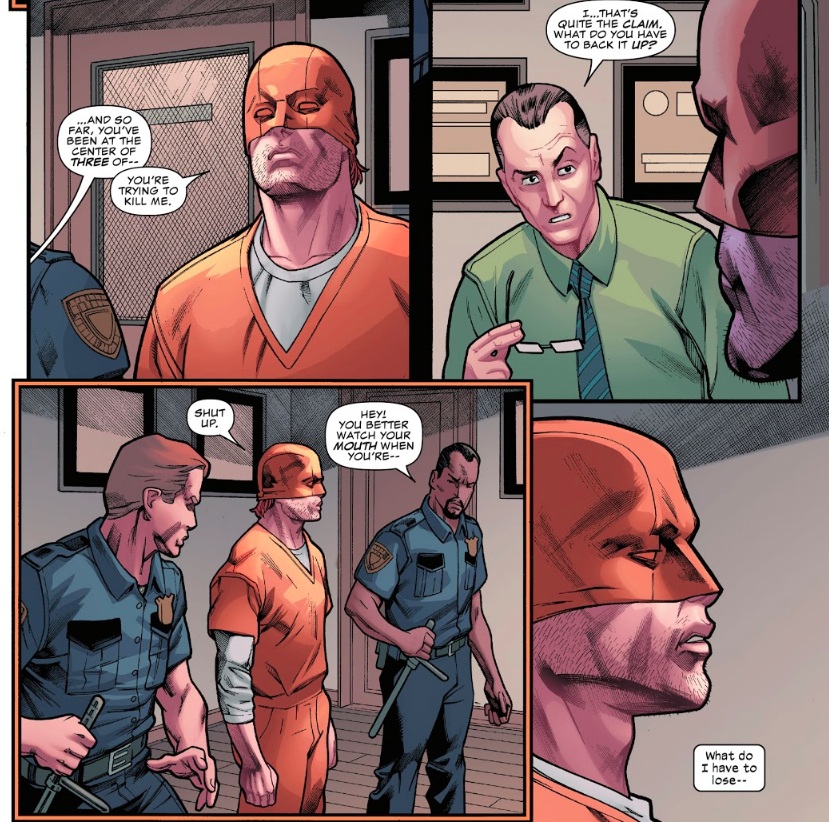 LOOOOLLLL Mans pulled up spittin the cold hard FAX! Daredevil said, "I know you're tryna fade the kid witcha dusty ass Oscar the Grouch colored button down" to the warden's face, because fuck it at that point right? And Matty my boy wasn't done there!
Come Through, Murdock
Nope.
One word. One word was all that was needed to set the tone of this altercation. One word was all that was needed to properly convey how screwed the warden felt in this interaction. Then the equalizing one liner?? "You thought you was gettin special treatment?? You thought you wouldn't catch these same hands your lackeys caught?!" It's so beautifully paced and sets up the cherry-on-top panel that reminds readers of how badass and terrifying this Matt Murdock can be.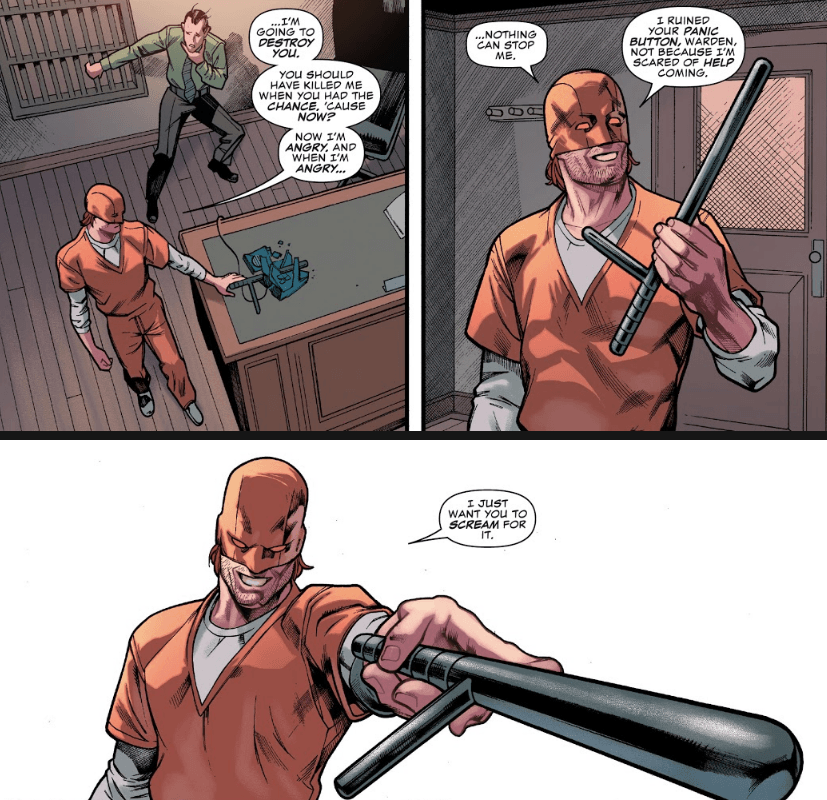 The Realest
Daredevil may have put himself behind bars, but he truly believes he's setting a good example by doing so. If they see someone so prominent fall from grace, they'll become more careful on their superhero patrols. They'll think twice about how far they're willing to go. But Matt Murdock is also the realest homie in tights and will bust your head to the white meat, no matter what your professional title is. Daredevil stay ready to put the paws on anyone needed, just the way God intended, and I couldn't be happier about that!
Want to get Black Nerd Problems updates sent directly to you? Sign up here!
Follow us on Twitter, Facebook and Instagram!