If you told me I'd be reading a Moon Knight comic book back in 2006, my reaction would have been

I mean, Moon Knight? For real? Marc Spector the schizo/ multiple personality disorder Batman knock off? Fuck outta here with that noise. I legit had convos with my friends years ago when Marvel brought Moon Knight back for a solo series where we said, "Who is buying this book? My (african-American comrade) who is keeping this shit on the shelves? Who ever is buying Moon Knight probably liked Beast Master on UPN Sundays. Remember that shit? Who the fuck was watching that shit to keep it on the air yo? To me Moon Knight is the Beast Master (tv show) of comics.
Yo… Things done changed tho. First we gotta mention how Brian "The Writer You Deserve and Need" Michael Bendis did a 12 issue run on Moon Knight where he was in LA fighting crime after that "Death of Moon knight" final arc of his new series. My friends it was glory. Bendis had him talking to Captain America, Spider-Man, and Wolverine as manifestations in his head and it was genius. He threw echo in there (killed her which was the only bad part) with plenty of moments where Marc didn't know if he was really seeing people or not and that my friends is how you make Moon Knight interesting. Car chases, fighting, obscure villain that gives that work and gets that work. It was such a delicious read surely it can't get better than that right?….

Enter Warren Ellis for the baton pass. He runs the fucking distance with this character. He brings Marc back to NY as somewhat of a special investigator for crimes. He comes across as a Sherlock consultant for police in the matters of super humans. There is an understanding between the police and Marc now decked out in an all white everything suit, Marc Spector rolls up to crime scenes in his Easter best

Each issue reads like an episode of Law and Order: Super Hero Crimes. They don't seem to be part of an overall arc but it works so much better this way. Seeing Marc on separate adventures each issue that get resolved in the same issue works. In the second issue we see Moon knight taking down a sniper/merc. It played out like Jason Bourne chase into a fight scene.
The best part is how Warren Ellis fixes the whole is he schizophrenic, does he have multiple personality disorder, does he see dead people? Ellis fixes this by explaining that Marc Spector actually has brain damage. That is why he sees other manifestations, however now he is seeing the Egyptian deity that brought him back back and is talking that real shit to him. The deity is basically Marc's consultant for when he faces shit out of the ordinary. We see this take place in issue 3 when he gets advice on how to fight these punk rock ghosts.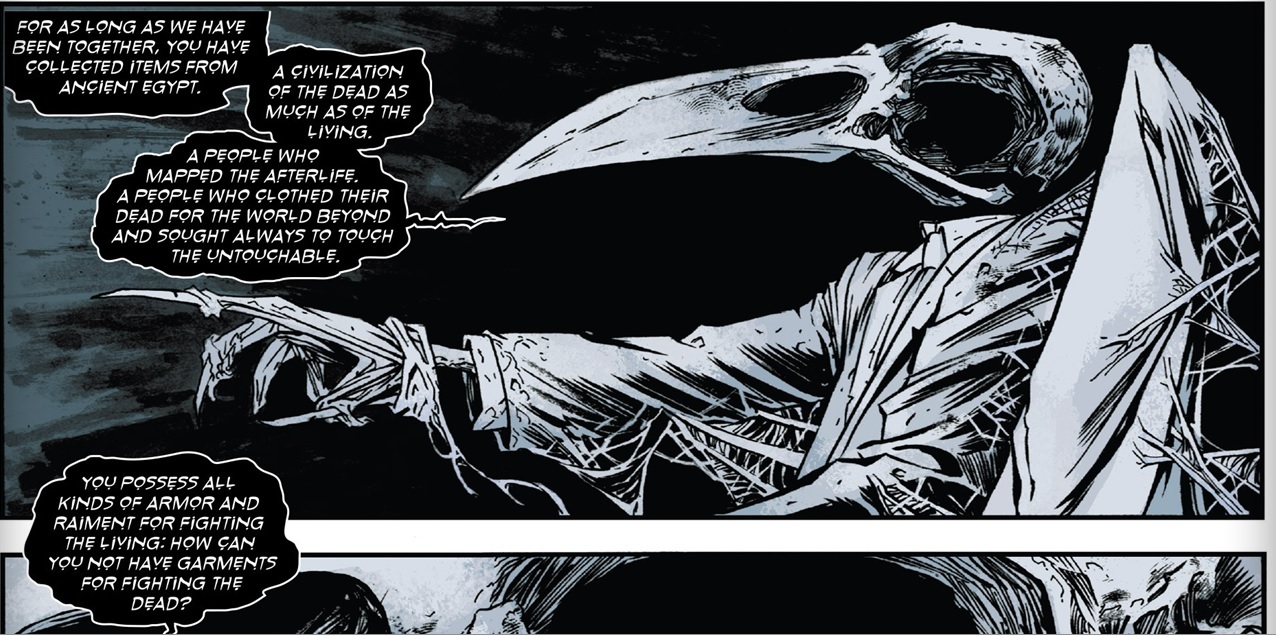 You know what that means! Wardrobe chaaaaaaaaaaaaaaaaaaaaaaaaaaaaaange. Yeah. This is the hard shit folks

The writing in this book goes oh so hard. It is a must read. It comes across like Hawkeye except for a day in the life with Clint Barton we see the vigilante ordeals of Marc Spector. I'm waiting to see how Ellis will build into a story arc and what villains Moon Knight will encounter or new ones he will gain. This feels like another fresh take on the character and a ride I have no regrets about being down for.
Moon Knight I owe you and apology sir. I'm with you to the end for this run.