Writer: G. Willow Wilson / Artist: Adrian Alphona / Publisher: Marvel
Kamala Khan is face to face with her nemesis The Inventor in his hideout. Kamala is not backing down after all the ass-hat moves this dude has pulled. He's taunting her with knowing the high school she attends, and then pulling the last straw is that he done captured Kamala's girl Nakia. You know our #1 fan-girl with a blog isn't about to let this rock in any way whatsoever.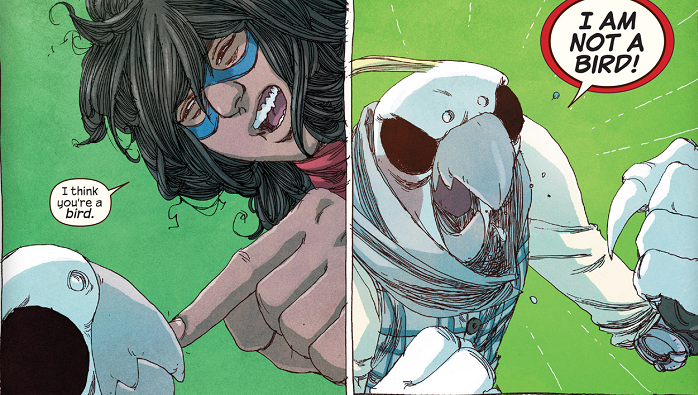 We get a Kamala that has been seasoned a bit and realized if she can't fix her problems by getting larger and busting through them then she'll have to do it by shrinking down for a more hands on approach. Kamala describes what it's like to have to shrink her size and the concentration it requires all the while rearranging the wiring in a large mech preventing it from doing any more damage to her or her friends.
Wilson has Kamala come to an important lesson in asking for help in this issue. Up until now Kamala done put the hero game square on her shoulders alone but that doesn't have to be the case. She learns that there is a time to go solo and a time to call in the Calvary. We see her contact Bruno with the signal for him to alert the police as well as tell the gang that was riding with her to raid the inventors house to get Lockjaw. In doing so Lockjaw was able to save Kamala's ass from The Inventor's plot to disrupt Kamala's powers leaving her crushed inside the mech. The bad guy has been beat and whats even better is how welcoming the police are to Kamala's presence having wished she alerted them earlier.
Wilson is depicting Kamala as the leader the youth needs as she explains to the group of her peers with her in the raid on The Inventor's house that in order to prevent more villains like him from gaining control they gotta be active. Kamala is paraphrasing a bit of the knowledge her father gave her in order to instill her new found friends to not let anyone decide their worth or abilities.
Kamala is only gaining more and more momentum at this point. She got a big win today and it's sending out the message that Jersey City has a local defender. That's a message some villains are going to put to the test but Kamala ain't shying away from any challengers at the moment or ever. LOCK THE CITY!!