[divider type="space_thin"]
Well, well, well…what do we have here? The DCU (DC Comics Universe), in their attempt to convince us all that they have a plan and allegedly a good one, released a full schedule of movies that are coming to theaters through 2020. The list is robust and new and…well, we'll let you decide. Hang with us as we share our thoughts on the new info on coming attractions.
In the wake of Marvel's Drake-like run of success of The Avengers, Captain America: The Winter Soldier & Guardians Of The Galaxy, DC is ramping up their own mixtape run of superhero movies based around their canon (which started with Man Of Steel) that will ultimately culminate in their own epic Justice League Part One (apparently the first of two according to Warner Bros. release schedule). Cool beans, right?
Ehhhh. I mean we don't know too much yet about what this film will be except its release year (2017), & some of the names slated to play the heroes that will be riding out on locs. Henry Cavill did ah-ight as Supes, but I'm def not sold on Ben "Daredevil, anyone?" Affleck being a credible, effective Batman (especially after that ether Christopher Nolan JUST got done blessing us with in The Dark Knight triology). And like, I keep trying to picture Gal Gadot throwing hands with large, aggressive numbers of….well…anything or blocking bullets with bracelets, but it always ends in me making the same face Sho-Nuff made when he queried "CATCHING BULLETS WITH HIS TEETH?!!" to Bruce LeRoy in The Last Dragon.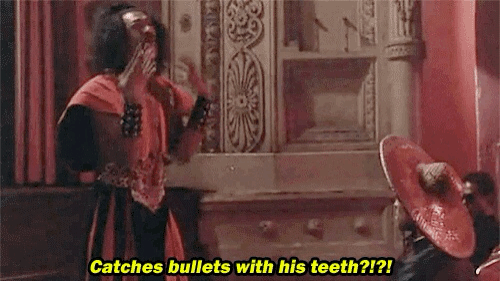 Jason Mamoa could actually work as Aquaman. Maybe. Yes, his two most known roles both involved him being a Barbarian & suffering a rather tragic death (Khal Drogo from poison, Conan from going aluminum at the box office) but I think it's cool DC went in a POC direction for a traditionally white character. Plus, his ability to bring a raw physicality to the role may succeed in bringing to life some of the rejuvenated badassery of the New 52 iteration (tell me dude doesn't straight up look like he could command a shark). Most intriguing may be Ezra Miller cast as The Flash. Miller's shown significant range to be so young an actor & has a commanding presence on screen (watch We Need To Talk About Kevin & Perks Of Being A Wallflower). I think the kid can bring a certain depth to the role while maintaining a very believable, adequately witty Barry Allen.
The greatness of Justice League Part One will rest heavily on the strength of the solo movies & their ability to marry the WOW factor to relevancy & vulnerability. Will each character be interesting enough to watch develop on-screen individually? Will it bolster a desire to see them squad up? I'm not sold yet. The main villain in JL: P1 being Braniac is a little seductive considering how versatile a foe he is. And shouts to DC/WB for the diversity in confirmed casting so far (even got The Rock dropping People's Elbows as Black Adam in 2016) but personally, I'm checking for JL: P1 with one rather skeptical, quasi-hopeful side-eye.