Writer: Kate Leth / Artist: Brittney Williams / Marvel Comics
I'm such a huge fan of art imitating life and Patsy's latest title does just that with the utmost of ease. I'm new to Kate Leth's writing but she has me looking forward to the third issue after this one. She has Patsy battling one of the most dangerous villains in the game… retail. Seeing Patsy going from award winning author / hero to having to work retail is so relatable. This issue deals with life giving you setbacks and you not being an exception just because you may be a super hero. I loved this shit man, Patsy doing customer service, having a boss that's younger and mad snarky, and then having to deal with a shoplifter that was foreshadowing toward a much larger enemy in the background.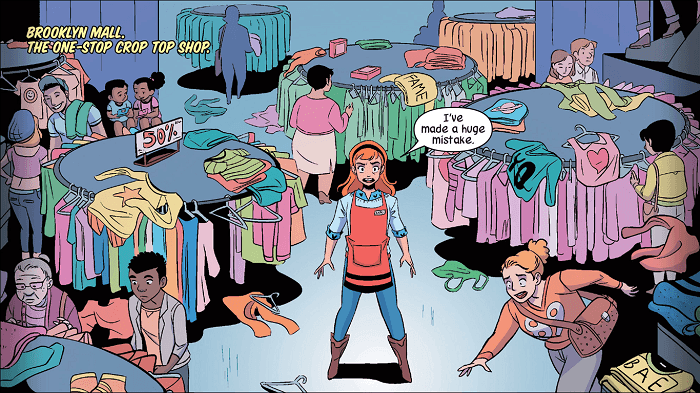 Per usual Brittney Williams's art is on point. I've talked about her style of flipping between displaying Patsy with cartoonish anger or frustration then going back to her calm demeanor is really a staple for this book. This flip gives the book its own unique style separate from other Marvel titles. The transformation scene when Patsy turns into Hellcat feels very anime #MagicalGirl… and I don't know if that's what she was going for but I fucks with it HEAVY. The best part of this issue comes from the cameo of friends as depicted on the cover. I love how vibrant and full of life Williams has them all look. This is a clear sign her style works with any character that will appear in the book.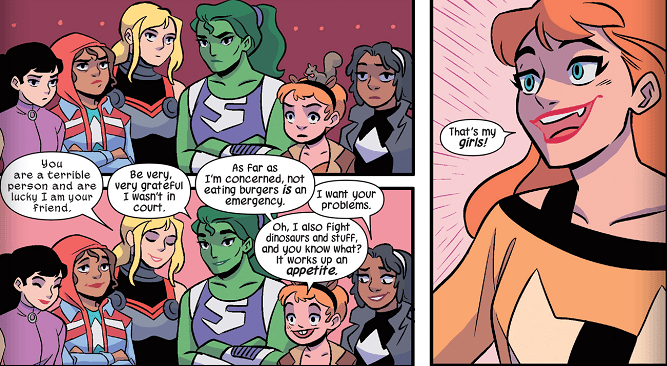 Again, if you were a fan of Patsy on Jessica Jones you should get this book to see the difference in her start from comic books. This creative team gives Patsy a wide range of variety and humor that doesn't come across as much in the Netflix series. This book is still strong with disappointment nowhere in sight.
9 Messy Fitting Rooms out of 10
Are you following Black Nerd Problems on Twitter, Facebook, Tumblr or Google+?