Writer: Gail Simone / Artist: Adriana Melo / DC Comics
To the Moon and Back
Plastic Man is incredible y'all. I'm not sure you understand how brilliant of a series it has been. Gail Simone may actually be too good at writing Eel o'Brian. Adriana Melo may actually be too good at drawing Plastic Man's many transformations and antics. The conclusion to Plastic Man is every bit as bombastic as the wonderful moments that led up to it, and the final crescendo is a series of comedic gold with a genuine heart at its core.
The opening page is the perfect litany of tongue and cheeks about superhero costumes that shows how much Simone loves the genre from its spandex beginnings to its armored continuations. The pivot to a shapeshifting juggernaut and the many-mouthed, many-teethed monster attacking Plastic Man is jarring and wonderfully animated. Melo has such a way with body horror and the bizarre machinations that Simone has set into motion. The issue only escalates in its outrageousness each and every panel as Eel faces the final encounters. And we're not just talking about the Cabal, we're talking about Eel evolving into a fully fledge hero from his mobster origins.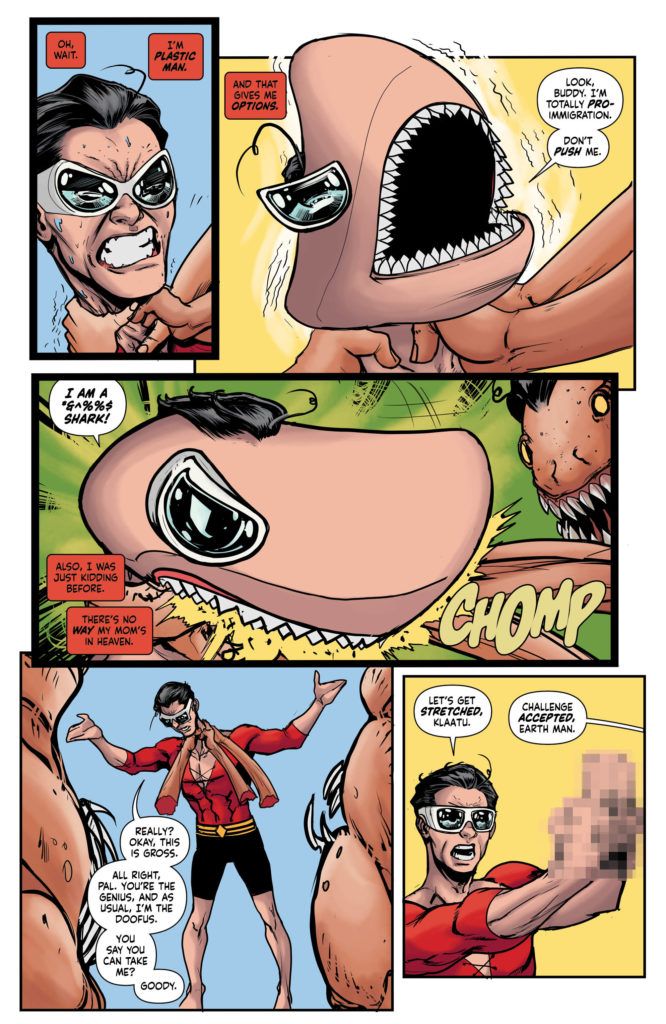 The finale cleans up most of the major threads neatly, although there are a few stray plot lines that are left open for further exploration. But there's closure and the resolutions, while happy, come from unexpected places. Simone plays with typical hero structure and conventions that stays true to the genre, but twists and turns them that it could only happen in the particular sandbox she has curated. Simone is an author who revels in her deep understanding of the characters she writes, and there such intrinsic joy to be found with Eel.
Plastic Man, the character, is one of the most powerful characters in the DC universe with a sleezy exterior and heart of marshmallow fluff. Plastic Man, the series, is a self-contained story that is a long love letter to the marriage of classical and modern superheroe stories. Simone and Melo have created a must read for any DC fan, and arguably any comic book fan.
9.6 "Starched Shorts" out of 10
Reading Plastic Man? Check out BNP's other reviews here.
Want to get Black Nerd Problems updates sent directly to you? Sign up here!
Are you following Black Nerd Problems on Twitter, Facebook, Tumblr or Google+?