Writers: Sebastian Kadlecik, Kit Steinkellner / Artist: Emma Steinkellner / Translator: Valeria Tranier / FanBase Press
Editor's Note: FanBase Press is releasing two issues of Quince at a time as part of a special summer promotion. Two issues of Quince! Check out our issue #8 review.
The cat's out the bag, Lupe's family (other than OG Abuela) knows about her superhero alter ego and all her late night/early morning outings but the whole reveal went better than expected. Expectations are something else though because when you place them on other people you're bound to be disappointed.
Lupe expects breakfast in bed — "A Super breakfast for my superhero!" and gets none of that. Hah. It's winter break and she'd starting to feel smothered by her family because everyone, and I mean everyone, in her (immediate) family has tips, concerns, and feedback for her and it's starting to grate on her nerves. It really does go from 1 to 100.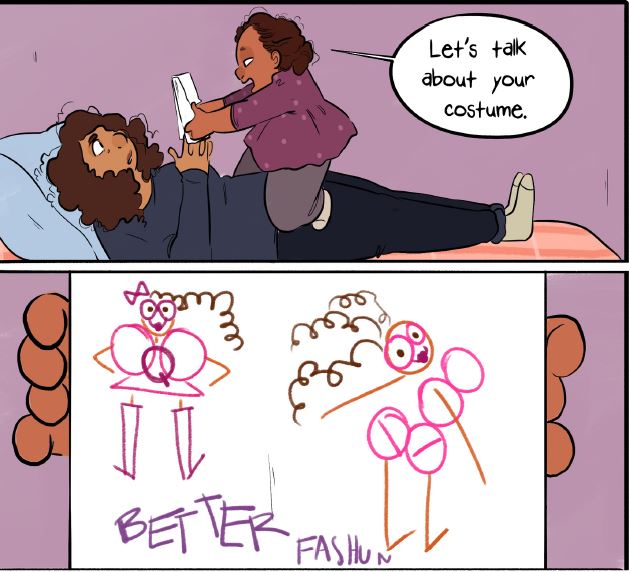 Yet it is not all bad as Lupe sits and reflects and Abuela steps in for a heart to heart. To look at it overall: Lupe has a loving, supporting fam-bam who is as excited for her as they are wanting her to be and look her best. It's endearing to see a superhero with such a great support system in place because I can think of at least two handfuls of teen superheroes/crime fighters that don't have that. In fact they have broken families, villain uncles, dead mothers, or have even been raised by assassins.
This is an all-ages comic, but it's great to see a family unit embracing and celebrating (even to the point of annoyance) one of their own. I love to see a family cheer on one of their own that has grown up and grown into something new: a hero, a superhero, a blossoming young woman tasked with doing more with gifts she's been given — even IF they are temporary. #HereForIt
Again, this wasn't an issue heavy on action and baddies but that doesn't mean I didn't enjoy it. It doesn't mean you won't either.
The real kicker is the cliffhanger at the end of the issue that is a perfect setup to perhaps the next story arc: Is there someone else who gained powers lurking nearby? And if so, are their intentions good or bad? It completely blindsided me — in a good way, of course! I'm totally looking forward to seeing how the creative team explores this next issue.
9.5 Green Slime Vandalized Learning Institutions Out Of 10
Purchase this issue of Quince on Comixology. If you like what you read so far, consider pre-ordering the trade paperback which will be available later this year collecting all fifteen issues.
Are you a Quince fan? Find BNP's Quince's other reviews of the series here.
Are you following Black Nerd Problems on Twitter, Facebook, Tumblr or Google+?