[quote_simple]"Have you ever wondered what it's like to raise a superhero?​"[/quote_simple]
That's the question posed at the beginning of the trailer for Raising Dion. What seems like a peek at some new Marvel property or WB show is actually an ad for a new comic book with a twist on an old tale. Author Dennis Liu and artist Jason Piperberg give readers the story of super-powered adolescent Dion, as seen through the eyes of his single mother Nicole, an actual Black widow (no relation).
The trailer introduces us to the pair, and to the chaotic and mundane life of a woman raising a young boy after the death of his father. We see morning routines filled with Dion levitating milk out of his cereal bowl and letting it splash down onto the table, teleporting from under a towel and into another room as Nicole tries to dry him off. Though "super," Dion manages the same kind of mischief that the parent of any seven-year-old will quickly recognize.
While the trailer (which looks good enough to be its own live action series) shows off Dion's power and youthful sense of wonder (at one point asking "How come my poop isn't invisible?"), the narration is all Nicole. As she says in the first pages of Issue #1, "This is my story." The scenes in the trailer mirror the first pages of the comic by showing off Dion's abilities, but after those first pages it is Nicole's story, and she goes back seven years to introduce us to Mark, the man who would be 'bae,' and father of the titular Dion. This jump backward in time works well as you're first teased with Dion's fantastic nature then pulled back to discover the source of his abilities. Mark is a young, Black engineer working at a D.A.R.P.A.-funded biotechnology firm where Nicole works as a receptionist. This flash back shows us what it might otherwise have just told us, and serves up a hearty helping of Black love, however doomed it may be.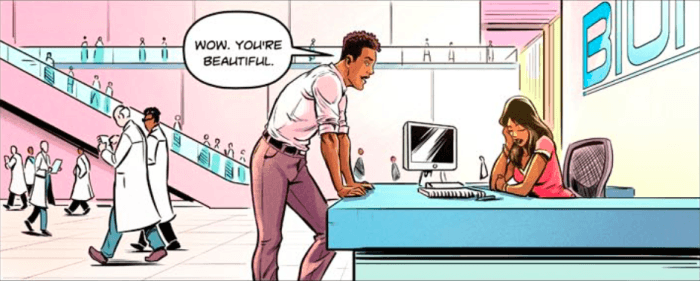 Without giving away the how, this issue makes it evident that Mark is the reason Dion has powers, but as the trailer shows Nicole is the reason Dion is empowered. In one scene she coaches him as he levitates a molecular model with his mind, and later she even writes and designs a book for him because, as she says, "The right children's books wont exist, so you'll need to get creative."
That moment feels quite meta, as Raising Dion is itself an answer to the lack of stories with characters that look like these. Dennis Liu told The Today Show, "I felt like something had to be done about superhero diversity." And it's refreshing that he goes beyond racial diversity to make the central character not only Black, but also a woman. Not a woman who runs a secret government org, or who's a super spy, or can control the weather. She's a young, Black woman raising a son without the father. And her concerns are not only the concerns of parents of color, but parents in general. "How do you give him a normal childhood?" Nicole asks. "How do you protect him from the world?"
I'm interested to keep reading and see what answers Nicole finds for herself and her super seven-year-old. In the comic, the first thing she tells him is "Just believe you can do it, and you'll be able to." Looks like she and Liu are off to a great start with Raising Dion.
Are you following Black Nerd Problems on Twitter, Facebook, Tumblr or Google+?