Writer: Justin Richards / Artist: Val Halvorson / Vault Comics
Content warning: domestic violence
It's hard for me to believe it, but eight months ago I sat down to read Finger Guns #1, and I found myself endeared to Wes and Sadie after their introduction. Two teenagers who inexplicably found themselves with the power to manipulate emotions with a point of the finger, just trying to do the best they can. The magical realism premise was solid, and the story felt like it a lot of different directions it could go in. And in those intervening eight months, it kinda fell off my radar until a couple weeks ago when I saw that the series had been collected into a trade back, and lemme tell you, Richards and Halverson have apparently been doing a lot of incredible this year.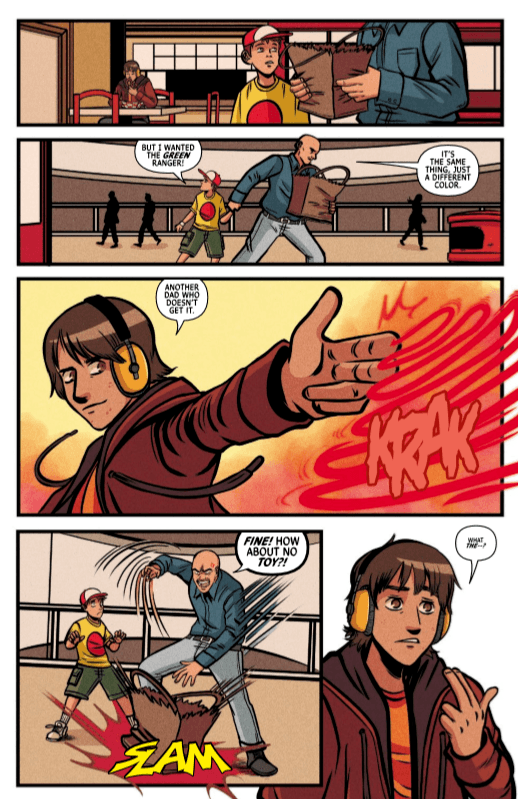 Given that it had been several months since I've read the first issue, I had forgotten that the first chapter ends with the reveal that Sadie's father was abusive, and after seeing out how her story unfolds, it makes me appreciate how Richards structured the story even more. One of the memorable moments in the first chapter is Wes using his newly found powers on a stranger and its unintended consequences, and this moment acts as a brilliant moment of foreshadowing and thematic resonance.
Finger Guns is a story about teenagers reckoning with their emotions, and specifically, about teenagers with difficult home situations trying to find solace during a confusing time. Wes is still reeling from the death of his mother and Sadie is an actively bad situation and just wants to protect her own well being and her mother's. And the arc is structured in such a brilliant way that it explores the different coping mechanisms and reactions. The duo have the ability to change emotions with a literal point of the finger, so of course they experiment and in the process learn that you can't avoid your problems with blissful ignorance, but that you can't lash out either.
The recurring thread through this collection is Sadie's struggles with domestic violence and Wes's attempts to be there for his new friend. And one of the things that I wasn't expecting was how violent Finger Guns was capable of getting, but the violence was done with a specific purpose and intent.
Richards and Halverson depicts the realities of domestic abuse with a simple and direct approach, further pronounced by Esposito's lettering. It makes the story difficult to read at times, but it makes it a poignant read and the way that it interfaces with the magical realism of the finger guns is incredibly fascinating. The heart of the story is poignant. The friendship that grows between the main characters is endearing, and the ending provides a much needed catharsis, and I was constantly impressed by how tight the story telling was.
This book covered an entire spectrum of the teenage experience, and encapsulates its high and lows in a very memorable way. It's a book that will likely need to skew to slightly older readers given the mature topics that the book covers, but it's a book that approaches the topic in an accessible way that gives an honest perspective. As I turned the last page, I found myself thinking that the story had reached an appropriate conclusion, but that I would instantly revisit the lives of Wes and Sadie, and I definitely think Finger Guns is gonna stick with me for a while.
9.1 "Gestures" out of 10
Want to get Black Nerd Problems updates sent directly to you? Sign up here!
Follow us on Twitter, Facebook and Instagram!