Writer: Justin Jordan & Dan Didio / Artist: Kenneth Rocafort / DC Comics
There are just times where you really have to appreciate the absurdity of comics books for a series like Sideways to spin out of a completely bonkers (but equally fantastic) event like Dark Nights: Metal. The best part is that Sideways completely acknowledges the craziness of the world that it lives in. I mean seriously, the characters in this book are so nonchalant about a freaking mountain coming out of Gotham, you'd think they were just talking about some crazy weather.
This honestly sets up the tone for the whole book. We immediately meet high school student Derek James aka Sideways, who has the power to open rifts in space to basically go anywhere he wants. Kind of like The Spot but with super strength. By the first page, Derek is already packing a sweet costume, getting a handle on his powers, and ready to take on this whole superhero thing in full stride.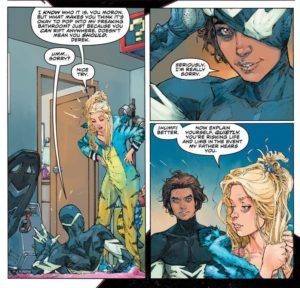 Derek does not question anything or have any reservations about his powers. One second he's falling through a mountain that popped up during his visit to Gotham with his mom, the next month he's like "Oh dope! I can rip apart the fabric of reality to literally make myself a door to anywhere. Let me live-stream it." It's like he checks off every box in the superhero "Do not do" list. And funny enough, it's actually kind of refreshing to see a young superhero without all the hangups that usually comes with getting powers. I mean, it's completely irresponsible but refreshing nonetheless. I'm actually starting to think the only rational person in this book is Derek's mom.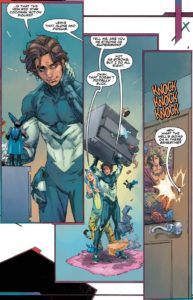 Anyway, everything moves pretty fast in this first issue, and by the end of it, the situation escalates fairly quickly. While we do get to know Derek a bit, it's a shame that Jordan and Didio don't take the time to show us what kind of hero his. Another issue I had is with the art, mainly the characters. When it comes to backgrounds and objects, artist Kenneth Rocafort gives each page a water painting kind of feel – which is great. It's the facial expressions of the characters that kind of throws you off. He has a tendency to make everyone look tired, almost like they've been up for the past 24 hours.
However, none of this distracts too much from the story. Sideways is a fun read. I don't think there are too many teenage superheroes in the DC Universe who aren't already a part of a team or a sidekick. So, this is an interesting addition to DC's roster of heroes. And with the promise of how crazy things to come might get, Sideways seems like it's worth sticking with.
8.5 Crisis Ultimatums out of 10
Are you following Black Nerd Problems on Twitter, Facebook,Instagram, Tumblr, YouTube or Google+?