Listen, if you don't know about the Animaniacs, you're about to see why they're the GOAT. Many people remember Animaniacs fondly as a trio of unidentified animals wreaking havoc on the Warner Brothers studio plot, and the side act of two diabolical lab rats trying to take over the world. As a kid, it was a fun, chaotic watch. You got the classic cartoon violence and occasional puns, but when I got older and looked back at those clips, I'm so sad that I didn't have the knowledge to catch all of those gems.
Animaniacs was timeless then, and Warner Brothers did it again with a reboot. Yakko, Wakko, and Dot are here to steal your heart and transform it into a satire piece. It began with the first episode, seeing them jolt over what their first lines should be, and ironically seeing them waste their potential heavy hitters with pure nonsense. Later as you sift through each episode, they integrate modern takes with the Saturday morning cartoon humor we all missed. The trio touches on capitalism, the political state of our country, social media, and more, all with a hint of dark humor for returning fans.
What Are We Going to Do Today? What We Try to do Everyday Pinky, Provide Catchy One Liners to The World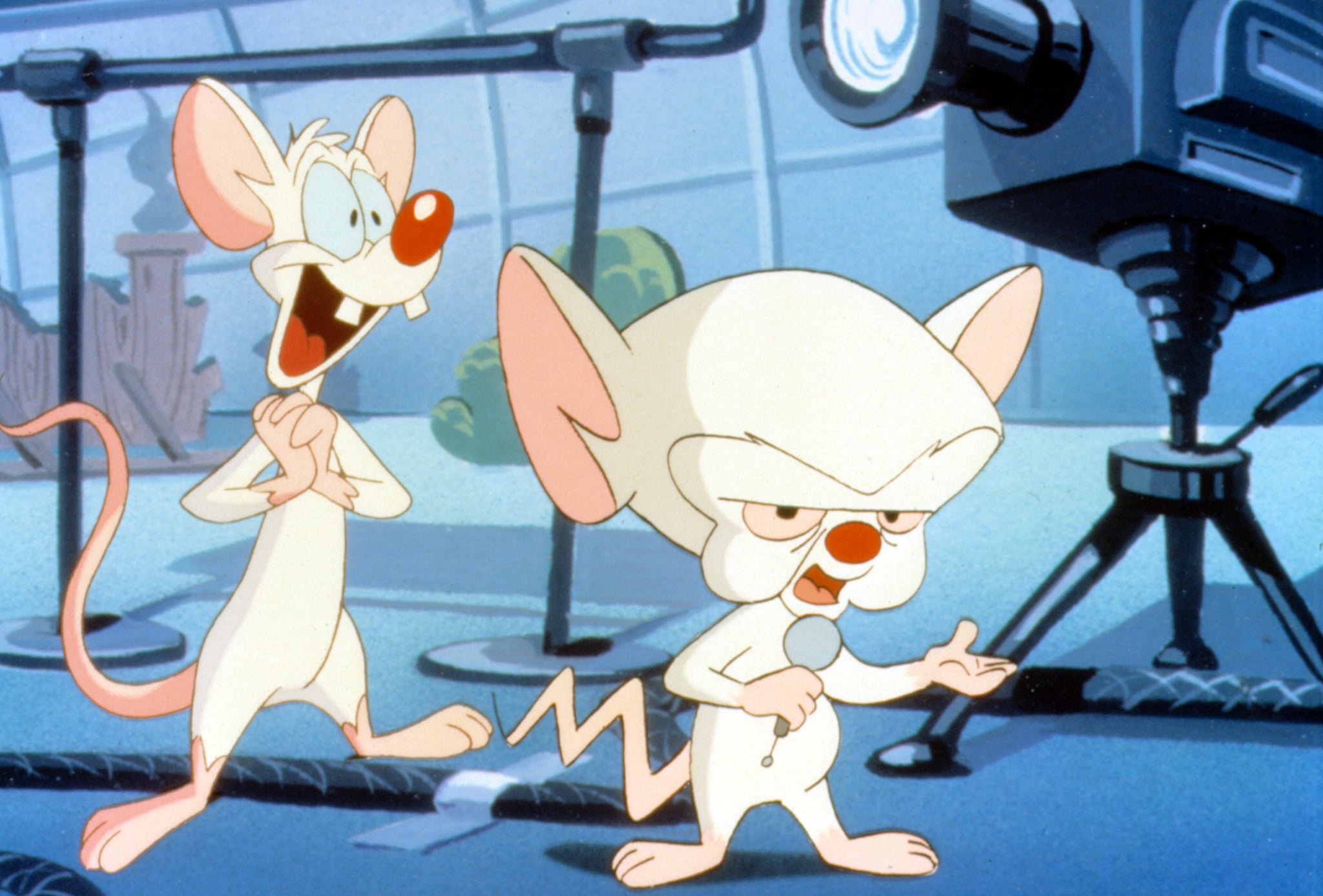 One of my favorite parts of the Animaniacs reboot is observing The Brain's diabolical plots be remixed by Pinky's ironic normalness. These shows, once separated, is absolutely perfect together because the lab rat duo complements the Warner trio. In 1995, the creators of Pinky and The Brain placed two extremes in juxtaposition to one another, and then personified them into lab rats.
When we saw Pinky and The Brain a couple of decades ago, their ideas were zany, extreme and unattainable with a realistic twist. This reboot uses realism as a basis of their diabolical plans while pushing forward the dystopian fantasy in metaphors we recognize. We get the classic mind control route but in different routes, like through politics, phone apps, and capitalism.
What makes the writing excellent is the fact that it manages to cater to its audience in the comedic way you always imagined they would. Light talks of political warfare, psychological breakdowns that are palatable, along with a sprinkle of disdain for the human race, and we got the perfect Pinky and The Brain segment.
A Timely Warner Brothers Lot
I think what makes Animaniacs so timely this time around is the fact that when they wrote this in 2018, they had no idea what 2020 would bring, and literally EVERYTHING fits (so much so, it brought me The Simpsons level discomfort at times). The show straddles the line of family friendly humor and woke cringe that it manages to address everything that you're worried about in 2020 without compromising your stress levels. Animaniacs provides a comfort zone in the middle of darkness. It's the show you would turn to after looking at something terrifying. If a dystopian fantasy is on your mind, Animaniacs will help you laugh it out.
The year of 2020 has been filled with unexpected nightmares. A pandemic, aliens, and an emotionally exhaustive election just to name a few. Animaniacs judges your sorrows with you. What I missed most about this show is the relatability in the midst of its old-fashioned comedy. Out of all the old-time cartoons and swarm of reboots, many creators look so hard to appeal to the older audience that when it comes time to appeal to the younger generation, it sometimes feels weak in comparison.
The Trio Made Lovable for Everyone at Every Age
What makes this upcoming generation so special is that they are thrown into the reality that we have slowly adapted to growing up. Millennials, late Gen X'ers (and to a certain extent their parents) were the original targeted audience for Animaniacs. This time, Millennials will be coming in full throttle to support the show for the sake of nostalgia. Though this reboot was made to keep us in mind, I think it is important to tell viewers that it wasn't made for us "specifically."
Animaniacs follows the vibe that we (Millennials, Gen X'ers) created while appealing to their targeted audience with the energy they deserve. There will be jokes that hit home in a special way for us that this generation might not understand now but will certainly hit home in their future years. It will be important to let them enjoy that, and not seek to critique the crevices because Animaniacs doesn't look like the way it used to, because it won't. But it is still an amazing time worthy of all the praise.
The Animaniacs reboot will hit Hulu November 20, 2020.
9.2 "Iced Out Yakkos" out of 10
Want to get Black Nerd Problems updates sent directly to you? Sign up here!
Follow us on Twitter, Facebook and Instagram!