Game of Thrones: HBO – April 24th, Sundays at 9
Sigh. I'll just join in on the country's collective feeling of, "Is it April yet?" Check out the eviscerated recaps of season 5's insane hush and lows here.
Legends of Tomorrow: CW – January 24th on Thursdays at 8
This baby Justice League production has been in the works for the past year, utilizing The Flash and Arrow to set up the events that take place in LoT. They've put a lot into the creation of this show so I'm honestly eager to see how it turns out. You can't just throw a bunch of B-List heroes into a show and expect it to succeed so let's keep dem hopes high that the immortal Vandal Savage has enough villainy in him to conjure up some amazing action scenes and that the show delivers on the super powered aspect of the visuals and theatrics.
Daredevil: Netflix on March 18

Netflix opened up the flood gates with this welcomed re-imagining of Daredevil. We all hated Ben Affleck's attempt to embody Matt Murdock but Marvel took that as a challenge to bring one of the more beloved low key members of the MCU back to life. The ten episode first season stepped onto the field with all the expectations and criticism of a number 1 draft pick and ran circles around all shows that have been trying to incorporate legit fight scenes into their shows. It was laughable how elevated this brand spankin' new show is, on the choreographed battle side of things. Acting isn't half bad either. If you haven't caught up yet, get familiar before the Marvel Netflix movement leaves you in the dust.
Luke Cage: Spring on Netflix.
The third act in the Marvel Netflix deal. After already finding himself an extremely solid core fan base with a handful of reoccurring appearances on Jessica Jones, Luke Cage is primed to use the two elements that made acts 1 and 2 such a success. The superb fighting action that captivated us with Daredevil and the freedom stripping bare-it-all psychological elements of Jessica Jones coupled with whats being described as soul. The top notch acting we have seen Michael Coulter exhibit already, should make for a third round of Marvel dopiness.
Agent Carter: ABC on Jan. 19  at 9


Speaking of Marvel, Peggy da princess BOSS is back for her second season in the early years of the MCU. Things might get a little glitzy with Peggy taking her talents to Hollywood.
Girls: HBO on Feb. 21 at 9
It was recently announced that this would be the last hoorah for Lena Dunham and her gaggle of gals. Brooklyn will never be the same again.
Mr. Robot: Release Date TBD (likely Summer) on USA.

Yours truly was all over recaps for Mr. Robot when it hit this past summer, and boy was I in for the most pleasant of surprises! Mr. Robot came out the gates throwing haymakers like their life was depending on that shit. Btw, yes you read that correctly USA is blessin' the good folks over here on the couch with a show one can actually fux wit. The best story ever written about the hacking culture of today's generations anchored by one of the finest acting performances of the entire year? Yeah, you bet your ass you should be adding this one to the top of your Need-to-Watch list.
Orphan Black: Release Date TBD (likely late spring) on BBC
Hearing nothing but high praise for the boundary pushing show about clones and the implications our push to perfect the cloning process might have on our society and personal identities on day. Been meaning to catch up on this one and 2016 looks like my year to imagine a 2nd Ja-Quan running around tearin' up dem streets.
Banshee: April 1st on Cinemax
One of the few joints that I haven't checked out yet. Banshee takes place in the less than quiet and peaceful Amish town, Banshee PA. The show follows a man ex-con who assumes the identity of the town's murdered sheriff in order to continue his thieving ways and escape the clutches of the local crime boss. Word on this one is that the 8 episode 4th season will be it's last.
Into the Badlands: Release Date TBD on AMC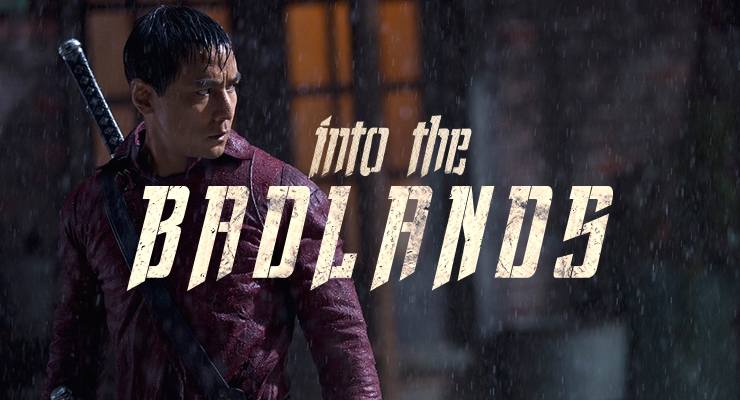 Did this show just end like a month ago? Yup! The streets already hungry for more? Yep, like the morning after Thanksgiving…give me more!!! The season was only 6 episodes long so the streets are not only hungry for more but trippin' off the shortened exposure to such an amazing new show. Take a no-guns, all swords and knives post apocalyptic Hunger Games-esk setup, infuse perfected choreographed Crouching Tiger Hidden Dragon martial arts all throughout the show… then throw some Game of Thrones ambition into the ruling class power struggle, and frost everything over with a hint of the fighting action seen in The Matrix and you got AMC's newest hit. I know, sounds fire! And I haven't even told what the story is yet. Check my article on the 10 ten shows you should be watching for the synopsis.
It's Always Sunny in Philadelphia: Jan. 6 on FX at 10
The gang is back in Philly for it's 11th season of unapologetic ratchet behavior and hilarious antics.
Workaholics: Comedy Central on Jan 14th, Thursdays at 10


Slacker? Check. Stoner? Check. Lounge and laugh? Check. If this sounds like you, you should probably get down with the Workaholics crew. Even if it doesn't sound like you, you'd probably enjoy laughing at these three jabronis.
Portlandia: IFC on Jan. 21 at 10
Fred Armisen and Carrie Brownstein return for their 6th round of awkward moments and the Northwestern way of life. I've never been much of a fan, but you don't get 6 seasons for no reason.
Better Call Saul: AMC on Feb 15th, Mondays at 10


The Breaking Bad spinoff had some good moments in its inaugural season. Definitely rounding out and fleshing out a lot of details in the meth producing world of shady lawyers.
Most anticipated New Shows
The Get Down: August 12 on Netflix


Yo this joint right here? Wooooo! This joint right here lookin so black my grandpa 80 year old ass gon hobble down from the South Bronx just to bless the cast and crew with some lima beans and neck bones, collard greenss, fried chicken & baked macaroni and cheese! Apparently, Baz Luhrmann has spent over a decade developing this series, and it is finally coming to life on Netflix. This joint is the story of the burgeoning New York music scene of the 1970s with amazing insight into venues such as the CBGB. The homie Evan Williams already hit this joint with the ill preview article. Be on the lookout for this highly impressive "mythic saga of how New York at the brink of bankruptcy gave birth to hip-hop, punk and disco."
X-Files: Fox – Jan 24th at 9
Mulder and Scully are back. Break out the tinfoil. Call up your alien truther friends. Strap yourselves in for another ride on the paranormal train. Let's hope for something worth watching..even if it is for nostalgia purposes.
Fuller House: Netflix – Feb. 26

How many people watched Full House? How many kids fell in love with DJ and Stephanie? How many families adored Michelle? How many women were swooning over Uncle Jesse? MILLIIONS…and millions. Netflix is a problem.
American Crime Story – The People vs OJ Simpson: FX on Feb 2nd
FX conjured up a star-studded cast for this one. We got Danny Zucko himself, John Travolta as Robert Shapiro, David Schwimmer as Robert Kardashian, and Cuba Gooding Jr. as O.J. da juice Simpson! The story that captivated the nation in the 90's is a sure fire bet to place us all in a trance again when it premieres in February.
Vinyl: February 14th on HBO


Terence Winter, known for The Sopranos, Boardwalk Empire, and The Wolf of Wall Street. Martin Scorsese is directing at least the first episode, Mick Jagger is executive producing and Bobby Cannavale has the leading role. So much star power is being poured into this one that you might go blind from the radiance.
11.22.63: Feb 23rd on Hulu
Hulu ain't ready to let Netflix and Amazon continue their stranglehold on the streaming service platform. They said, "We gon enter 2016 with some heat. We gon get James 'I can't say no to any role' Franco to be our leading man. We gon use one of Stephen King's novels to make sure the story is official..and they gon watch, well if they can get their homies Hulu login info."
Shades of Blue NBC – Thursdays at 10
It appears this show may not be completely trash. It seems J. Lo brought her big girl acting chops. It may sound crazy, but could Ray Liotta have actually selected a television show with some depth and intrigue, as opposed to simply taking the biggest check he could find? Let the trend of former movie stars moving to well written shows continue!
Animals: Feb 5th on HBO


Comedy about different rodents and creatures, such as pigeons, bedbugs and rats who live in New York City. This badboy is HBO's first cartoon in years and has already been hit with that season 2 green light swag. I'd guess it's going to be pretty hilarious.
Divorce: Release Date TBD on HB
Sarah Jessica Parker makes her return to TV and HBO, the place she made a name for herself on Sex and the City. Not too much word on what the story of this one will be, but I think it's safe to say Parker will be a divorcee looking for a new interest in this series.
Colony: Jan. 14 on USA at 10
'Iight, I know this looks like every other futuristic we-must-band-together type joint that gets cancelled after a month of trash ratings, but this one has two key things going for it. First, one of it's executive producers is Carlton Cuse, who worked on Lost and Bates Motel. And although there has to be plenty of sci-fi elements in the show, it being an alien takeover the city of LA situation, Cuse said in an interview that he got the idea after looking at photos of Nazi-occupied France. Does it get much realer than that? Probably not.
The Mortal Instruments – Shadowhunters: Jan 12th on ABC Family/Freeform
The Mortal Instruments: City of Bones was a movie that dropped in 2013 and kinda bombed. The fact that they are fully behind using the same series to help launch ABC's revamped channel, Freeform, should give most skeptics hope that they will actually deliver on this front. The YA novel turned show and movie genre shows no signs of stopping and this is another example.
The Shannarah Chronicles: January 5th on MTV at 10


Now before you get to automatical eye rolling stone check the credentials this bad boy is toting It has been developed by Alfred Gough and Miles Millar who, among various other works, were responsible for the story of Spider-Man 2. They got the homie Manu Bennet, who was killed it as Slade Wilson on Arrow. They got Ivana Baquero, who played Ofelia in Guillermo del Toro's amazing dark fairytale-ish movie, Pan's Labyrinth; and John Rhys-Davies, who the nerds gon go crazy for cuz he played Gimli in the Lord of the Rings trilogy. I have the first episode a gander and its a well done fantasy tale. A few more elves and trolls than I expected, but still looks pretty dope.
Codes of Conduct: Release Date TBD on HBO
Oscar-winner Steve McQueen (12 Years A Slave), brings this 6-episode series to life. The story will focus on a young African-American man with a mysterious past. Dude gets submerged into the bougie society of New York's upscale lifestyle. McQueen created and wrote the series with Matthew Michael Carnahan (World War Z), and has tasked himself with directing duties… and I'm talkin' bout all episodes 6 episodes. Sounds like HBO has yet, ANOTHER ONE.
The Duece: Release Date TBD on HBO
The Duece is shaking up to be one of those HBO guarantees to win and award when Emmy season comes back around. David Simon and the work he has done over the past 20 years (lookin at you Omar) is formittable to say the least, so you can bet ya bottom dollar that people will be lining up to see James Franco and Maggie Gyllenhaal working in the New York porn industry of the 1970s and 80s. intriguing to say the least. Oh yea, if you wanna get your David Simon knowledge all the way up, he's got a second series coming out as well about the Watergate scandal..waiting on more info for that joint.
Marvel's Most Wanted: Release Date TBD


They just made it official. They're taking two of the best characters from Agents of S.H.I.E.L.D. and thrusting them into this show, presumably about hunting down some of the biggest and baddest villains in the MCU. Men and women with amazing chemistry and the ability to perform top notch action and fight sequences getting their own Marvel show? I'm down.
Tina Fey and Robert Carlock's untitled show: TBD on NBC
These two comedic beasts will be crafting their latest sitcom about an interesting and inevitably hilarious relationship between a mother and daughter who wind up in the same place of work. After blowing out all expectations with the ridiculous cult following of a Netflix show, The Unbreakable Jimmy Schmidt, there's no doubt that this one will be another hit…another 1!!
Sherlock: The Abominable Bride: Jan 1st on PBS
Benedict Cumberpatch is back for all our Shelock Holmes fans. Benedict Cumberbatch and Martin Freeman return as Sherlock Holmes and Dr. Watson in Arthur Conan Doyle's classic stories. In this 90 min TV movie, our heroes find themselves in 1890s London.
Cooper Barret's Guide to Surviving Life: Jan 3rd on Fox
The comedy has already caused quite a stir with straight edge families and goody too shoes towns across the nation. The raunchy ads and trailers will likely garner plenty of viewers in its first week, but will the plot details and life lessons of a college grad be enough to keep the show going strong?
Son of Zorn: Release Date TBD on Fox


Phil Lord and Chris Miller are the busiest duo in Hollywood and they have a ridiculousssss sounding series they are finishing up about this legendary animated warrior that returns to Earth from Zephyria to connect with his son and hold down a boring ass office job? These guys are outrageous and have already sold me on the absurd concept, cuz that's what these guys do. Take something completely unexpected and make a fuckin masterpiece out of it.
Madoff: Feb 3 on ABC at 8
The miniseries stars Richard Dreyfuss and Blythe Tanner as Richard and Ruth Madoff. Additional celebrity talent include Lewis Black and Frank Whaley.
Westworld: TBD on HBO


I haven't heard much about this one but it's Based on the 1973 film of the same name, is being created by Jonathan Nolan, with executive producer credits going to the impeccable J.J. Abrams. Leading cast member is the always amazing Anthony Hopkins in a futuristic theme park where people come to live out crazy fantasies…like a gun slinger duel at high noon or robotic prostitutes. The big wrinkle in the plot will be what happens when the computers mainframe goes haywire. Sounds like this will be a fun one to watch. Here's to hoping it becomes a staple in the HBO wheelhouse.
Lucifer: Fox on Jan 25th at 9
Premise sounds pretty dope and it's based on a comic book character created by Neil Gaiman, who always comes correct. Promos for this one have been pretty weak, but I'm gonna give it a shot. Devil pulls up to our world to see how things are going. He takes up a job with the LAPD and let the magic begin.
Cleverman: Release Date TBD on Sundance
Another Real World Dystopian track. This one feels different though. Maybe because its a New Zealandese? show. Maybe it's because my son Ser Jorah Mormont is the lead actor. Maybe it's because the themes of a show that has people that feel less inferior to others and want to exploit and kill them sound oh so familiar to so many damn thangs in this world!
The OA: TBD on Netflix


I'm going to be straight up with you on this one, no body has a dam clue what the fuck this show is going to be about. All we know is it has some young guns who have been turning heads at Sundance / Indie world and being produced by some cats who helped make 12 Years a Slave and True Detective. Intrigued, I am.
Outcast: TBD on Cinemax
All you horror junkies out there, get hype! Supernatural possessions have been sighted. A young man searches for answers and creeps me the fuck out in this series coming to Cinemax.
Second Chance: Fox on January 13th at 9
Fox has an interesting show on there hands here. 75 year old guy used to be a piece o shit sheriff and was forced to retire. After being killed, billionaire bio engineering twins bring the dude back to life with a younger stronger body. Morals really come into play with this one as you wonder if he will use this second chance at life to turn it around or return to his grimy ways.
Big Little Lies: Release Date TBD on HBO


Things take a dark turn for a group of moms whose perfect lives begin to unravel. I literally looked at the title, rolled my eyes, thought about how this has to be a story about the parents of the pretty little liars, began to scroll past it…then saw the name Nicole Kidman and said, "Dam, I gotta throw it in the list now"
Lewis and Clark: Release Date TBD on HBO
Well, this ambitious project hit some rough patches during production. They had to shut the whole thing down then got it back on track. Now Casey Affleck reports that they are "Starting over again." They're closing the whole damn thing up! Rewritting the scrip and everything. I just hope Casey Affleck gets to play the historical legend Captain Meriweather Lewis in his first-ever leading shot.
Underground: March 9th on WGN


I don't know what the hell WGN is, but they get instant cred in my book for taking a shot at a slavery drama. The name says it all. The show will follow groups of slaves who navigate a 600 mile escape from a plantation in Georgia.
Rush Hour: CBS on March 31st at 10
Jackie Chan and Chris Tucker must be shaking their heads at this one. Or maybe they gave the producers and show runners the ill co-sign to create this joint. Not gonna lie, Rush Hour is one of my favorite comedies, so I'll give this show an honest two episodes to see if its any good.
Rain: Release Date TBD
Keanu Reeves. That is all.
Beowulf: Return to the Shieldlands – Esquire on Jan 23rd at 10


Holding the title as my favorite piece of literature of all time would make you think I'm hyped for the possibilities here. Instead Hollywood has conjured up the skeptic in me after decades of flops, ok-at-best, and terrible adaptations of one of the oldest pieces of literature known to man. I have my reservations but this joint is climbing up the list of shows I may have to give a shot.
The Ranch: Release Date TBD on Netlix
The story of the son of a Colorado rancher who returns home from a semi-pro football career to help run the family business. I'm not gonna lie, I wasn't sold on the plot, but I was intrigued enough to dig deeper and I'm liking what I'm hearing. It's a comedy and features Ashton Kutcher and his That 70's Show alumnus, Danny Matherson. Netflix is switching up their show release flow this year and have decided to drop the show in two 10 episode blocks, so it looks like The Ranch is full steam ahead.
Preacher: Release Date TBD on AMC


Get ready. AMC had ANOTHER 1 ON THEIR HANDS!! Dominic Cooper will play Jesse Custer, a small-town preacher on a mission to find God. Literally. He'll be accompanied on the journey by Tulip (Agents of S.H.I.E.L.D.'s Ruth Negga), his ass-kicking, gun-toting, criminal of an ex-girlfriend, and Cassidy, a hard-partying Irish vampire.
If that's not enough, there will also be angels, and a character called Arseface. Because, well, you can probably guess. The trailer is fire. AMC has been playing ZERO games these past 5 years and I'm sold on Preacher.
It's also created by Seth Rogen. Need I say more?
There you have it. Plenty of returning shows and new shows to choose from so go ahead and pick you poison.