Writer: Vita Ayala / Artists: Emily Pearson and Marissa Louise /Letterer: Jim Campbell Black Mask Studios
The market of post-apocalyptic, zombie infused comics/graphic novels is full of options. This week brought us The Wilds from Black Mask Studios, a visually unique comic that could shape up to be a real stand out in a crowded field. Written by Vita Ayala (she's written for Bitch Planet and Suicide Squad), with art by Emily Pearson (artist for Vault Comic's Cult Classic: Zero Short) and Marissa Louise (colorist for Boom! Studio's Escape From New York), The Wilds features complex queer characters, menacing "friends", and hints of twist right from the first few pages.
We are immediately treated to the backstory — the usual flu that turns people into shambling zombies, but every panel is filled with flowers, not the usual background for a book of this type. After that, we're introduced to runners — people who leave the safety of walled compounds to make deliveries, or to scavenge locations for goods. Quickly, however, the liberty of runners is brought into question. How easy is it to leave the job? How voluntary is it, really? The suspense of the setting grows steadily through the issue as we zoom in on the main character: Daisy Walker. She's one of those responsible types, she does the job because it needs doing. She risks her life for strangers. She's "Good" capital G. Then you meet her girlfriend, Heather, and the rest of her friends, all of whom are encouraging her to get out of the life like it is some kind of death sentence.
It is all very ominous, even though the zombies aren't. Which is interesting by itself.
The art style is different from most comics out. In place of smooth lines and bright candy colors, are muted pastels and sketchy lines. Pearson and Louise bring us a post-apocalypse that looks like an eternal sunset, like the world is dying, even as those creepy flowers and vines fill the edges of the panels with life. What is going on?
What struck me most about the art is the faces. They're deeply lined, scarred — these are all people who've been through hell and that history is there. They don't sleep. They only sometimes eat. They definitely worry. There's no moisturizer. It is bad in this dystopian future, my friends.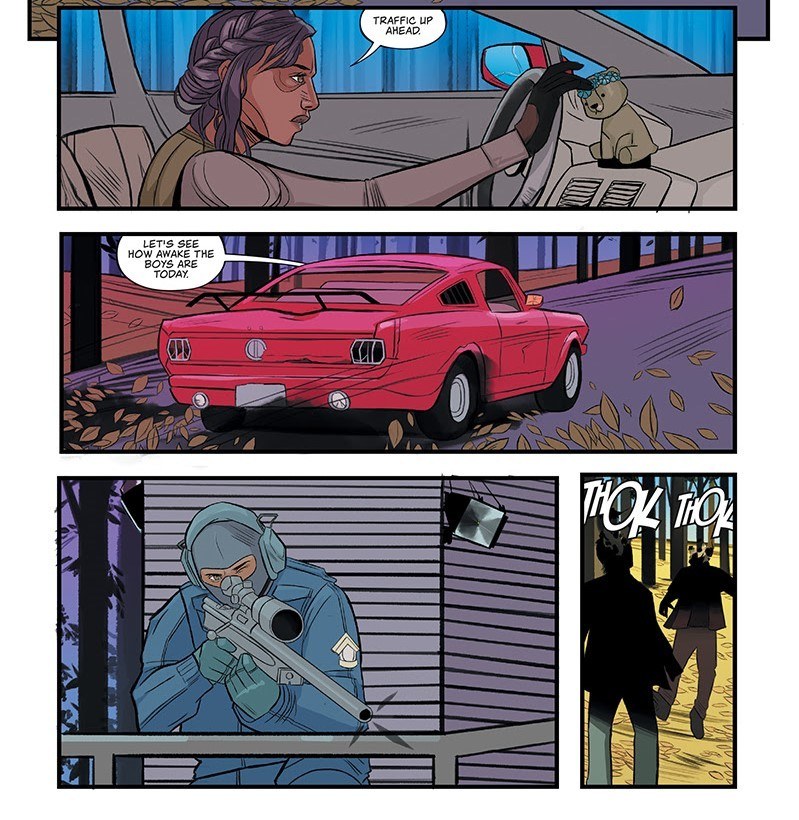 Ayala and team have put together a tempting first issue, one that is full of hints and threats with no safe places. The characterization is strong even if the ground is well-trod. Note: This is an adult comic, there are some panels that would earn this an R rating if it were a movie. If your interest is WoC protagonists, dystopian futures, and surprises, this is a good indie comic to pick up.
7.5 red Mustangs out of 10
Are you following Black Nerd Problems on Twitter, Facebook,Instagram, Tumblr, YouTube or Google+?