Writer: Rick Remender / Artist: Sean Murphy / Image Comics
Rick Remender is having a really good run with his creator owned work (probably why he's halted his work for hire stuff for Marvel and DC) lately. As a rabid fan of Black Science and Low, I was immediately sold when my editor asked if I wanted first dibs on his latest series, Tokyo Ghost. But is it possible that the Deadly Class writer has finally struck out?
Short Answer: Man, hell no. Set in 2089 Los Angeles, Tokyo Ghost looks like what would happen if everyone in Blade Runner were addicted to technology. And by "addicted", I mean technology is essentially a drug that society is thoroughly dependent upon. Remender takes the "plugged in" commentary that The Surrogates was and takes it a step further at a time when the idea of us losing our analog connection to each other becomes more of a reality than ever. "Unplugged" Constable Debbie Decay and her addict partner Led Dent patrol this giant technological opium den on the trail of a cyber criminal that can hack anyone anywhere.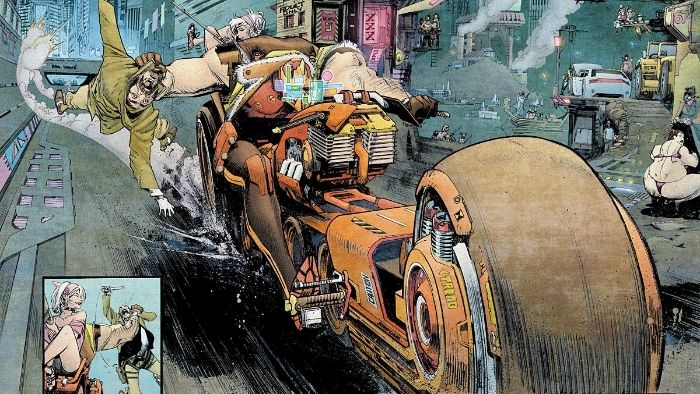 Think of the Puppet Master from Ghost In The Shell but far less self aware. Remender's script is equal parts intense, fun and relentlessly fast paced. He keeps us engaged in his cyber dystopia while maintaining a focus Led and Debbie's strange and complicated relationship. The only real complaint, script-wise, is that Remender doesn't dig quite as deep with the techno commentary as we would expect from the writer of Black Science. Still, layering such themes in while introducing our heroes is a tough balancing act that he pulls off well enough that we can take him on his word that we'll get more depth as the story goes on.
Meanwhile, Sean Murphy is at the top of his game on the artwork. He plugs you in right away and doesn't let go, offering more treats per panel than we deserve in the first issue. From the first page, you are immediately immersed in this crowded cesspool of digital decadence.
Bottom Line: Not quite as heavy as it could have been but Murphy and Remender is a superhero team up so awesome, this book was bought from the start. Same goes for next month, too.
8.5 Cyborg Rutger Hauers out of 10
Are you following Black Nerd Problems on Twitter, Facebook, Tumblr or Google+?