Writer: Dan Slott / Artist: Valerio Schiti / Image Comics
I'm not afraid to admit I was wrong. Tony Stark: Iron Man #1 came off as a lot of pomp to me. It felt as though the movie Iron Man was seeping into the comics in a real wack way. I was wrong. In reality, it was only just the beginning of an arc. An arc that shows in just its second issue that it's got quite a bit to say about team Iron Man.
Issue #1 gave us a reckless but brilliant (yet also vapid) Tony Stark with a happy-happy-joy-joy ending that implied that Tony was the sum of his team. Tony Stark: Iron Man: Issue #2 fleshes out how the team makes the 'man'. We get to follow a day in the life at Stark Unlimited with Rhodey, Andy Bhang, Bethany Cabe, and Jocasta Pym.
Oh yeah, the Friday A.I. has been removed from the Stark OS and has their own body!
Think. When you consider Iron Man, who are the people behind the Man? Who is Tony's conscience? Tony's right hand, his Jiminy Cricket, his one true homie, his ride-or-die? That's right: Air Force Colonel James Rhodes! He is the moral fiber of Stark Unlimited, and issue #2 is centered around Rhodey's first return to action since being impaled by Thanos in Civil War II.
Rhodey and Tony take on some despots using stolen Stark tech (codenamed Manticore), and War Machine has a full on meltdown. Early in the issue, we see Rhodey dreaming about the several times he's died in the War Machine suit. By the time this fight goes down, Rhodey has to eject from the suit!
He finds a mech to pilot (the Manticore actually), but the damage is done and so is Rhodes' time in the War Machine suit. I don't like seeing my man Rhodey taking L's like this, but he finds his stride.
While Rhodey is showcased by Slott as 'the strong friend' with their own issues, Bethany Cabe and Jocasta are used to highlight the some of the other complexities facing team Stark. Where Rhodey is getting accustomed to living and breathing again, Bethany is being tortured by the frustration of not being able to catch an intruder in the SU building. What Bethany doesn't know is that SHE IS the intruder, under subconscious control by…The Controller! This thorn in her brain keeps her from sleeping and is forcing her to look everyone at SU over with suspicious eyes and a lack of focus.
Jocasta, on the other hand, is just looking to fit in with humans while being proud that she is synthetic. Neither goes over great. Bethany's lack of sleep moves her to be suspicious of a new employee and ends up punching Jocasta out of her disguise!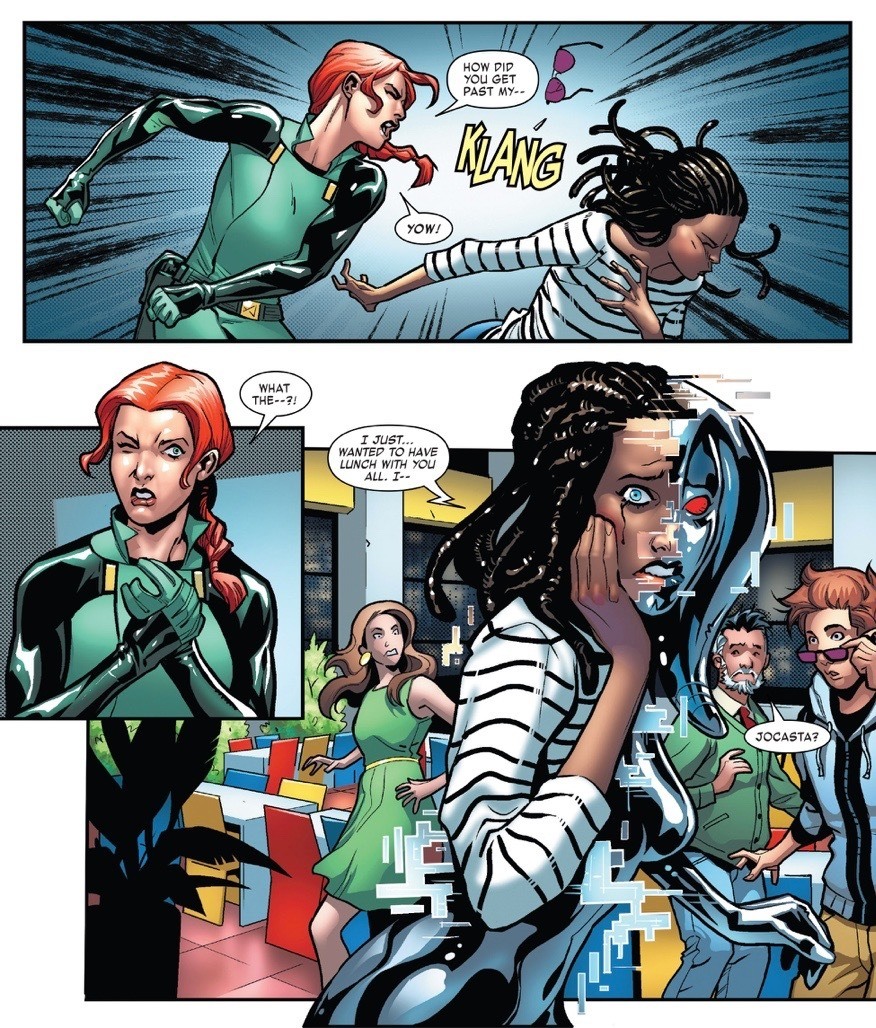 Jocasta leaves work early to talk to her husband about her day, and we find out her husband is none other than Aaron Stack the Machine Man!
Lastly, Tony lets Rhodey in on a secret on their way back to home base: while he had himself and Rhodes rebuilt from head to toe on a genetic level, Tony believes he was rebuilt 'wrong'.
Issue #2 ends, leaving the reader with real deep insight into the complex fabric of the Stark Unlimited family. It also shows us the many loose threads in that tapestry and tugs a little at each one. Slott sets the pieces up slowly and with great care, and Valerio Schiti delivers visuals with a golden age feel matched with clear and expressive dynamism. There's a simplicity to this story that I think is the prelude to some intense events for the rest of the arc.
7 holographic mollywops out of 10
Want to get Black Nerd Problems updates sent directly to you? Sign up here!
Follow us on Twitter, Facebook,Instagram, Tumblr, YouTube and Google+.