Toonami has announced that they're having a Michiko & Hatchin Marathon on Saturday, September 5th starting at Midnight, so mark it down on your calendars and Digivices!
This is what the schedule looks like according to Toonami's official Tumblr:
12:00am – Michiko & Hatchin ep. 4
12:30am – Michiko & Hatchin ep. 5
01:00am – Michiko & Hatchin ep. 6
01:30am – Michiko & Hatchin ep. 7
02:00am – Michiko & Hatchin ep. 8
02:30am – Michiko & Hatchin ep. 9
03:00am – Michiko & Hatchin ep. 10
Toonami is really pushing this show which is, of course, a good thing. As you can see on the schedule the first 3 episodes are missing — OH NO! What are we gonna do if we need to watch the first 3 episodes?! Well you can just go on over to Funimation's YouTube channel and watch the first 3 episodes there (it's subbed, not dubbed though). After you watch the first 3 and then tune in for the marathon with your bae, or alone with your Pokemon plushies, you'll be all caught up with Toonami's schedule for the show. You could also just watch all the episodes subbed on Youtube, but the dub is actually pretty amazing so it's all a matter of preference.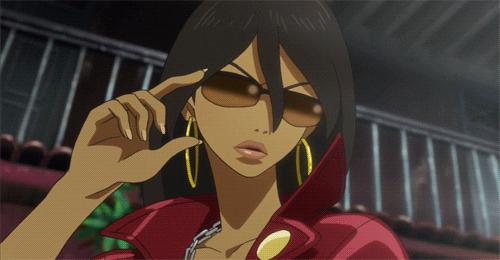 [divider type="space_thin"]
The show is about a woman named Michiko who escapes from prison and goes to rescue her daughter from her terrible foster family's abuse. The two go on the run from police and the foster family and learn about each other and their pasts together. Michiko & Hatchin is full of People of Color who are main and side characters with a story that's intense and engaging.
Atsuko Jackson, who is in our Underrated POC in Anime list has a major role in the show as well. Add a funky soundtrack and great fight choreography and you get a show that has it all. There's heart in every episode and if you ever wanted to see an anime with a great story and great characters then look no further and watch the first 3 episodes. Then tune in to Toonami this Saturday folks! Happy Watching!
Are you following Black Nerd Problems on Twitter, Facebook, Tumblr or Google+?