Us is a masterfully layered thriller in which the intricate details of each scene build the story and complicate the narrative at every turn. This article will begin as a review then twist and turn building into an angle point of view piece. So – at the very end of the article I'll be spoiling some things, but have no fear, I will warn you way before it happens
This film is unexpected just as the trailer has you believe. Writer, Director and Executive Producer, Jordan Peele's mind is a maze of experimental blackness with closets and hidden doorways built into the twists and turns – so he writes these films that allow him to watch us get lost in his labyrinth as he smirks and laughs the whole way through. All that to say… yea he's a genius. As a group of friends and I were pontificating after the film, we could not move away from the metaphor of Peele being the modern Hitchcock. In true black nature we said the "Black Hitchcock," but to get out of this type of dichotomy I'll say the modern Hitchcock.
"WE ARE AMERICANS"
From the very first scene, we are drawn into a psychological tunnel. We are presented with a slowly widening shot of rabbits in a cage, in what looks like a classroom, then flung into the story of a young girl (played by newcomer and phenomenal talent Madison Curry) in 1986 with her family at the boardwalk carnival. We are then taken back to this moment throughout the film, highlighting a traumatic moment the little girl has in a mirror fun house where she meets her doppelganger. I won't say much more because the rest of the film you are curiously walking through a tunnel of clues to something you cannot put your finger on, and the details are the only thing that really matter. One detail is connected to another and a different detail connected to that leads you to another clue, and you are stuck now in a maze trying to figure it out and keep track of the metaphors and clues that are impacting the way you think…and you love every minute of the journey.
The thriller aspect of the film is paired well with a nice chianti of humor. Each comedic moment is natural and plays a key role in the character development of this family and their surroundings. The father of the group, Gabe Wilson, is played perfectly by Black Panther star, Winston Duke. He is the suburban black man who operates like the classic National Lampoon's Vacation dad, trying to get the family to enjoy their vacation but on his terms. Buying a boat, wanting to go fishing, competing with the affluent white family with the money – all while wearing his "Howard" sweatshirt. Even this detail speaks so much in the narrative of the film as a whole, and each character and moment had this.
The daughter Zora Wilson, played by the brilliant Shahadi Wright Joseph (Hairspray Live!), is slated by the family to be a track star, but her teenage whims distract her from that path – her being a runner is important here. The son, quirky kid and a magician in training Jason Wilson, loves to hide. He is played by the captivating Evan Alex. Don't sleep because every characters' traits fold into the complete makeup of this film. It's like each scene you are turning the page to a well-crafted novel. I will stop with the metaphors at some time I swear.
The icing on the cake is how well Jordan Peele can write white people – it's damn good and accurate AF. His writing of the Tyler family, friends to the Wilson's – was on point. To quote Kitty Wilson, played by the formidable Elizabeth Moss (The Handmaid's Tale), – the line, "I think it's vodka'oclock" was just as annoying as in real life. Moss was that white lady in the best way selling the creep and the entitlement, and this film truly played on the intertwined nature of the two. Tim Heidecker (Tim and Eric Awesome Show Great Job!) was playing the role he was born to play and has always dreamt of in character Josh Tyler/Tex. He literally had me rolling in a real creeped out hilarious way, just like his work on Tim and Eric!
All in all, it was perfect casting – notice I have not mentioned Lupita quite yet – she needs her own section… period.
Each actor was challenged in the strangest ways being able to play two characters. This allowed the actors to stretch across the spectrum of their abilities. It was a pleasure watching them play, and inspiring as an actor – it has you wanting to really master your craft.
"I GOT FIVE ON IT:" Five Reasons Not to Compare Us to Get Out
Many want to ask "is it better than Get Out?" I get it. Peele obviously has a style and aesthetic to his films for sure, but this is not a question one should pose before deciding to see Us – hell you should not even ask this after watching Us.  If it helps, pretend they are in two different genres. Think of it like, one is a rom-com and the other is historical non-fiction – can't be compared.
1. The storylines are completely different in purpose and makeup. There is no way to accurately state the quality or value of Us while comparing it to Get Out. The purpose of this film is to lead your mind into a carefully woven expert level nautical knot, where you feel like you know how it was made and maybe how to untangle it, but the beauty is in the knot itself.
2. The key to this film's writing is in the script notes. The character's lines and actions are intertwined with the imagery and setting. A sentence one character says could only make sense after the flick of a lighter which plays a part in the following shot, but without noticing the details could lead any watcher to believe the writing is disjointed. In reality, the scene and the character talk to each other and you have to learn the language.
3. This is a horror genre film at its core. Although Peele's work is largely psychological thriller and Us checks that box, the foundation of this film is closely linked with that of traditional horror. Suspense, jump scares, creepy little kids, whistling and otherworldly forces of nature and the unexplained at play.
4. Two movies do not make a catalog for comparison. If we are looking to compare one director's body of work to each other, having only two films cannot be a wide enough breadth of work to do this accurately. If you want to compare, then you need to consider all his written and directed Key & Peele sketches with Get Out and with Us. So ask yourself – but was it better than his "Baby Forest" episode?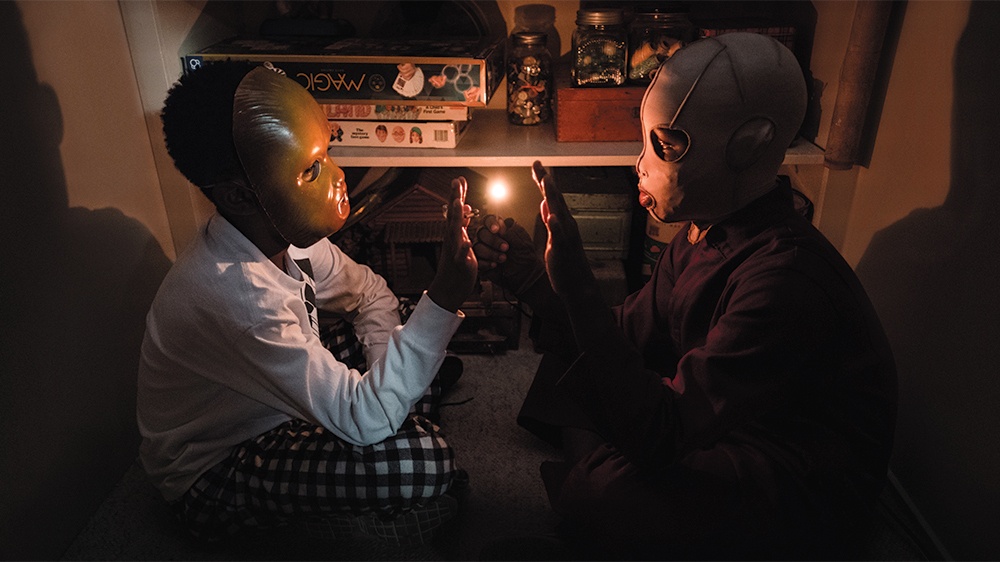 5. The only conversation we should be having – is Peele going to make a connected universe? The PCU (Peele Cinematic Universe)
"BE CAREFUL"
This film is driven by, flown, marched, cascaded, championed by (I can keep going) the astounding Lupita Nyong'o who plays the mother Adelaide Wilson and counterpart Red. Now if you know me, you know I, as everyone, love Lupita, but throughout her explosion to fame I have wanted to see her in a role that truly showed me her wing span. LORDT, this film showed me it is just the beginning and we have only seen the tip of the iceberg that is her talent. As layered as this film is – her performance is what builds each floor, she IS the layer. Her choices are out of this world, watching her play both Adelaide Wilson and the doppelganger Red made you increasingly uncomfortable with every word, wide eye, and gulp. Her movement and choices were clearly of her making. Obviously, Peele's direction was paramount, but I honestly believe he gave her a framework – told her she is the constant and let her run free. I wanted to say "damn that shit is hard" – but she ain't even made it look that way. To mirror that (see the pun I did there), her counterpart Madison Curry, young Adelaide, matched her marvelously. Her movement and dancing – superb. Her facial expressions and presence something special, we definitely need to look out for this one.
I've been searching my brain for a bad critique. What are the cons? The calculated chaos of the story can be perceived as messy… I guess that is a backhanded compliment actually. Imma get back to you on the cons.
***SPOILERS BELOW***
RABBIT IN A HAT: The Metaphors
Like The Prestige, this movie asks, "Are you watching closely?" I will definitely need to see this film 2 more times: one to analyze the ISH out of every detail and one for the hell of it. You are swept away after the film closes by the metaphors and symbolism that flooded your mind over the course of the film. As one metaphor presents itself another is added, and you begin to think everything must mean something, and I swear it does.
From the first shot – rabbits in the classroom – I was brought to experimentation, as rabbits are and were commonly used in animal testing. Then the classroom, in many young learning institutions, youth raise some sort of animal, chicks, mice, rabbits – meant to teach us the cycle of life and responsibility – that right there gives a look into the life of the underground clones and the juxtaposition of the people on the surface.
The obvious metaphor of privilege and "poverty." Once Adelaide Wilson (Lupita Nyong'o) is fighting for her family, you wonder how does she move as she does? Why is she seemingly more scared (yet prepared) than the rest of the family? After it is revealed she is originally the clone, you begin to realize the metaphor.
She is fighting as if she has much more to lose, she has reaped the benefits of this privilege and is damned if she is going to give it up. While "Red" is fighting for revenge and what was stolen, the hardship of underprivileged and deserving the surface life.
In the same vein, the privileged of those on the surface have control over the actions of the underprivileged without their knowledge, and the people on the surface are afforded the privilege of ignorance. This mirrors (eh pun again) are current society. Privileged people get to make and break the rules, while the underprivileged have to follow them with great consequence and seemingly out of their control.
The little details – "I got five on it" referring to going dutch, and the doppelganger sharing a soul, being tethered (and Red needed Adelaide to pay up). The prominent number 11:11 symbolized mirroring and symmetry. Inner demons were coming to the surface and us being our own worst enemies. My favorite is the second fight between Adelaide and the twin who was supposedly dead but comes back – a metaphor for black and white women and feminism in America. This and so many more are stacked in the film and will have your mind buzzing for months.
Go see it now. See it twice, three times – and tell a friend.
Want to get Black Nerd Problems updates sent directly to you? Sign up here!
Follow us on Twitter, Facebook and Instagram!