Writer: Lee Bermejo / Artist: Carmine Di Giandomenico / DC Comics
You know when something is so good that you get mad at it? You're upset at this great thing that has taken up your time with its incredible amazingness. That's We Are Robin — a book so gritty, fun, and entertaining that it makes you upset trying to figure out the creative team's formula that has you hooked.
We already saw the court of owls revealed themselves as a the players behind them move against the Robins. They've got Jason Todd and Tim Drake having to fight to the death in order to spare the lives of the rookie Robins that have taken up the cause. There is a good amount of action in this issue, but Bermejo's main focus has been the perspective of Duke Thomas. Duke is watching these veteran Robins at work and realizing the type of mentality and precise measure of skill that is required to make it in the vigilante scene.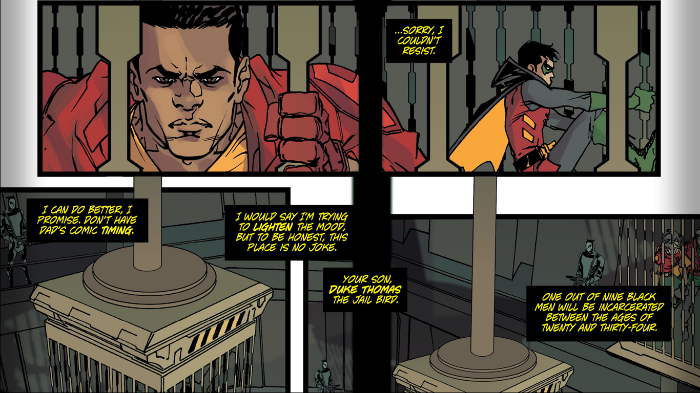 This self reflection within Duke as a character and him being amazed at the feats of the other Robins makes this a good situation that puts the full scope of masked heroes and villains in front of him. Damian Wayne is, of course, still looking down on anyone and being the youngest asshole in the game. Bermejo makes me so fed up with Damian's attitude, which means he is doing his job and nailing the character because that's who Damian Wayne is.
Giandomenico's art fits the bill this issue as well. It's a different take from Randolph's smooth and up close approach on the characters, but it's very flowing and free once the action gets underway. There is a scene with Tim Drake that is absolutely brilliant with how it was handled. There's so much for everyone in this book story wise and art wise.
Also, Jason Todd shouting out, "Yassssss" is something I never thought I'd live to see in my life. That random act just pushed this book over the top for me.
8.4 Black Vernacular Uses out of 10
Are you following Black Nerd Problems on Twitter, Facebook, Tumblr or Google+?