Recently it has come to my attention that not everyone knows who or what Hamtaro is and that is unacceptable. Hamtaro is one of the greatest things to ever grace our lives with its presence and most people don't even know what it is. The phrase "What is Hamtaro?" is something I hear uttered all the time. WELL NO MORE. This is the world's wake up call. Welcome to Hamtaro ladies, gents and everyone in between, all aboard the Ham-Ham train.
---
Hamtaro made its debut way back in 1997, serialized in a magazine made for girls called Ciao. Hamtaro was an instant hit with young girls because of its all around cuteness, adventures, and the life lessons the show taught young manga readers and anime watchers. What the creators didn't know was that Hamtaro would transcend its original target audience and become a hit with all genders and all ages. Hamtaro made its Cartoon Network debut in 2003 and took over the television scene with a simple phrase "It's Hamtaro Time."
Coming home from school and hearing that song was always a highlight of my day back then. The stories of friendship and all around cuteness just struck a chord with me and the harp in my heart was always in tune for it.
---
Now the story of Hamtaro isn't a very deep one. Mainly, the show revolves around Hamtaro, a male hamster who has an owner named Laura. Hamtaro sneaks out of his cage everyday to go chill in the Ham-Ham clubhouse where all the other hamsters hang out. Ingnoring the fact that Laura never knows her hamster is sneaking out while she's at school I'd say she's a great owner.
Hamtaro and Laura are both extremely innocent and it shows in the way they act. Hamtaro and his friends, who call themselves "Ham-Hams," are all anthropomorphic hamsters. They have emotions, talk to each other and even have arguments and crushes on each other. A female hamster named Bijou has a major crush on Hamtaro and he's oblivious to that fact for a good chunk of the show.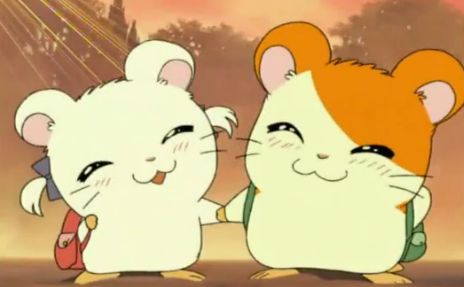 [divider type="space_thin"]
The show offers a surprising number of Ham-Ham characters, each one with their own personality, and their own story lines. My personal favorite Ham-Ham is Penelope, a very young female hamster, well a baby hamster, who almost always has a blanket covering her. She's just cute as hell and episodes centered around her are some of my favorites. She's just so gosh darn cute, look at her:
This show's first priority is cuteness yes, but as you watch it you'll see that isn't the only thing the Ham-Hams are capable of. Hamtaro is fun for all ages and even now I, myself, still watch it from time to time. If you read this far then there are no more excuses. Let Hamtaro take over and board the Ham-Ham train. Destination: HAM-HAM PARADISE.