Writers: Collin Kelly, Jackson Lanzing / Artists: Nathan Gooden, Vittorio Astone / Vault Comics
You, like me, are enjoying the current run of Black Bolt by Ahmed and Ward. You like mysteries, fantastic settings, and mind bending visuals that leave you wondering where you are. Then Zojaqan is a great new comic for your reading list.
Zojaqan (pronounced ZOH-jah-KHAN) is the latest new offering from Vault Comics, which has already produced the stellar Heathen and Alien Bounty Hunter, among other titles. Vault Comics specializes in Science Fiction and Fantasy comics, and this one new one fits squarely in that spot. Here's the set up:
Shannon Kind is falling. She's lost someone, everyone really, and she finds herself on a new planet, fighting for her life. We quickly learn a few things about Shannon — She's a fighter, a runner, fierce but not superhuman. She's a postal worker, a mother, the daughter of an African immigrant. And she's landed somewhere where the rules of time and space are different. She experiences eons of evolution over night. The creatures she interacts with, huge, strange, wordless aliens, seem to evolve in response to her behavior, but is that true? Or just perception? The one that she hunts and kills one-on-one develops into a pack hunter to better kill her, triggering another fast-forward. Did she do cause that? Trigger it? Is she the butterfly that flaps and causes the hurricane?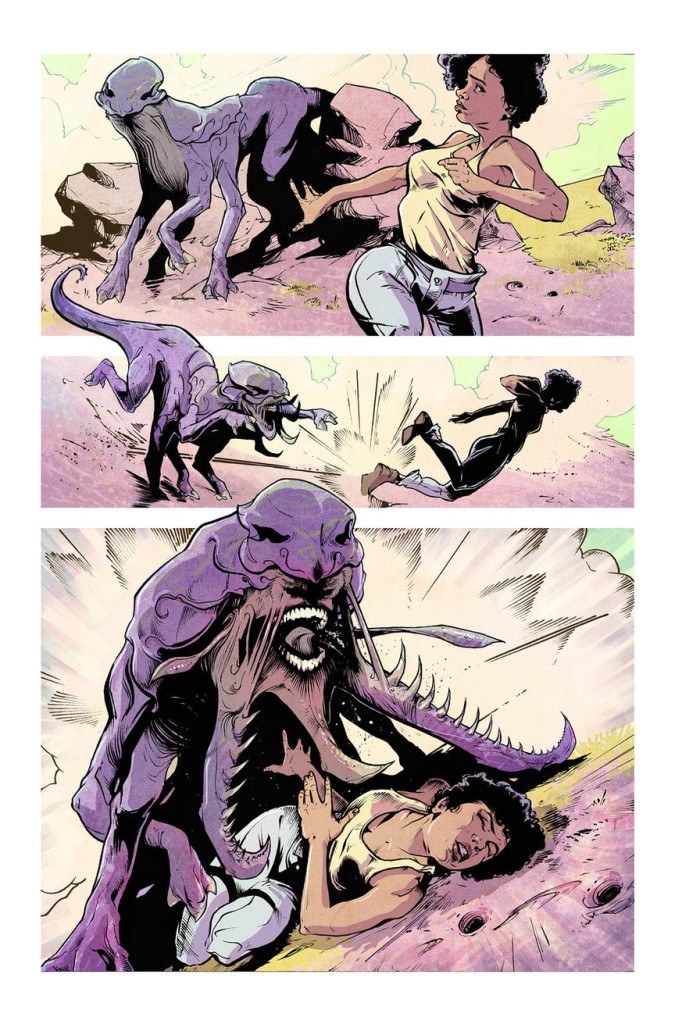 What is clear is that she is always moving forward in time but the speed of "forward" keeps changing. She spends a lifetime, but doesn't seem to age, she falls asleep and wakes up an evolution later. And she is definitely influencing the development of the planet in unpredictable ways. Meanwhile, she's got her own evolution as she comes to terms with the loss of her son, and of her old life. All the scenes of her past life are told in the pauses when the planet she is on is evolving forward. It is like she is dreaming her past, even as her new world has a dream-like haziness to it. The set up is on point, teasing a world to discover — both of Shannon's past and her future on this new world.
The art brings an additional layer to this fantastic story. Nathan Gooden's style is pastel and soft when it comes to the world itself and active and sharp when it comes to the monsters and Shannon. His use of shadow and blank space bring a depth to every scene. His monsters are imaginative and threatening. Plus he's given us this face:
Unmistakably Black. Feminine. Strong. Older. Tired, but not beaten. Shannon's a real person in an utterly unreal situation. What she makes of her strengths, how she manages her impacts in the world, are the story ahead.
Zojaqan #1 should be on the shelves at your local shop July 26th. Pick it up and let us know what you think.
Are you following Black Nerd Problems on Twitter, Facebook, Tumblr or Google+?