Writer: James Tynion IV / Artist: Roge Antonio / DC Comics
So Batman has been on a roll, proving some people wrong about the change in status quo. Scott Snyder's development of Batgordon and his nemesis, Mr. Bloom, has been as enlightening as it has been entertaining. But one thing fans are still interested in is the whereabouts of Bruce Wayne. The original Dark Knight seems to have gotten his heart's desire out of his new life which, I believe, might be his worst nightmare deep down in his psyche.
James Tynion IV has taken the helm to pen this one-shot annual that shines the Bat-signal on Bruce's state of mind. Geri Powers invites him and his new gal-pal, Julie Madison, to Wayne Manor (temporarily Arkham Asylum) for a sort of open house tour. It's interesting watching Bruce look upon his family legacy with the vacancy of a perfect stranger.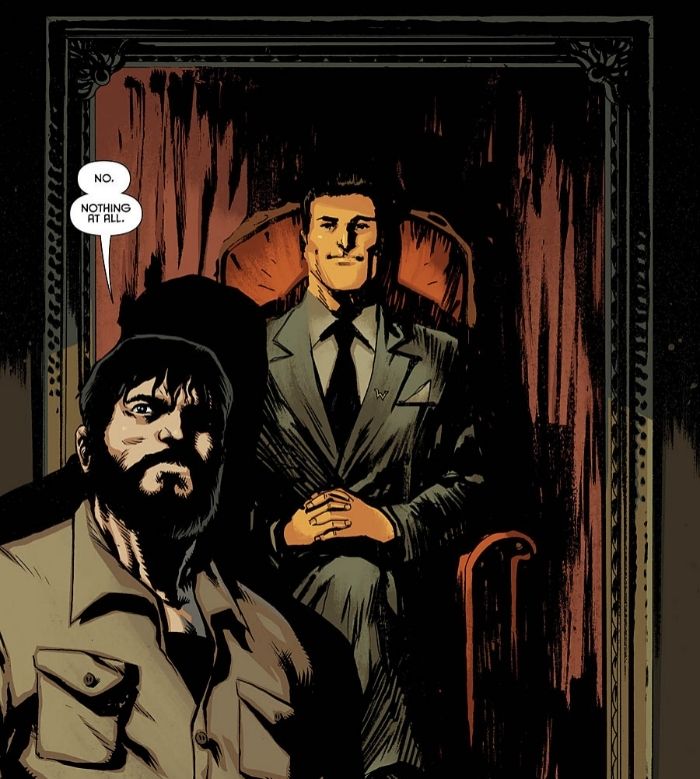 Our amnesiac hero reads like a completely different person without the weight of being orphaned hanging over him. Alfred really does seem to have been passed the torch of being the raging jackass in the Bat-family with the lengths he's gone to hide any traces of Bruce's past from him (presumably "for his own good"). Of course, it all runs the risk of coming crumbling down when the Manor gets an impromptu visit from some old foes who are basically the sorest losers of all time.
I must admit how hilarious it is that these rogues are so caught up in their twisted version of This Is Your Life, they still have trouble dispatching a neutered Bruce Wayne. Tynion has always been a great fit to write Batman, but the way he builds suspense around every corner feels right at home in this issue all about Amnesia Batman playing Die Hard in his creepy old house. This story actually ends up feeling a lot like the "Family of Blood" episode of Doctor Who in all of the right places. Roge Antonio's penchant for shadow and sharp edges comes across as a serviceable amalgam of Rafael Albuquerque and Lenil Francis Yu. His style seems to be a great fit for Tynion's atmospheric script even despite a couple of slightly confusing panels.
Bottom Line: Batman Unplugged vs. The Riddler and Company? There's no way this doesn't end up being an awesome premise.
8 David Tennants out of 10
Are you following Black Nerd Problems on Twitter, Facebook, Tumblr or Google+?