Writer: Brian Michael Bendis / Artist: David Marquez / Marvel Comics
Outside of the arrival of Black Panther which is currently being written by Ta-Nehisi Coates, I can't think of a more hyped and anticipated book this year than Civil War II. It sure as hell isn't lacking promotion. Timed, obviously, with the everyone-knew-it-would-be-great cinematic release of Captain America: Civil War, Bendis goes back to one of the most heralded crossovers in Marvel's recent history. The original Civil War wasn't a perfect event, but it was really, really good in that it saw some very big movements in the Marvel Universe, some tragic deaths, and some perspective for many of those heroes moving forward. This time around, Civil War II looks to do much of the same, where the stakes are immediately present in issue #1 instead of the slow build of taking sides and arguing the point like its predecessor.

[divider type="space_thin"]
Instead of the Super-Hero Registration Act that served as the focal point for the first Civil War, this time around the story centers around an Inhuman with the ability to tell the future. After his intel aids in the take down of some huge cosmic threat, the line becomes drawn at how or if or should he be "used" to prevent future threats. We had some questions about the initial premise of this, mostly because when it was announced, Tony Stark was on the side of NOT using such power. Which does not seem in his nature. And while the first conversation/argument that happens between him and Captain Marvel about this isn't 100% convincing, the events that follow in which Tony stakes out his side absolutely are.
The action in this book is mostly background, never the main point of this first entry as we get a lot of exposition on the new Inhuman and how his powers work. The book is still effective however, especially with Bendis' attention to the individual personalities in the Marvel Universe and how they interact with each other. But there is an emotional impact in this book from the beginning. In the first Civil War, a catastrophe happens that includes C-List heroes, ones that we aren't familiar with or invested in. Here, the big blows hit a lot closer to home.
Bendis and Marquez have a familiarity here that works very well for this book and does a great job of harnessing all the social and emotional beats from page to page. It's going to be a great looking book and I'm pretty excited to see how he portrays all the heroes as we progress through the story.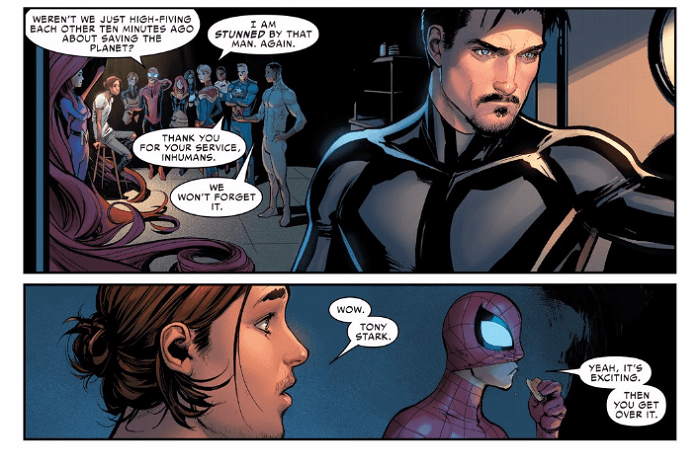 I do have a small issue but it's a big ***SPOILER SO SKIP AHEAD IF YOU HAVE NOT READ THIS ISSUE YET***
Just like in the first Civil War, the first significant death of one of the heroes is a brotha. David Foster aka Goliath and now James Rhodes aka War Machine. Look, I get it. He's Tony's best friend, he's Carol's lover, it is the "perfect" person to galvanize this whole situation and all of that makes sense. But obviously, my radar is up for stuff like this and it's not like we have a huge reservoir of significant and long-running Black characters that are included at the highest level of these stories. I'm just sayin' man, Rhodey deserved better than to not make it past issue one in some shoddy ass armor (I'm sure we'll get some Tony grief for not upgrading him, but still).
***END SPOILER***
Overall, this is a good start to Civil War II. We still get a bunch of crossovers that essentially pit hero vs hero (especially in Marvel) so we weren't exactly in need of this sequel, but it's welcome nonetheless. Bendis and Marquez, as always, will make a good team on this as we find out how the sides get drawn in successive issues.
8.8 Minority Report Pre-cogs out of 10
Are you following Black Nerd Problems on Twitter, Facebook, Tumblr or Google+?