Alright Speculative Fiction readers, we've got another great interview this month. We've mentioned that there are new publications opening all over the writing spectrum that feature Black creators. One of the newest is FIYAH, a quarterly speculative fiction magazine that features stories by and about people of the African Diaspora. Founded last month by an amazing team (bios below), FIYAH wants to cover the future of Black Science Fiction and Fantasy — from space ship captains to elves. The first issue is due out next year, but you can pre-order on their site. They are also wide open for submissions. BNP sat down with the entire FIYAH Team and talked Hip Hop, what kinds of stories they're looking to publish, and their desired direction for Black Speculative Fiction publishing.

Black Nerd Problems: If your team was a Hip Hop crew, which one would you be? Is there a song from that crew that fits to your style?
LeKesha: This question is stressful. Lol. There are dissenting opinions on staff but I'm going to say Wu-Tang Clan as we are bringers of the proverbial ruckus.
Brent: Wu-Tang baby!!
Troy: As the resident southerner I have to throw my bid in for the Dungeon Family but of course, we have a bunch of amazing personalities and experiences on our team which parallels the Wu-Tang Clan pretty much perfectly.
Justina: I'm going to say Public Enemy because 1. I am an Old and 2. No one brings the noise like Flava Flav. Of course, in our case you can believe the hype.
BNP: I'm familiar with many people on your team, having read their work and followed their blogs. How did you go about pulling the crew together?
Troy: The crew are all members of the Niggerati Space Station (NSS), a secret network developed to give Black speculative fiction authors a safe space to gather away from the ever-present white gaze. Members of NSS were simply invited to beam up to the space station and stuck around long enough to realize that they dug it.
BNP: How important is the cover art of the magazine going to be to completing the vision? What are you looking for there?
LeKesha: It's kind of a big deal. Speculative fiction is such a visually spectacular genre, and we stake as much pride in our covers and their artists as we do in all the content of the magazine. We want to showcase work by talented, marginalized artists, always center Blackness in all its myriad iterations, and emphasize the importance of compensation for their work. Our first issue's artwork will be revealed December 1st. We like to drop new things on the website quietly at midnight on Thursdays (BNP: hint!). Dropping the cover is one of the things I'm really excited about.
BNP: Have you been getting the kinds of submissions you expected? Has any trend surprised you?
Brent: I haven't been in the submissions as much as my fellow Acquiring Editors but my expectations have been met. Even when a story doesn't necessarily wow me, the blackness is still there. I can still easily connect with it and feel at home. And I think that's something a lot of black SFF readers have been yearning for. The idea that stories are meant right off the bat for them. Far as trends go, I haven't noticed anything in particular, but I haven't been in the midst of the subs as much as I would like.
Troy: We've gotten some pretty amazing submissions so far. It's been surreal to get into the slush and see submissions from authors that I've always admired. Also, like Brent said, these stories have been very very black, with all of the connotations that word carries. The most surprising trend, I think, is that we've gotten stories from authors all around the world and each of them is representative of the global black experience in different ways while still being extremely imaginative.
BNP: What's an instant sell for you? The story that if you read it, will get into the first issue, first page.
Brent: So my answer here is going to be full of so much personal bias. I'm just going to list things that *I* personally like. Genetic manipulation, female antagonists, alternate dimensions and queer romances will always catch MY attention. But the story still gotta be good ya know? And I'm just one guy in the mix. So please do not let my personal biases play into what submissions you send (gives a quick Padawan bow to Justina and Troy).
Troy: I'm a sucker for a story that is wildly imaginative and introduces me to a new idea or new style that I haven't seen before. I'm also a sucker for stories that are defiantly black, shout out to Shawn Taylor's assertion that one should never apologize for their blackness. My own personal reading tastes skew fantasy–high, adventure, historical, dark, whatever, but stories that I love run the gamut and aren't tied to a particular genre, theme, or style. For me, execution is important, but that imaginative bit of the equation is what really gets me going.
Justina: I'm a sucker for voice. If the narrator can grab me from that first few paragraphs I'm there for the whole story. I also like very pacey stories that drag me through the plot, especially when the story is sci-fi or anything near future. Most of all, don't try to make your writing sound like writing. I'm not really interested in 7000 words of pretty sentences that go nowhere. Tell me a kick ass story and I will travel with you to the ends of the Earth.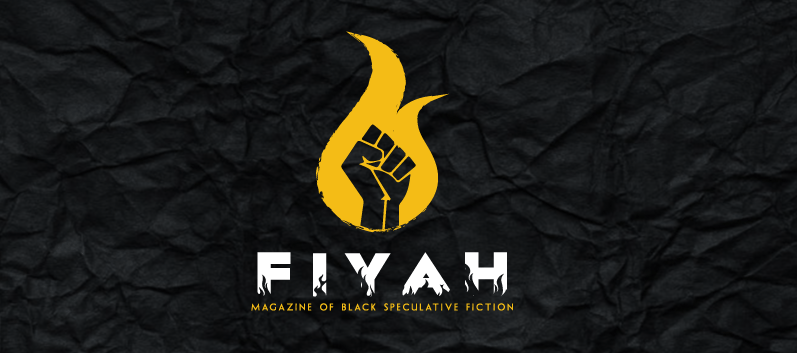 BNP: What's your roadmap for future issues look like? Other Special topics or themes you want to cover?
Brent: Things are still pretty early so we're spitballing some things. It's a daily process and daily growth going on here. But there are ideas on what we want to see in future issues in terms of themes and format. Something on my personal wishlist would be to see some type of serial story running between our quarterly issues. But I think in terms of themes, we are always, always going to try and keep it black. That's just how we roll. Another personal wishlist of mine is to see an issue theme centered around a hip-hop lyric. But we'll see.
LeKesha: Definitely digging the hip-hop lyric theme. Half the things I've ever written were song-inspired. We have 2017's issue themes plotted already, and they're all coded specifically for the culture throughout history. They're things a lot of non-Black people may have to Google, but they'll be better for it. I'd like to get to a point where we can feature more artists. And our submission seasons and the BSF Writer Survey are going to open up some resource opportunities since we'll have a better idea of what Black writers need. That'll mean more essays.
Justina: Yep, all of this. I love seeing how folks take a theme and twist it to suit their story. I look forward to getting deeper into Black culture with more esoteric themes as the issues go on.
BNP: Let's talk the Fireside Fiction State of Black Spec Fic report. I'm sure you weren't surprised by the outcomes. Did it make you feel vindicated in your work?
LeKesha: I wouldn't say vindicated. In a perfect world, our outlet wouldn't be needed because the statistical bias wouldn't exist. We're not exactly delighted there's this niche that needs filling but we're happy to fill it. P. Djeli Clark had actually initiated the conversation about starting a Black spec fic magazine with our writing collective months ago. The Fireside report sort of lit the… fire… under us to make FIYAH into a tangible thing. I think vindication will come into play when we take a look at our Black Speculative Fiction Writer Survey results and we can improve the submission experiences of the folks who responded to it.
Troy: What I worry about is people in SFF publishing and fandom latching on to this idea that FIYAH's existence means that they don't have to get right in regard to publishing black authors. So no, not vindicated, because we aren't operating in a vacuum. We want black writers to be published everywhere, not just with us, which means a total systemic change.
Justina: Everything Troy said. Our submissions right now are proof that other venues are passing over quality Black SFF. That doesn't mean they can all breathe a sigh of relief and not worry about how their acquisitions pan out since we're on the block, it means they need to do a lot better at identifying their own internalized anti-Blackness.
BNP: What is one of the primary causes of the publishing disparity? Is it the exclusionary expectations of white editors/slush readers? Or an "old boys" network of repeatedly publishing the same authors over and over? Or something else?
Brent: For my money, I think the best answer is "all of the above". If the cause could be narrowed down to just one thing, it'd be easy to dismantle it right? Because you'd know exactly where to go and know exactly where to focus your attention. But the answer is a lot more knotted than I think most people want to acknowledge or really grapple with. Yes, the gatekeepers in large part do not see us. Yes, the system does favor connections and allows those with privilege to more easily make those connections.
As a quick example, I hear so much about attending cons, meeting authors, becoming friends and the like. How feasible is that really for your average black person to get involved in that? Many of us just don't have the support systems necessary to do this bridge building that so many other authors get to do. Many of us are in fields that don't allow you to take six weeks off for a writing workshop. Many of us have multiple adult family members depending on our incomes. The list goes on, but ultimately the things that disadvantage us in larger society slide right on in the publishing world as well.
Also, even for those of us who have the ability to participate, participation is often a daunting idea. These spaces are mostly white. Massively white in most case. I went to Comic-Con for the first time this year and felt like a spot in most of the panels I took the time to attend. Thank god for other POC like Cindy Pon, who was the first person I actually had any kind of conversation with the entire time I was there. You know, it can be a really lonely thing to work your way in there and pretty damn scary because you just don't know the kind of reaction you're going to get.
Basically, this disparity has a lot of moving parts. And as much as numbers count (because that seems to be the ONLY thing some folks want to acknowledge) there are many psychological, economic and sociological factors to this too.

BNP: You're making your own solution to the issue of exclusion of Black authors from Spec Fic publishing. What other step would you like to see to continue to expand the field?
LeKesha: I would like to see Blackness reflected in mastheads. Markets need to engage and compensate Black editors. Preferably with money. There's also this issue of disenfranchised Black writers who no longer bother with the submissions process after years of rejection, or based on experiences in which they were told a market "had a Black story already." How to go about engaging those writers, encouraging them to come back, I couldn't say. But I'm hoping FIYAH's work can be an asset in that regard.
Brent: I want black people to come back to the process. To come back to the grind. I know many of us have given up for various reasons and turned to self-pub as the answer. And please do not get me wrong, I think self-pub is great. But I don't think it's a panacea. We need black people right here in traditional publishing circles fighting to tear down these walls and forcing our way into these houses. Yes, it's going to be a long, drawn out fight. But we gotta do it.
Oh and something that I've been yearning to see for a while is more feasible access to writing retreats, Clarion style classes etc. for black writers. Right now, those things just aren't featuring us and really feel like they rather not have us around. That's something I'd like to see more of. Just more realistic access to the industry for us.
Troy: LeKesha and Brent have really hit the nail on the head here. All arms of SFF lit publishing and fandom–short magazines, reading/writing workshops/conventions/traditional publishing — all need to be intentional about making space for and publishing black writers if that's an actual goal of theirs. What I'm about to say may sound like a pie-in-the-sky idea, but if SFF wants to be inclusive of black writers it needs to put as much effort into making opportunity for black writers as it has devoted to marginalizing them and right now, a lot of SFF publishing and fandom is looking funny in the light. They're making a lot of noise about wanting to remedy this disparity but it doesn't look like they're actually doing material work to fix that.
We've seen some responses from some magazines on wanting to hire black first readers, and some other magazines are planning events where they publish black writers exclusively for a while. SFWA put out a statement of support saying that they're aware of the problem and considering ways to get marginalized black writers into workshops. But that's basic stuff. Magazines should have at least one paid black editor on staff, preferably more, with the power to affect the stories that the magazine publishes. Workshops should make concerted efforts to create opportunities for black writers who may not be able to afford to take weeks away from their jobs or families. Magazines will have to actually solicit black writers, and go into networks where black writers congregate even though that might an uncomfortable experience.
And for black writers, all I ask of you all is to keep writing and submitting, even though it's hard and even though it feels like no one wants to acknowledge the work that you do. Your voices are so necessary to making things better for all of us.

BNP: Would you like to win an award, a Nebula (for a writer) or a Hugo for example? Or is that not something you'd drive towards? What is your goal, 5 yrs from now?
LeKesha: I want the world for our writers. I want to see someone who got their first story published in FIYAH go on to get that award, that book deal, that name recognition. At our core, FIYAH is about the success of our writers. We want to be a home as much as a launchpad to greater things for them.
Brent: So I mentioned this to LeKesha a little bit ago, but I actually want to see FIYAH at some point pop out an award for folks. As much as I would like a Nebula, Hugo etc. I also remember just how much my heart filled up when thinking about winning an Image award. Black publishing needs more awards and avenues for us. It'd be awesome if FIYAH could somehow become something people look to as a symbol of excellence.
Troy: Five years from now feels like forever given that we're just starting out. I'd love for the writers who trust FIYAH with their work to win a major award. I'd love for us as a magazine to win a major award. However, what I'd love more is for us to sustain this movement long enough to see more and more black writers realizing their dream of having their work exposed to the world.
Justina: Man, the way this election cycle is going I just hope we're around in five years to serve up quality Black SFF and that we're not all living in some post-apocalyptic dystopian nightmare.
You ain't never lied. Here's are quick intros to the team:
Justina Ireland | Executive Editor
Justina Ireland enjoys dark chocolate, dark humor, and is not too proud to admit that she's still afraid of the dark. She lives with her husband, kid, and dog in Pennsylvania. She is the author of Vengeance Bound and Promise of Shadows, both currently available from Simon and Schuster Books for Young Readers. Her essay "Me, Some Random Guy, and the Army of Darkness" appears in The V-Word, an anthology of personal essays by women about having sex for the first time, published by Beyond Words (S&S). Her writing has appeared in Story Magazine, Book Riot, and Fireside Fiction. And her forthcoming book Dread Nation will be available in 2018 from the HarperCollins imprint Balzer and Bray. You can find Justina on Twitter as @justinaireland or visit her website justinaireland.com.
Troy L. Wiggins | Executive Editor
Troy is a writer and editor of speculative fiction from Memphis, Tennessee. His short fiction and essays have appeared in Griots: Sisters of the Spear, Long Hidden: Speculative Fiction From the Margins of History, Memphis Noir, Literary Orphans, and Book Riot. He blogs about speculative fiction, race, and nerd culture at Afrofantasy. Troy lives in Memphis with his wife and their two dogs. Find him on Twitter @troylwiggins.
Brent Lambert | Acquiring Editor & Social Media Manager
Comic books, SFF and good cooking are the essential elements of Brent Lambert. A full-fledged military brat, he is consistently struck by wanderlust and has a keen sense of things never really being permanent. A writer with an insurmountable TBR list, he focuses his blogging efforts on minority fiction at rrapmagazine.wordpress.com. He can also be found on Twitter @RRAPmag.
L. D. Lewis | Art Director & Web Master
LeKesha is a coffee enthusiast and writes novel-length fantasy with a particular enthusiasm for villains (who also drink coffee). When she's had it published, you'll be the first to know. She is an ASL teacher and medic in Florida, reads for bipolar representation for Disability in KidLit, and blogs books and mental health occasionally for BlackGirlNerds.com. She tumbles and tweets @ElleLewis6, too.
Given this great team and their plans, we're excited to see the Black Speculative Fiction that they bring us next year and beyond. You can pre-order on their site.