Runaways is everything, fam. I've already gone in on the greatness of the first three episodes, but I need to give even more props to the TV show that did what Marvel said they'd do in one of their billion-dollar grossing movies: include a superhero that identifies with the LGBTQIA community. Of course, they've made billions of dollars in the last decade and conveniently and egregiously "forgotten" to include a gay, lesbian, trans, or even openly bisexual character. I say egregiously because the perfect platform was slapping them in the face with Thor: Ragnarok's Valkyrie. She was rumored to be queer but the final cut was unsurprisingly missing all of Tessa Thompson's woman-loving scenes.

---
Let's get one thing out the way: I rep that gay ally shit. You can miss me with that weak ass "I don't have a problem with gay people, but I'm uncomfortable with seeing gay love or affection" shit. Or even worse, "Hell yeah, I love lesbians but naaah I don't fuck with gay dudes" shit. That's nonsense. You and your opinion can go kick rainbow-colored rocks while RuPaul twerks on your girl in the club.
---
Ok, back to our regularly scheduled Runaways appreciation.
Runaways doe?! They said fuck outta here with that pussyfooting BS. The seeds of gay love were planted as early as episode 1 if you were paying attention to the signs (or read the comic). But it all really pops off in the episode "Metamorphosis," where Karolina, the Salvador Dali colored alien, has a moment with Nico. It seems there is a bit of a spark, but they're interrupted before anything comes of it. Gert, the social justice beast, notices the moment as soon as she and Molly burst through the door. Karolina denies it, but does allude to it being true when she accuses Gert of having feelings for the resident jock, Chase. Gert doesn't want to appear like she's falling for the lacrosse star so she denies it. Karolina runs off to discover she can fly and receive a kiss from Chase, even though it didn't look like she enjoyed it very much.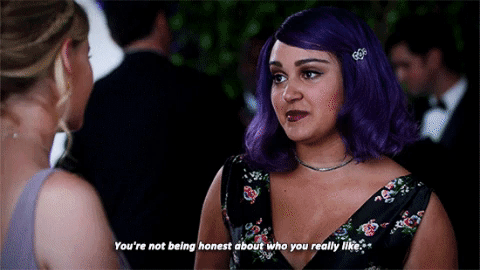 Fast forward a few episodes. Our teenagers think California is about to be turned into a floating pile of rubble, so the kids all decide to go to the dance. Gert leaves her jean jackets and woke quips behind as she looks at her depleted "fucks given" bank and goes for the glory. She rolls up to the dance, immediately locates Chase and asks for what could be their last dance on Earth. They make their way to a closed off room and have a beautiful dance with each other. The music was lit and the moment was real. Some real adorable head on his chest shit. Theeeeennnn they start making out. Then the clothes come off and the camera pans away, cuz high schoolers.
But that's not why we're here. We here to rep that loud and proud lesbian life. While Gert and Chase have an experience neither thought would ever be possible before they found out their parents were supervillains, the rest of the gang impatiently waits in the car. But they got a world to save so Nico asks Karolina to help look for them, much to Alex's chagrin. Karolina too has zero fucks to give at this point, so she straight up halts their search for Gert and Chase and kisses Nico! Nico returns the kiss! A legit queer love scene in a Marvel production poppin!! Karolina reveals that she is tired of lying to herself, admitting her overdue affection for Nico. This is Karolina's coming out day and Nico is there to give her some of that young lovin, until they are interrupted by a half-dressed Chase and Gert, cuz high schoolers. Cue the awkward reunion and then the kids are off to square up with their parents.
True to the Comic
I gotta give it to executive producer Josh Schwartz, as he very openly admitted that, "It was a story that we always were going to tell." Homeboy did his comic history research and decided to stay true to the source material. In an interview with Entertainment Weekly, Schwartz stated, "It was obviously hugely important to the comic, hugely important to the actors playing those parts," he continued, "It was something that they really wanted to make sure we were exploring as well. We wanted to get there from a place of real emotion." Both of these relationships were integral to the original 2000s Runaways books and it would have been a travesty to overlook the impact one's emotions has on a young person. Especially a young person who hasn't been able to come to terms with who they are at that point in their lives.
Marvel promised we'd get a hero or heroine that identifies with the LGBTQIA community and they finally delivered. In set photos and interviews, the actors and actresses seem like they genuinely have been enjoying themselves as they bring these fan-favorite characters and storylines to life. Runaways is a show that just about every young person can identify with, and I hope they keep the inclusion coming for years to come.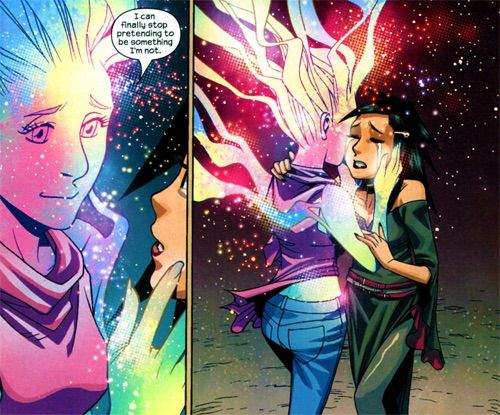 Cover image from Hulu Originals.
BNP has all of your Runaways coverage, TV, comics, and beyond.
Are you following Black Nerd Problems on Twitter, Facebook,Instagram, Tumblr, YouTube or Google+?