Writer: Rainbow Rowell / Artist: Kris Anka / Marvel Comics
Runaways is the most gully teen squad in the Marvel universe. They was never on that costumed, wannabe Avengers shit. They on that Issa Rae in front of a mirror tip… that real raw rap flow. They united like Voltron when they found out their parents were the diabolical entity known as The Pride, and have been holding down LA ever since.
Each character has gone through numerous transitions and changes. They've teamed up with their fair share of Marvel characters, but the heart of these runaway teens has always been that close knit family bond they've shared since they took their evil ass parents out back in that underwater Gibborim lair. All of that is why I'm hype that in the first new issue of Runaways, it looks like the gang's gettin' back together! Except for the fact that… ya know, Gert caught the Dracarys fade that night she died in Chase's arms.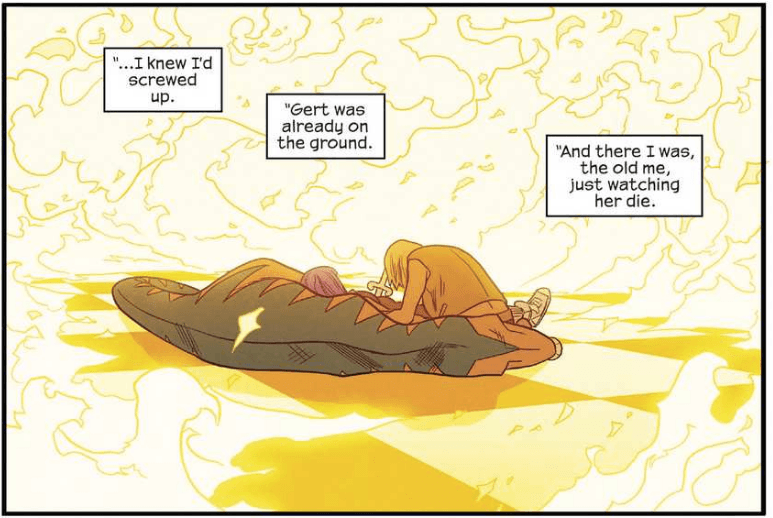 We kick off this run with the leader of the Runaways, the mystical and complicated Nico Minoru. The team's resident badass has developed into one of the most powerful magicians out in these Marvel streets… and cant even make oodles n noodles. It's honestly the perfect intro. It reminds you that these are still just a bunch of young people trying to live their best life. Just a girl on her Naruto flow making some ramen in her nightgown. Until Chase pops out of his time machine with his half dead bae, and former member of the team.
Could this be the Return of Gert? Well, Runaways promised the original team would be getting back together and I've been pondering just how they would do that. Taking a few pointers from The Flash and his time traveling antics, Chase makes it happen. Now it's up to Nico and her Staff of One to find a spell she hasn't used to keep one of her best friends from catching the RIP. We get zero fighting and little to no action, and Runaways #1 still comes correct.
This opening act all took place in Nico's apt, but like Fences proved, you can do a hell of a lot with one setting. Rowell puts new Runaways readers on to Nico's personality and abilities flawlessly. She shows us exactly how far Chase would go for the one his long lost love. Anka shows you how to make your heroes bleed dependence, affection, and determination like only a Runaways family could. This issue showcases dynamic progression when our heroes are faced with a life or death situation. They could go from tenaciously supportive to a level of sibling bickering that you'd think you got transported back to a time where you couldn't stand your brother or sister one minute, then inspired by and proud of them the next.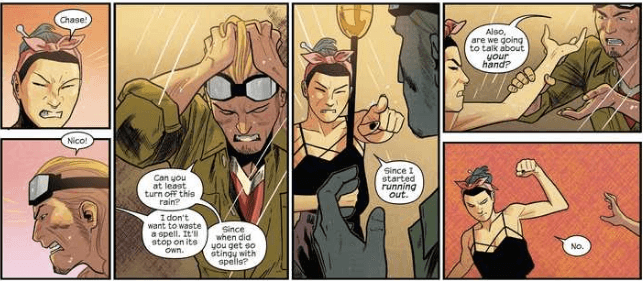 Great return to Runaways glory with immaculate backstory on Nico, Chase and Gert… despite Gert's dead incapacitated state. Rowell did an excellent job of setting the stage for whats to come. She got me excited to find out who this new villain is. Did one of the Pride parents make it out of that underwater catastrophe?! Will it be a new player alert? We'll find out when issue #2 drops next month.
8 Galactus Name Drops out of 10
Are you following Black Nerd Problems on Twitter, Facebook, Tumblr or Google+?