Writer: Shobo / Artist: Shof / Image
The world of New Masters is unlike any other interpretation of a futuristic, spacefaring Earth that I think I have ever seen. There are many familiar elements, but the segments of the Eko Exclusion Zone that we get to view through the eyes of Ola and her companions are truly breathtaking in the scope. Also, the larger interstellar politics driving the action hearkens back to many a great sci-fi story before.
Whereas New Masters #1 focused predominantly on Ola, New Masters #2 spreads its screen time much more evenly between the cast. The issue starts with Sulesh and Persio, Ola's parents, closing a business deal in order to set up any type of income for the coming months. From their conversation, we get a developing sense of the various extraterrestrial forces in play. Seeing Shobo give hints about the different economic policies and opportunities as well as the subtleties of Jovian emigration presents a fascinating lens of the world and how even as technology advance, it does not solve certain systemic problems. And then of course, the call to adventure comes literally knocking down the door.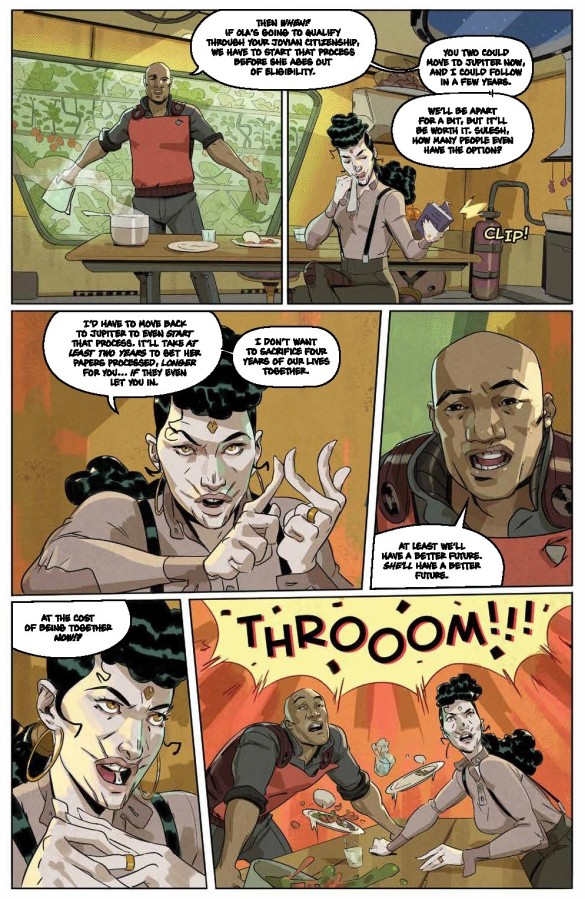 After the opening sequence of New Masters #2, we return to Ola, and we get to see more of the wonderfully rendered city in the day. Shof does a phenomenal job of bringing the Lagos-inspired city to life. The set pieces are beautifully drawn and epitomize the Afrofuturist aesthetic perfectly while also being grounded in the familiar foibles of urban life: crowded streets, shady vendors, shadier con-artists, and back-alley brawls. Ola's the perfect character to navigate all of these elements though, and her character is just so much fun to watch and use as a lens to learn about the larger machinations going on. And as the cast continues to grow, I gotta give big props to Shobo for maintaining unique lingual patterns to the characters and for Shof giving each character a distinct, recognizable profile. Even the background characters have different designs and identifiers. It makes for a very lived in world.
All in all, between the frenetic pacing of the comic itself and the enthralling exposition at the end of each comic, New Masters is a thrilling read that innovates on the familiar sci-fi tropes and presents them in a refreshing way. Ola's adventures continue to explore various aspects of this alternate Earth, and the more we get to see, the more I find myself recommending the series.
9.3 "HyperGates" out of 10
Enjoying New Masters? Check out BNP's other reviews here.
Want to get Black Nerd Problems updates sent directly to you? Sign up here! Follow us on Twitter, Facebook, Youtube, and Instagram!