I was on Kickstarter a few years back and stumbled upon the campaign page for Nour, the experimental food art game / interactive food sim. With a wacky premise, really cool visuals and finding out that a Black creative was the mind behind it all, I gladly pledged.
Originally shooting for a 2018 release, I patiently waited for this fun looking, do-just-about-anything with ramen, toast, ice cream, and boba tea in this strange and unconventional food game.
This morning I caught a trailer from the Playstation store with the big news: Nour, the interactive exploration into the aesthetics of food – developed by Tj "Terrifying Jellyfish" Hughes and published by Panic, who brought you Untitled Goose Game and Firewatch–will be released on the upcoming Playstation 5. Next Gen, baby!
The Kickstarter page elaborates that Nour "is an interactive exploration of the aesthetics of food. The game doesn't limit your play with goals or objectives; you're free to have open-ended fun while you play with your food, without the mess to clean up afterwards. You are presented with scenes full of ramen noodles, boba tea, popcorn, and you mash buttons at will to interact with the food in curious and unconventional ways."
The game's creator Tj Hughes who was born and raised in St. Louis, grew up playing Sega Genesis and Gamecube. He had been working on this project off and on for the past couple years. He mentions that "In retrospect, boba tea was the real catalyst for the project. After trying it for the first time, I was so inspired by the flavors and various colors that I decided to 3d model it, just as an interesting art challenge."
He started making games when he was 13, after discovering the Unity game engine. After teaching himself through YouTube and Google, he started work on what would become Feesh, a minimalist arcade game where you play as a tiny microorganism that resembles a fish. With that game, Hughes created Terrifying Jellyfish, solo Independent Games/Interactive company started in 2014 with the goal to "create subversive games, interactive experiences, live visuals, and merchandise, all based around aesthetics and color theory".
Like Issa Rae once said, "I'm rooting for everybody Black*" (My asterisk there not including abusers, predators, and those who ain't skin folk, you know the kind). I'm always hyped to see Black creatives having the space to bring forth all the creative goods. In recent years, I've been seeing more visuals of Black folks in the video game industry thanks to endeavors of such places like Game Devs of Color and hashtags like #blackgamedev on Twitter.
"I just try to make my games as inclusive and as subversive as possible because I want to make games not just for the boys, I want to make games for the girls too. I want to make games for the queer kids, games that anyone can really get into and not feel like they're being excluded." -TJ Hughes, as told to Abigail Best for DRØME magazine (July 16, 2017)
I feel like Hughes' cousin, from the sidelines cheering him on and doing that Black person type hoop and holler you hear at graduation ceremonies. (You know, in the way only we can do it!) It's a great time to love video games. It's a great time to root for indie game studios and unique ideas and Black folks making the art that want to see in the world. #ReasonsToLive
The new trailer has the power of the PS5 hardware making Nour: Playing With Your Food look even more gorgeous. It looks like even more eye candy to virtually throw around and play with to absurd levels. ?? ??✨
I don't know about you but I'm h-u-n-g-ry. Also? I'm game! ?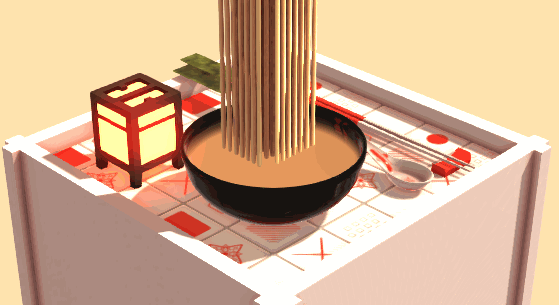 ---
See more updates about the game and more about TJ here on Twitter.
See more about Nour: Playing With Your Food here.
Nour: Playing With Your Food coming soon to PlayStation Five, PC and Mac.
Want to get Black Nerd Problems updates sent directly to you? Sign up here!
Follow us on Twitter, Facebook and Instagram!