Towards the end of this year things got a little rough. Actually, no. Not even.
Between the senseless killing of several unarmed black folks, the decision to not indict the police officers who killed some of these people and the passing away of my favorite uncle to cancer, I haven't quite been myself. I haven't quite been the same. I haven't quite been ready to rejoice. Rough is a complete understatement. I've been in stages of grief and repeatedly shaken around and displaced while still mourning.
One thing that has proved to make me smile when I don't really have it in me? One thing that has helped me a little easier to be around people in general? One thing that has ultimately saved me this year? Three words. Dancing Baby Groot. Yes, that tiny, seemingly insignificant potted shrub of a tree grooving away to the Jackson Five's "Want You Back" in the end credits of Marvel's surprise hit film Guardians of The Galaxy.
[youtube link="https://youtu.be/BEPbXYzE5_Y" width="590″ height="315″]
Upon first seeing "Baby Groot" in action I was shell shocked—it's cute. It's unbearably cute. I make it a habit whenever I see the video of the after credits scene on my tumblr dash to reblog it. He's been the wallpaper for my laptop and my cell phone on several occasions. Did you know I'm constantly finding new fanart of him that makes me internally fangirl squeal?  And yes, I've already pre-ordered my Funko Bobble head and I'm set to receive it in February. #FangirlMode.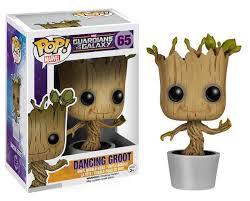 A simple forty three second video makes me this happy. A video of a tiny, still growing humanoid tree creature innocently dancing lifts my spirits. Dancing Baby Groot makes sense to me in a world where this will be the first couple of holidays without the presence of my dear favorite Uncle John, who always had great stories from the fierce pride he felt in his heart when he first played James Brown's "I'm Black and I'm Proud" as a disk jockey to his involvement in the Million Man March on Washington in 1995. Dancing Baby Groot makes sense to me in a world where cancer exists and steals always the people we love. Dancing Baby Groot makes sense to me in a world where people who look like me are criminalized on the color of their skin and are robbed of not just their lives but their humanity. Dancing Baby Groot makes sense to me in a world where I have mourned children that I have not yet felt in my womb that will look like Aiyana Jones and Tamir Rice. Dancing Baby Groot makes sense to me in a world where people are quick to acknowledge that #BlackLivesMatters by way of slain men and women taken from us but instantly close their ears to the rising numbers of transgender people killed.
Dancing baby Groot makes sense to me when tumblr, my favorite blogging website (and a favorite website for young activists) was quick to censor posts about Ferguson and also quick to protect the exposed identities of KKK members. Dancing Baby Groot makes sense when I see that rape culture has warped society to a point where with these Bill Cosby scandals, it is instantly revealed to me all the people who hate women by their ugly verbal strikes of victim-blaming and respectability politics. (I see y'all. The unfriending and blocking online and avidly ignoring you in real life has already begun.) Dancing Baby Groot makes sense to me in a world where black kids have to rethink their cosplay choices because nobody wants to be the next Darrien Hunt.
Dancing Baby Groot makes so much sense to me in a world outside the Marvel Universe where daily I rise and am reminded that there are people who think that black lives don't matter. Daily I am reminded that I walk this earth with people who think that skin like mine is a sin and unworthy of humanity, respect, consideration or a even a second thought.
So, give me my Dancing Baby Groot. Am I really asking for much?