Earlier this year we admitted to having a lot of feelings when it came to a Netflix series depicting police brutality against Black folks, so let's address your skepticism from the start. Is Seven Seconds actual progress or is it just taking advantage of a politically-charged climate? Well, keep your tissues close and your intersectional discourse closer because if this first episode is any indication, creator Veena Sud got us, fam.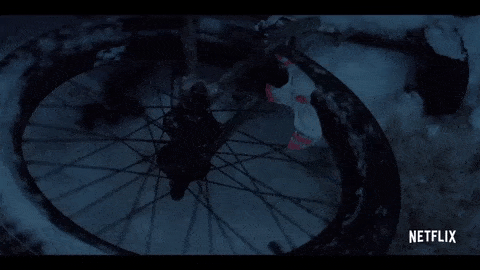 I think it's easy to see the trailers and feel uneasy at the potential sensationalism, but in watching the show the care is palpable. The hit-and-run of a Black boy by a White police officer and its subsequent cover up acts less like a crux than a spark to this story, shedding light on how messy our lives as human beings are. I was afraid that the show might generate too much sympathy for the cops but it doesn't. Guilt is guilt and the writers know better than to say otherwise. What's more interesting are the questions that Seven Seconds forces us to ask ourselves. How does trauma affect a community? What makes violence in the armed forces versus a gang different? What determines the value of a life and a family? How do we wrestle with grief and faith in the face of loss?
As a viewer I always prefer characters to drama and Seven Seconds doesn't fail on this end, either. Beau Knapp's performance as a tortured Peter Jablonski torn between protecting his family and revealing the truth creates an almost visceral response. But the real gem here comes from the two leading Black women. Regina King playing the mother of the victim, Latrice Butler, is perfect casting because Regina King is apparently perfect. Great Bast. Whether warm and protective or wracked with grief, King's performance had me absolutely mesmerized. My only regret not being able to watch this pilot with a remote is that I couldn't hit pause during her scenes and remember to breathe.
Clare-Hope Ashitey as lawyer KJ Harper doesn't hold back, either. Sensitive, sloppy, and hopelessly human, KJ feels like what would happen if you took Scandal's Olivia Pope and drained all the Mary Sue. In fact, during her Q&A at Seven Seconds' DC screening, Ashitey spoke at length about how the "complex and layered" characters drew her to the script. "It's like trying to build a person, like 31 years of putting myself together," she told the audience. "[The script] gave me back some drive. I rediscovered a passion to tell stories in a [politically] dark period." She mentioned also that the Jersey City location was integral to the story, citing "the Statue of Liberty is so close but her back is turned" to the Black and Brown communities there.
Seven Seconds isn't perfect, of course. There's a couple questions I have around legal proceedings and the choice to show most of the officers out of uniform, for instance. But it's knowing details like the fact that activist group Color of Change brought members of the community to work with production puts me at ease. Or the relief you feel knowing that Brenton Butler's life is treated as an individual, not a shock tool.
When asked what she would want folks to walk away with, Clare-Hope Ashitey cited our country's division. "I can't imagine how hard it is to invest in a society or an economy or a politic when you don't feel seen," she admitted. While Seven Seconds may not heal us, it may help us see each other for just long enough.
You can watch Seven Seconds today on Netflix.
Are you following Black Nerd Problems on Twitter, Facebook,Instagram, Tumblr, YouTube and Google+?