Writer: Joe Henderson / Artist: Lee Garbett / Image Comics
Another issue of Skyward, another strange and dire situation Willa finds herself in. This time, it's being trapped in the underground gravity shelter after Randy blows up the only entrance/exit. Oh Randy. Lilly needs to keep her man in check. Blowing up the only way you know how to get in and out of a place that could possibly collapse and be subject to wear and tear one day wasn't the smartest idea.
More than anything, this issue of Skyward plays out like the calm before the storm. With everyone, in their own way, trying to stop the farmers assault on Chicago before it happens. Willa actually takes being trapped underground in stride. Perhaps, too much.
Maybe it's because she gets some more time to spend with her mother. Frankly, the whole trapped underground issue isn't as dire as it first seemed at the end of last issue. Which is something that I was kind of disappointed with. The only character kind of freaking out about it is Barrow, and even he is a bit nonchalant. The story kind of treats what should've been a big deal sort of like a non-issue. It's like the characters all knew that their situation was temporary from the start. It makes me wonder why Henderson even bothered to trapped them in the first place.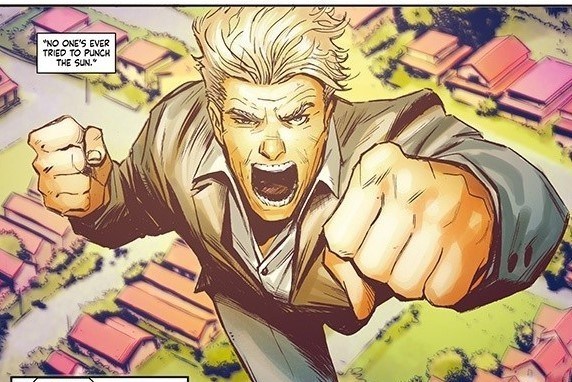 There are some positives though. We get to finally meet Edison's parents and learn more about their relationship. It's a interesting encounter, with Edison's parents being pretty much how he described them, as rich snobs who care about appearances more than anything else. At the same time, there is a lot more to them. More than the basic selfish and evil persona that Edison has shaped in his head. I feel like they are going to play a role down the line.
I'll be honest, this wasn't my favorite issue of Skyward. Some stuff felt like it could've been left on the cutting room floor or fleshed out a bit more to ramp up the tension. Instead, we get an issue that feels like it's just there to pass the time. However, with the farmers approaching, I'm sure we are in for some crazy stuff to go down and for Garbett to show off some low gravity chaos.
7.5 Sun Punches out of 10
Reading Skyward? Find BNP's other reviews of the series here.
Want to get Black Nerd Problems updates sent directly to you? Sign up here!
Follow us on Twitter, Facebook and Instagram!