The hashtag has been floating around for a year: #ProjectLuminous. Using social media, a wide variety of authors have been teasing Project Luminous as the next big thing from Star Wars books. Last night was the reveal, and for Star Wars book nerds, it was news worth the wait. Introducing: The High Republic.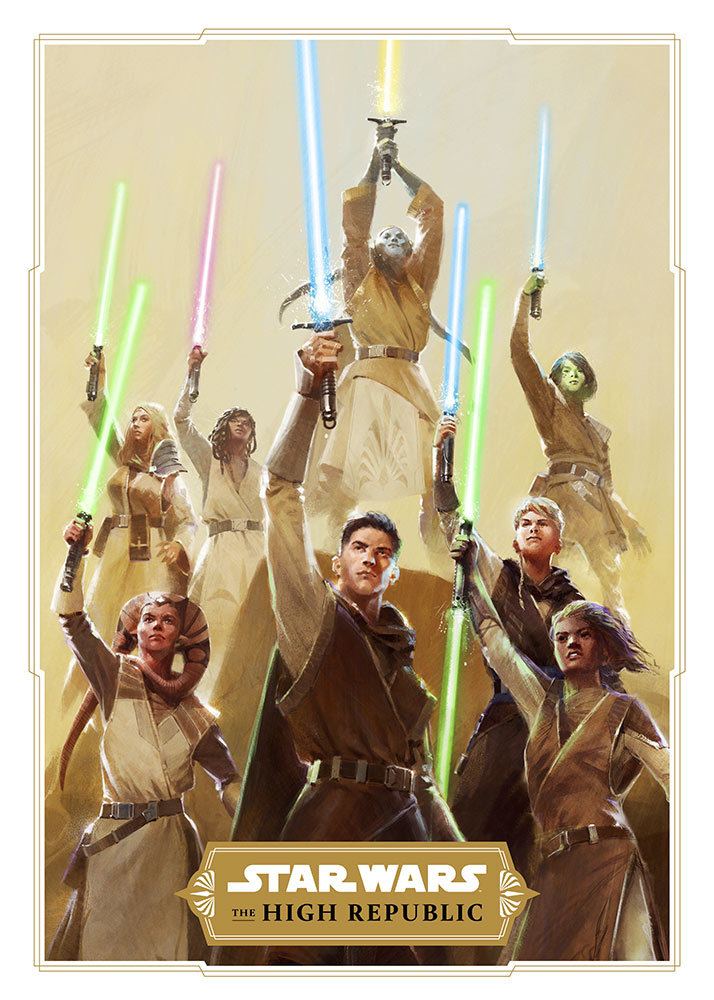 The High Republic
In a collaboration across the publishers that produce Star Wars publications, we'll be seeing a new time period of the Star Wars galaxy. The High Republic. Pre-Clone Wars. Pre-Skywalker saga. An era of peace and prosperity, when the Republic was expanding and the promise of civilization was growing, not shrinking. For us fans used to a Republic under siege, or fallen, or almost forgotten, this presents an opportunity for entirely different stories of adventure that don't center on a chosen man or family. And looking at the list of authors involved, I'm confident that we'll get all the diversity of character and experience we could ask for.
The Books
First off, available in August, comes Star Wars: The High Republic: Light of the Jedi by Charles Soule. Soule has a deep bench of Star Wars comic books under his belt, including Star Wars: Lando and Star Wars: Poe Dameron . This will be adult high adventure with Wookie Jedi — his name is Burryaga Agaburry — and human woman Avar Kriss facing a threat to the galaxy, the Jedi, and the Force itself. It is available for pre-order now.
There after is one Young Adult targeted novel, Star Wars: The High Republic: Into the Dark by Claudia Gray (pre-order link), and one Middle Grade novel, Star Wars: The High Republic: A Test of Courage by Justina Ireland (pre-order link). Into the Dark is about Padawan Reath Silas leaving Coruscant on his first, reluctant assignment. Disaster strikes and Silas finds himself in an abandoned space station surrounded by strange happenings. That same disaster also hits new Jedi Vernestra Rwoh, landing her on a jungle planet with her team. The Great Disaster, whatever that may be, will be one of the uniting events of The High Republic, that will ripple through all of the titles.
The Comics
IDW and Marvel will also be involved in The High Republic. IDW has been the home of the super fun Star Wars: Adventures comics, which has ranged widely across the Star Wars universe. They'll be producing a new series, Star Wars: The High Republic Adventures. Written by Daniel José Older, with artists to be announced, I hope it keeps the high-energy, accessible style of the Star Wars: Adventures comics. This is Older's first (but hopefully not last) comic book entry. Given his stellar showing in Star Wars: Last Shot: A Han and Lando Novel, we can expect plenty of deep cuts and original ideas here.
Marvel will be doing the "adult" version comic series — Star Wars: The High Republic. Cavan Scott will be writing, again with probably a stable of artists. Scott has been writing for the Star Wars: Adventures comics and has a stable of Star Wars: Choose Your Destiny books as well ("Choose Your Destiny" here is a Star Wars "Choose Your Own Adventure" book).
A New Galaxy Of Stories
In Disney style, this is a huge offering for a single announcement, with future extensions of the series promised. There's no indication that The High Republic will make an appearance in any movies or Disney+ shows at this point, but given how interconnected media is, that may just be a matter of time. But there are other publishing opportunities here: a new tabletop role playing game, anyone?
One of the strengths of the Star Wars setting has always been that all of the subgenres of science fiction were possible. One of the weaknesses is that we've been stuck in the war (The Prequel Trilogy), apocalyptic (The Original Trilogy), and post-apocalyptic (The Sequel Trilogy) categories, all centering on The Skywalkers. Now, Disney is breaking into something new: High Adventure Space Opera. These stories will feature brave knights, dangerous raiding villains called the Nihil (pronounced "Nile"), and unexpected settings. Oh, and the costumes! There are plenty of details and author insights in the official announcement video:
We're in for a new era of fun, challenging, exciting, and finally inclusive, content. Enjoy it with me, Star Wars fans. The Force is with us all!
Want to get Black Nerd Problems updates sent directly to you? Sign up here!
Follow us on Twitter, Facebook and Instagram!