Writer: Becky Cloonan / Artist: Steve Dillon / Marvel Comics
What can I say about anticipation for this comic? With the success of Netflix's Daredevil and the breakout performance by Jon Bernthal, old fans are reinvigorated to read more Punisher and new fans are clamoring to learn just who Frank Castle is. Perhaps the best short description of Daredevil comes from a colleague describing Netflix's introduction of the character: "Frank Castle was a war veteran who took his family for a picnic in a park and they were gunned down in a crossfire between two rival gangs. Frank Castle got fed up and became Batman with guns. That's all you need to know." Of course we want to know more, and that's here Becky Cloonan (Gotham Academy) and long-time Punisher artist Steve Dillon come in.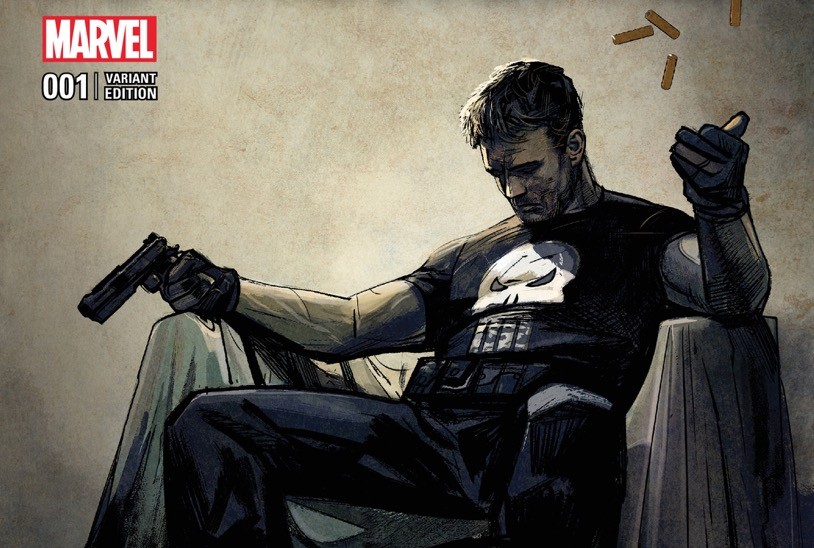 [divider type="space_thin"]
Punisher #1 begins with very little Punisher, actually; instead we dive straight into players of the criminal underworld and the D.E.A. agents tracking them. The D.E.A. is gearing up for a big bust of violent offenders – ones not expected to come quietly – but while they talk case briefings there's the click-clack of metal in another warehouse in New York where Frank Castle plans for his own method of justice. No judge, no jury, all executioner. Suffice it to say, this comic is not for kids.
Dillon's artwork paces well and captures the intensity of Punisher's bloody action scenes. They're appropriately frantic yet easy to follow, which can be a difficult balance to strike. In this entire opening issue Frank doesn't speak a single word… and he doesn't have to. By building the characters around Frank Castle, the hook is set; we already wanted to see more of the Punisher, now we want to know about the people around him too. And the villain on the other side of Frank's justice seems to be a sadistically worthy adversary for our leading vigilante. This is going to be a gruesome showdown with a high body count. I'm in.
9.1 out of 10
Are you following Black Nerd Problems on Twitter, Facebook, Tumblr or Google+?