The Spy Who Dumped Me is a new age spy comedy action flick of the slapstick feel in a rom com burrito. I am not a romantic comedy type of film lover, I can't get past the sappy unrealistic love storylines and weird circumstances that complicate the main characters relationship in most narratives. I wanted to say I was duped into a rom com, but then I remembered the name of the movie is…the spy who dumped me. I admire the film for not taking itself too seriously and playing itself as a hybrid of different genres which allowed the film to not be boxed solely in rom com camp or spy film camp. The Spy Who Dumped Me entertains the buddy cop or should I say, buddy spy feel adding a personal message about finding your talents and embracing your best self–with your support system, your best friend which is allowed a theme I want to see for women.
The movie begins with our spy boyfriend (or ex boyfriend) Drew played by the accidently dashing Justin Theroux in a foreign market, either for fish, or trinkets or billiard balls. Either way, this scene is obviously to show us a market fight with found objects. The movie works with basic spy action, and some witty banter containing a few landing jokes throughout. Best friends Audrey played by Mila Kunis and Morgan played by the funny Kate McKinnon are celebrating Audrey's birthday all in their feelings about Drew breaking up with her via text.
We jump right into the action, we are already witnessing Drew murking agents, punching walls, and getting secret agent money and passports hidden in the walls. All of this juxtaposed with Audrey and Morgan getting revenge on Drew by burning his things. Obviously he can't have his things being burned, you know some sort of important tech is hidden in his stuff that all secret agencies are after – including the private militaries.
There was no time for any real back story, we are already confronted with the lies of the ex boyfriend and our two besties are swung into the life of a spy in order to carry out the delivery of this tech. We were given pieces of back story inserted into pointed moments throughout the flick. I wanted to care more about their friendship, about their duo union, or even more about the ex boyfriend. Mila Kunis's character is uncharacteristically good with a gun, I assume this is because we see her constantly playing shooting arcade games at her favorite bar. Its fun to see these two actors play side by side, and the chemistry is interesting.
As the debauchery unfolds there are twists and turns that I will not spoil and different love interests that are introduced as the journey continues. We get to learn the most about Morgan, Kate McKinnon's character's parents and their relationship. Her parents Carol and Arnie played by seasoned veterans, Jane Curtin and Paul Reiser, the hilarious couple who are definitely just in it for the comments, proud of their baby girl and just glad she is safe as they watch the situation unfold all over the news of their Thelma and Louise spy adventure.
The Spy Who Dumped Me wasn't as side splitting as I had hoped. I wanted Kate McKinnon's charming outrageous character quirks to shine just a bit more. The jokes seemed more humorous to the characters on the screen, than the audience members in the theater seats. This is not to say I did not laugh out loud, there were a couple moments I found myself chuckling, dare I say laughing, but was left wanting in many ways. The antics were cute, the relationship between the two friends being so close and having each others back was nice.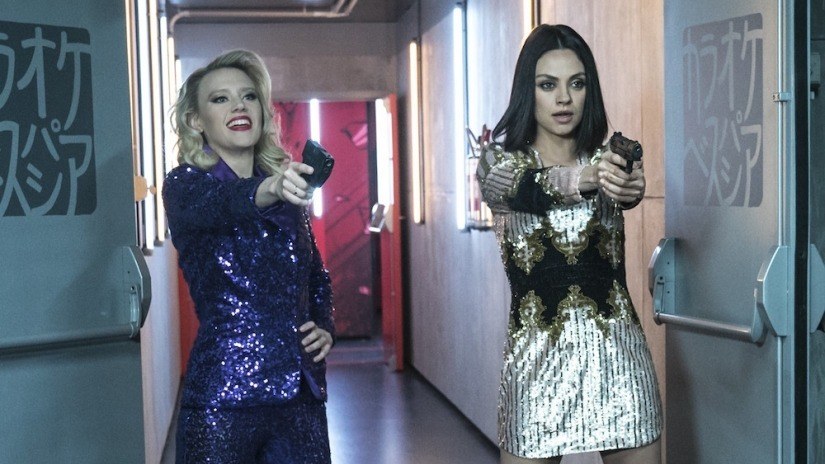 The message the movie wanted you to take away was given to us in the form of Mila Kunis's character: of always seeing herself as ordinary and making a transition of how she sees herself and how she wants to live her life. She realizes, as well as McKinnon's character, that they have a skill for this spy thing and learn how to believe in themselves more fully and their newly found talents for bigger and better things. I wanted to feel this growth and be more emotionally invested in this transition but just wasn't given the chance.
This sounds like I'm asking for a lot for this family friendly comedy, but really I think it would have been funnier if I had the chance to watch these characters' back stories fleshed out just a bit more. Instead the movie used circumstance as an opportunity for exposition – that as a result gave insight into their back story. It made you like the characters but you didn't really go on a journey with them, or fully buy their willingness to go along with the madness.
I did feel a certain way that there were really only two characters of color in the whole film. Special agent, Duffer played by comedian Hasan Minhaj whose character was a pompous ass, which was actually fine for the storyline and you could tell he was having a great time with the character. The one black woman Tess who played the coworker of Audrey was a pain to the main characters, and constantly takeing a dump on their lives. To be fair, It was fun to see and the actress / UK based stand up comedian, Lolly Adefope, do so well in the role. You have to give credit where credit is due and these producers could have cast a white person in that role, but it is more satisfying to watch this talented comedian talking mess about white ladies. We also get to see one of the queens of Sci-Fi (my personal favorite faves) Gillian Anderson as Wendy, head of the MI6. YASSSS! She does a pretty good British accent too. She does play a badass, but to be fair–why wouldn't she pull this off–it's Gillian Anderson!
This theme of badass women is continued with the evil assassin henchmen/henchwomen character, Nadedja played by Ivanna Sakhno who is a sharp shooting gymnast super agent, she is kicking names and taking ass. The badassery is even seen behind the scenes with the movie being women led, written and directed by Susanna Fogel not a newbie but this being her first big box office project is a win for sure. More ladies in film, getting roles, opening doors, I'm about that.
Although I seem to have had higher expectations than I thought, the movie is super entertaining. We got fight scenes, car chases, undercover missions, mixed with the bumbling antics of the BFFs and genuine luck having duo who find out, hey – maybe we could be spies!
The movie made me want to watch Naked Gun 33 ⅓ to just remember that classic over the top slapstick that I have a big 'ol soft spot for. I will admit, I am a harsh critic for films in this genre–this movie is not going to change your life yet I know a bunch of people will really enjoy this film, especially if they like rom coms of the friendship variety.
Want to get Black Nerd Problems updates sent directly to you? Sign up here!
---
Follow us on Twitter, Facebook,Instagram, Tumblr, YouTube and Google+?