On my top-5 list of most-anticipated films of 2018 the number 1 slot is taken, with numbers 2 through 5 still settling, shifting, waiting for the taking. One of those slots now includes Alita: Battle Angel, a film that — if there is a god who loves me — will bring redemption to the sci-fi world after James Cameron's record-grossing white-savior-in-space-Africa catastrophe, Avatar. And yes, though we have much reason to be skeptical, today I'm granting myself the gift of hope, because this could be good. Heavy emphasis on could be.
Off jump, tell me the creative decision behind the anime eyes. As a distinctive characteristic to separate humans and cyborgs, you would think anime eyes would be on the list of things to avoid, yet here we are and I'm asking "how did we get here" to the tune of Deborah Cox because I need to know the answer as much as everyone needs to remember that song.
In this, the year of Ghost In the Shell (I apologize for reminding you of this film's existence and that it was, in fact, this year), it's a bold decision to include cybernetic arms and anime eyes in a film opposite Jennifer Connelly and Christoph Waltz, but I need optimism for 2018 like you wouldn't believe. Remember when we thought 2016 was a trash fire? 2017 was waiting around the corner with Neo Yokio, Transformers: The Last Knight and two Matt Damon movies. This can be good. [looks in the mirror, takes deep breath] This can be good.
"This is just a body. It's not bad or good. That part's up to you."
The big upside: Alita: Battle Angel has a hell of lot at its disposal. The topic of function and ability juxtaposed against Humans-esque questions of the mind-body problem and the Turing test is enough a foundation for most sci-fi fans. Add a coming-of-age story with an action film with an unlimited budget and Alita has the chance to be something both special and unique.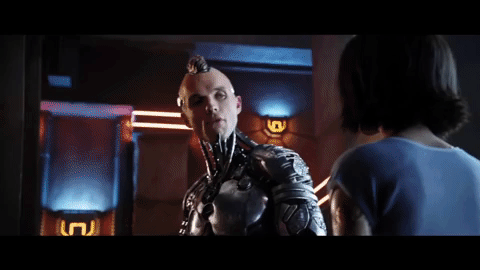 The cast features a lot to cheer for as well, including performances from Academy Award-winners Christoph Waltz and everyone's favorite who we can't stop cheering for, Mahershala Ali. If he can save Mike Coulter's performance in Luke Cage and the tattered remnants of what Vince Vaughn did to True Detective season 2, he can save us from James Cameron. Here's your plot summary:
"…an action-packed story of hope, love and empowerment. Set several centuries in the future, the abandoned Alita (Rosa Salazar) is found in the scrapyard of Iron City by Ido (Christoph Waltz), a compassionate cyber-doctor who takes the unconscious cyborg Alita to his clinic. When Alita awakens she has no memory of who she is, nor does she have any recognition of the world she finds herself in. Everything is new to Alita, every experience a first. As she learns to navigate her new life and the treacherous streets of Iron City, Ido tries to shield Alita from her mysterious past while her street-smart new friend, Hugo (Keean Johnson), offers instead to help trigger her memories. A growing affection develops between the two until deadly forces come after Alita and threaten her newfound relationships. It is then that Alita discovers she has extraordinary fighting abilities that could be used to save the friends and family she's grown to love. Determined to uncover the truth behind her origin, Alita sets out on a journey that will lead her to take on the injustices of this dark, corrupt world, and discover that one young woman can change the world in which she lives."
Are you following Black Nerd Problems on Twitter, Facebook,Instagram, Tumblr, YouTube and Google+?