You heard what I said. That's the face of a rat. A stool pigeon. A squealing little pig. For 40 years, y'all let this man rock as this so-called hard-nosed reporter when all I see is a snitch in journalist clothing. I'm looking at all of ya'll disgusted!
Your First Mistake
Should have seen it coming when Ben was out here spilling all the beans about the Bast blessed Night Nurse stitching up hood heroes in these Chinatown streets. Na na na, he was "discreetly" reporting on this beautiful act of vigilante assistance. He wanted the My Hero support class to feel seen, right? He was very careful not to reveal anything, right? Yeah..you know, except for his own dam name and the fact that he himself contained all the information any villain/organization would need to fuck up that whole operation. Yeah, well it doesn't take a genius to surmise what would soon happen. They forced ya mans to drop a pin on that Night Nurse location, and it was a wrap after that.
There's plenty of petty, snitch-like activity that went down in Ben Urich's life before the most recent and heinous informant activity, but we ain't got time for all that disappointment. Instead, we focus on the impending act of high snitchery.
Your Last Mistake
The X-Men (and all of mutantdom) have been droppin jaws, making headlines, and infuriating humans with their displays of superiority for decades. But recently though?? They've stepped up their game to a whole other planetary level. Literally. Their Mars takeover, revolutionary business ventures and typical yet remarkable heroics have them back as the center of attention on Earth. They pissin off all the homo sapiens and really, who's surprised? Nobody.

But their greatest achievement? The pinnacle of "mutant technology" is being kept on the low. A synergy that only homo superior could pull off. We talmbout immortality baby! If you don't already know, these gifted individuals have mastered the ability to bring a dead mutant back to life, and that is dangerous information to be in possession of. If news broke that one of the most hated and persecuted groups on the planet now have 0 reasons to fear a dam thing in life, there would be chaos! Can you imagine? And guess who was just handed the keys to the narc kingdom? This week's X-Men #3 saw a mysterious individual give Ben Urich a file containing Cyclops' autopsy. The power is in Urich's hands now!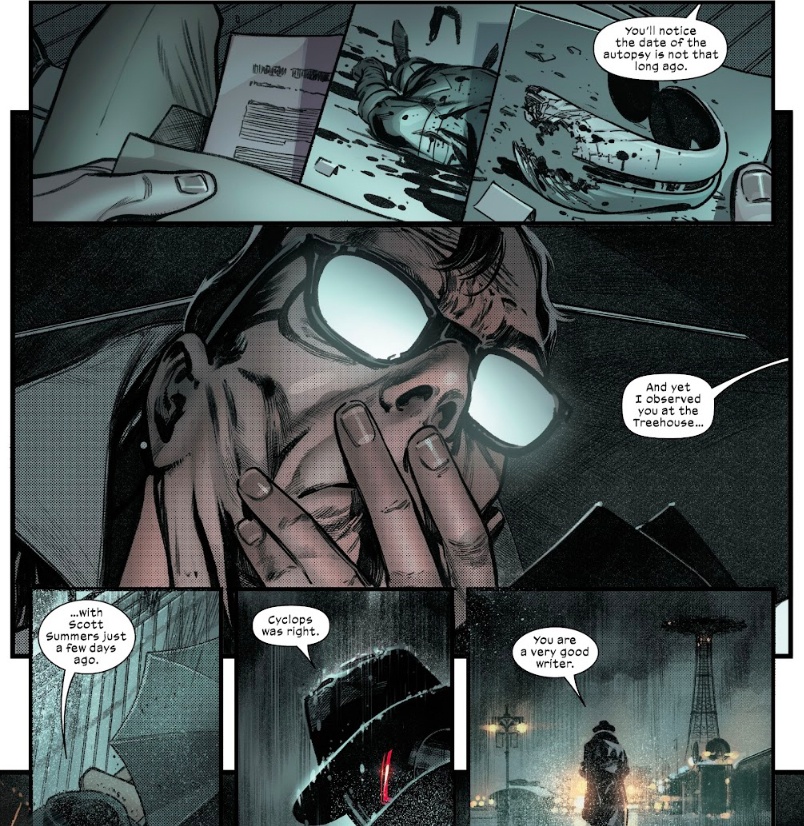 Before these recent developments, I liked Ben Urich, mostly because I love the MCU/Daredevil portrayal of him by Vondie Curtis‑Hall. But lately, it's become clear that the man has some suspect morals. At least, that's how most people would critique him. In my eyes, dude is a bonafide snitch, on his way to 6ix9ine clown levels of ratting people out, and that just doesn't sit right with me. I'll admit, Urich has shown the slightest bit of restraint in the past, like when he discovered Daredevil and Spiderman's secret identities, but didn't tell the world what he knew. Although it's unlikely, here's to hoping Ben Urich comes to his senses and allows the mutants to come back to life as they please.
P.S. Cyclops was always right.
Want to get Black Nerd Problems updates sent directly to you? Sign up here! Follow us on Twitter, Facebook, Youtube, and Instagram!