writer: Ta-Nehisi Coates / artist: Wilfredo Torres / Marvel Comics
A new arc has began with Black Panther #13, with some hope rising from the dismal existence that is the Wakanda government, post-holding-off-rebellion. The glorious ending to #12, with T'Challa paying Storm a visit, picks up with them very much in the throes of a romance. So, this has been a long time coming for comic book fans, specifically comic book fans that loved the idea of Ororo and T'Challa previously and were left in bewilderment when T'Challa annulled the marriage. Ya know, to the woman that literally went into the afterlife to save him. Don't get me started.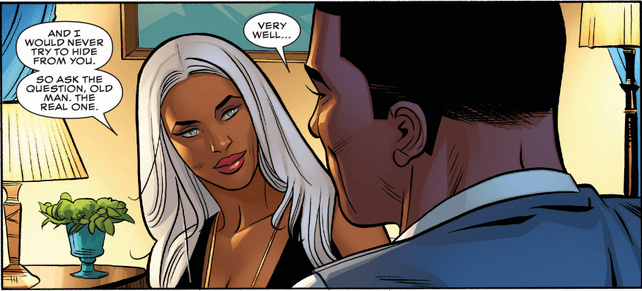 What Coates nurtures here with Ororo and T'Challa is the best part of the relationship that existed previously, showing the strength of Storm as a confidant and support system and the vulnerability of T'Challa as he confides in her. Their interaction does double duty of fleshing out the state of their relationship and giving us exposition on what currently plagues Wakanda and will undoubtedly dominate the next arc of this book. The reunion of the biggest fictional Black Love story in comics is still only a part of the movement as we see what may be growing in the embers that war left in Wakanda, especially shaky alliances and failing faith in their gods, who seemed to be vacant during the war and take an even more troubling turn by book's end.
The only issue with this installment? Torres art doesn't capture these characters or environment the way that Stelfreeze or Sprouse has in the previous twelve issues. The pencils are adequate, but not as sharp as we're accustomed to and doesn't jump off the page befitting the writing.
Black Panther baaaaack, with a new story arc, and a new love story, same as the old love story except with Coates behind the boards. So far, it's all off to a good start.
8.8 Post Date Discussions out of 10
Reading Black Panther? Find BNP's other reviews of the series here.
Are you following Black Nerd Problems on Twitter, Facebook, Tumblr or Google+?