Writer: Kelly Thompson / Artist(s): Victor Nava & Gerardo Sandoval / Marvel Comics
Writing a Deadpool book is no easy task. It comes with a demanding expectation of humor, guts, and gore. You need to pick and choose your moments to make Wade Wilson the hero, while allowing the dick that is Deadpool have his edgy, borderline inappropriate way. In this issue, Kelly Thompson marries that ridiculous comedy that you expect from the Merc with a Mouth, with a believable threat in the form of the Bone Beast Queen!
Sandoval, Nava, and Chris Sotomayor all work in tandem beautifully and it does wonders for Kelly Thompson's final act of this arc. The absurdly straightforward illustrated words that accentuate the movements, stabbings, hits, and effects are in your face and amazingly done. This artwork really provides a kinetic feel to the sword slashes and action panels. I enjoyed taking time exploring the whole page and appreciating the images that bring this bonkers horror story to life.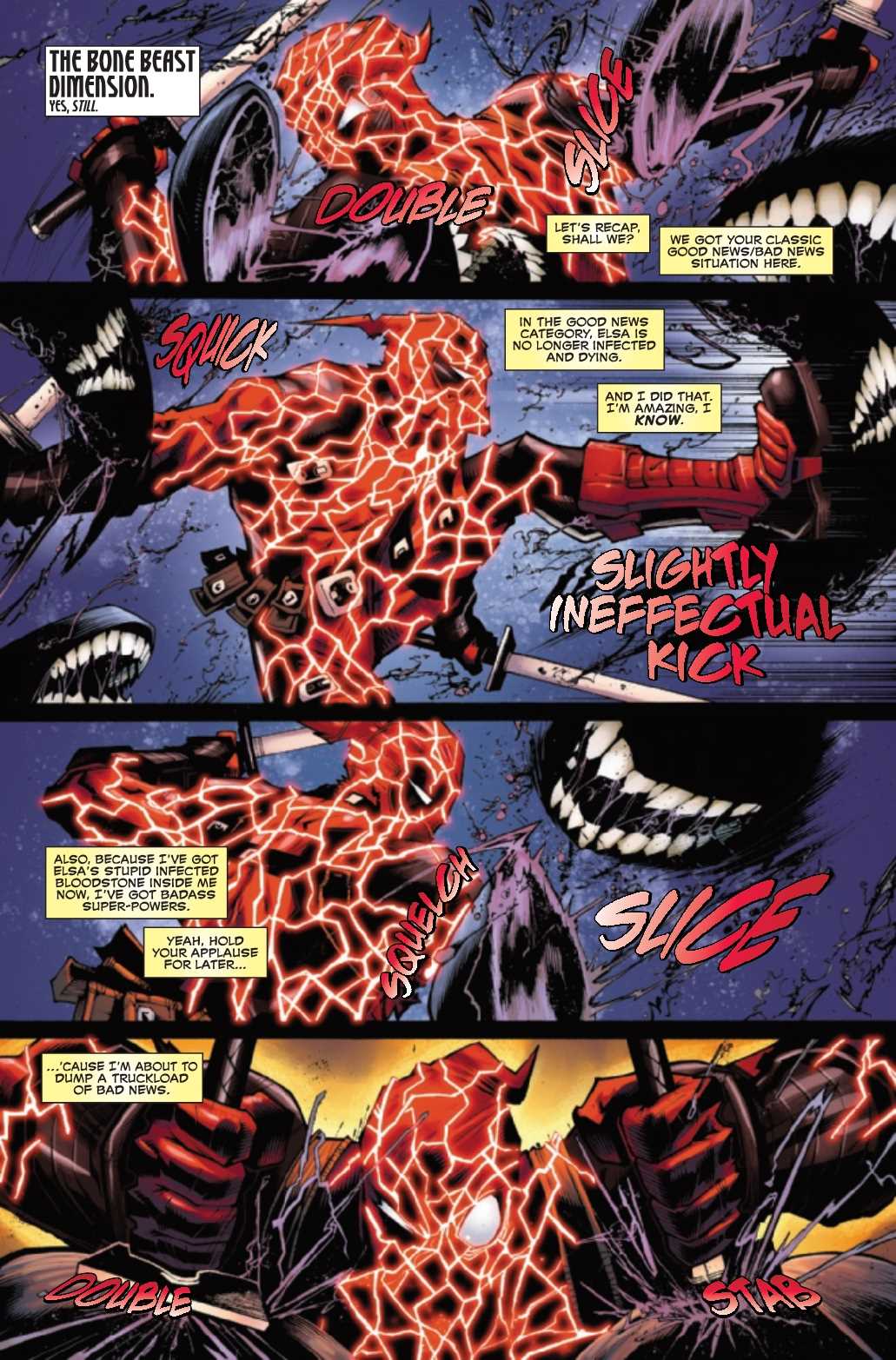 Issue #9 of Deadpool explores the complicated yet romantic relationship between Wade and Elsa. I'm openly bias in my stance that I'd kill for an extended Deadpool and Bloodstone relationship, and can you blame me? Deadpool is a certified maniac with a giant heart, and Elsa is a bloodthirsty monster hunter who swears more than a dam sailor. These two don't spend much time together during this issue, but the tender moments we do see are swiftly replaced with childish one-liners that hit every time.
This issue isn't going to blow any minds, but it does provide a nice end to the bone beast betrayal that Elsa pulled on Wade. The stakes are believable enough that you wonder how Deadpool will make it out of this one, but the payoff was worth it. Kelly Thompson is having some fun while writing Deadpool and issue #9 showcases why she's been excelling in that role.
7 Ancient Monster Gods Out of 10
Enjoy Deadpool? Check out BNP's other review here.
Want to get Black Nerd Problems updates sent directly to you? Sign up here!
Follow us on Twitter, Facebook and Instagram!