Writer: Donny Cates / Artist: Geoff Shaw / Image Comics
This book is so freaking Bars. My god man, I was really excited with the drama turn in issue 2 with Emmet explaining how Alzheimer's is a curse to the God of War. Emmet's decision to keep the sword (as it gives him clarity) and prepare for war is real G shit. We open up this issue seeing Emmet clean shaven and playing with his granddaughter. Roy get's an apology from his wife for the way she behaved as he was grieving and having seen Emmet now, she understands where Roy was coming from. Roy reveals that the way his father is with their daughter isn't how he was with him as a child.
Isn't that always the fucking case, man? Parents stay going soft for the grandchildren and letting them get away with murder. We delve more into that which I am happy about as we reveal that Volifax (to his own admission) isn't great with kids.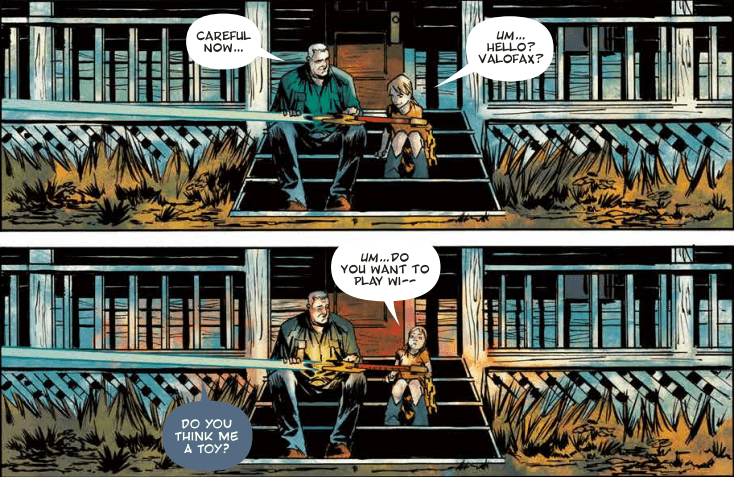 Cates has Emmet dropping bars as he talks with his son. We get a hint into all we need to know about the type of dad Emmet was as he tells Roy. "Ya moms hugged you too much, b" when Roy wanted to talk about what Emmet overheard him discussing earlier with his wife. We're seeing how Emmet isn't the nice old grandfather, and understanding Dad from a sitcom. Dude is kind of a dick, but low-key nothing overt. What I really liked about this issue is Cates having Emmet say the real shit that any parent would tell their child in not wanting to become a burden due to a circumstance.
That's my shit right there, we got a sword that can talk. God's coming down for war, and magic full blown in this issue but those bars Emmet was dropping on that porch to Roy is the hard shit.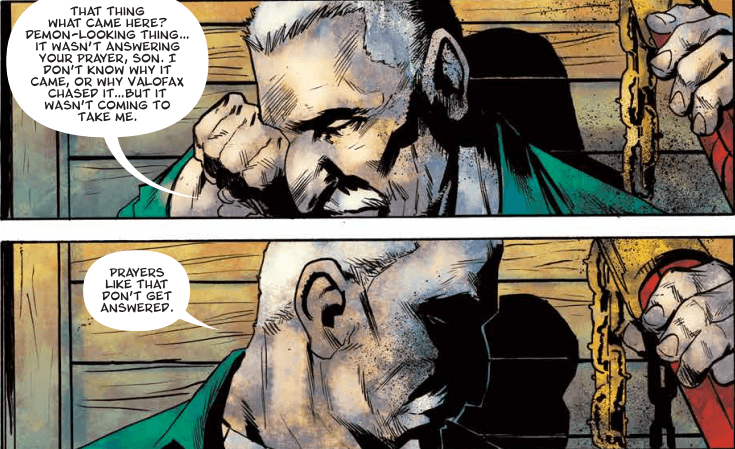 This issue isn't all dialogue heavy and the first wave of war comes into effect. I don't even wanna share what goes down with you and how it all pops off. just know that when you see it, shit done hit the proverbial fan. We get a glimpse into Valofax's abilities as well as his chemistry in the midst of battle with Emmet (or lack thereof). Geoff Shaw out here with the murder music this issue. Literally. We got the personal moments and then the straight up hack and slash Dynasty Warriors attack (3 people will get that reference).
It's such a darker tone once the action gets underway and the story propels forward. Again Shaw got so much grime and grit to it, it reminds me of a smoother version of Ben Templesmith's artwork from Ten Grand. Shaw's visuals are raw but look so smooth and controlled and each otherworldly figure he has drawn stands out uniquely each issue.
I'm really glad I was following the release of this book, man. I love the approach and I love the themes intertwining into this story. You know the movie deal coming for this shit, right? You know that's coming in like five to ten years time. Yo Cates. Shaw. When that happens y'all gotta put either Denzel Washington or Idris Elba as Emmet [and Michael B Jordan or Michael Pena as Roy]. Nobody does grizzled old man that'll snap your face off like them, don't sleep on 'em.
10 Fan Castings to Consider out of 10
Reading God Country? Find BNP's other reviews of the series here.
Are you following Black Nerd Problems on Twitter, Facebook, Tumblr or Google+?