Season 1 / Episode 10, "God/God" / Crunchyroll
God's plan, God's plan
I hold back, sometimes I won't, yuh
I feel good, sometimes I don't, ayy, don't
I finessed the GoH Tournament, ayy, 'nessed
Might go down a G-O-D, yeah, wait
I go hard on South Seoul streets, yuh, Way
I make sure the trio eat
And still

Bad things
It's a lot of bad things

Jin Mori x Drake
Commissioner P and Park Mujin survey the scene after returning to the rubble of a flattened city of Seoul. They confirm that the god who appeared over the arena was murked out by Jaesan's nuclear meteor super-hyper-combo-finish technique. Our GoH holy trinity have fallen into a cave, where a battle against Shark Tooth on steroids Jegal Taek rages on. Taek transformed into a god after absorbing The Key and it's time to put up or shut up in these Charyeok streets.
Mori, Daewi, and Mira are the only ones left after being sent to "the holy realm" and face Taek together. Immediately, Taek goes on the offensive and tosses Mira fifty feet like a human javelin! They go in with coordinated attacks but don't even scratch the devil in his new design. We've all been waiting patiently for Mori to embrace his new power. Boiiiiiiii was I hype when he started to unleash those latent abilities!
[Sidebar: You can't tell me Mori and Goku ain't cousins! From the hairstyle to the pole weapon. From the eating habits to the unabashed desire to fight their friends to get stronger. Love the parallels between these two.]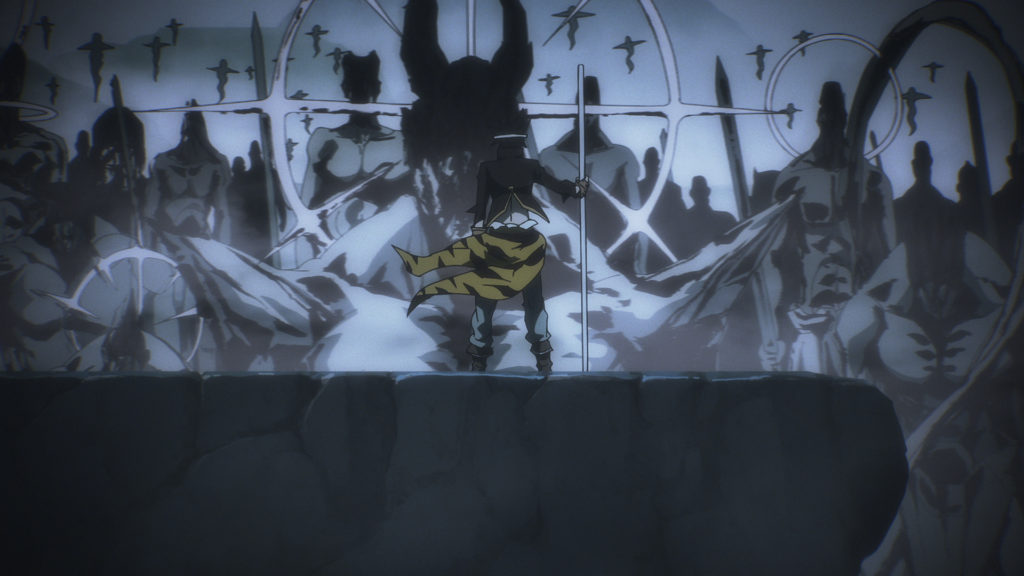 We're on an ultralight beam/ We're on an ultralight beam/ This is a God dream, this is a God dream/ This is everything, this is everything/
Daewi steps in front of a vicious strike aimed at Mori and is severely wounded. That anger, that empathy, that vengeance takes over and had our boy calling forth the power of Sun Wukong (aka The Monkey King!) and his
magical staff Ruyi Jingu! When that pillar of black struck the ground and he walked up to it like a prince ascending the throne, I was audibly rooting for him as the camera panned around to each character's reaction. It was a beautiful moment.

But Jegal ain't here for the sentimental shit and gives Mori the business with everyone looking on. The boy that Jin Taejin took in gets the hang of this new weapon by crushing a few of Taek's dark world titans and engaging in an illuminating one-on-one in hyperspeed.
Just as it appeared that Taek's immense new powers were going to consume Mori, he sees a torso opening and pulls an Arya-like move by commanding Ruyi Jingu to grow. The blow is the start of a series of revenge tour hits that show the true power and capability of The Monkey King. "This is for Daewi! This is for Mira! This is for Seungah and her sister! This is for Ilpyo!" Then he delivers a devastating blow. Taek screams out, "I am not a loser!" and Mori responds by calling Kinto-un to gather and coordinate some continuous Thor-level lightning strikes that consume the villain.
Becoming a God > Borrowing From a God
Park Mujin and the rest are still marveling at the wild turn of events and make a very important note. That instead if borrowing power, Jin Mori is a God in the flesh during that beat down. That is definitely going to be important next season. Seemed like the trio was also looking ahead to next season, as Mori collapsed in vast hunger and lost his God powers…

But Jegal Taek still wasn't done with them just yet! Mori's power wouldn't return to him so Ilpyo pulls up to do battle with the team. He's got that nine-tailed spirit, Bruce Leroy glow still flowin through him so he puts in the overtime work! He even found time to tag-team one attack with Mira's 'Lu Bu Fengxian' power and his 'Night Parade of 100 Demons'. It was pretty ill.
It was yet another Jin Mori Original, this time the Imperial Divine Dragon Fang that turns the deformed new image of Jegal Taek into stone, like Medusa! Jeon Jaesan smiles as death inches closer to claim him. Ilpyo, Bast bless his tender heart, doesn't let this devouring Charyeok consume Taek. However, the stubborn fool refuses to help the "trash" and is eaten alive.
Key Guardians and Wish Granting
Ma Bora unwittingly wakes up Kim Ungnyeo, progenitor of the the human race and member of The Six, who arrives to grant Jin Mori any wish he desires after winning the tournament. No one can be brought back from the dead, but anything else is fair game. He looks around and considers healing everyone to the way they were before the tournament instead of his true wish of having his grandpa returned to his side at once. 
Of course, he chose to heal everyone's severed limbs and broken bodies like a truly honorable Monkey King. After the team asks Kim some key questions, they find out Mori has to go to Sun Wukong's homeland to get his memories back. Daewi is hyped, and Mira knows she has to accompany her crew to make sure they survive.
Y'all. We went from a high school tournament to borrowing powers from deities, to a God falling from the sky to the city of Seoul's armageddon and humans becoming deities. The next time we see our trio, it will be on the way to this mysterious homeland that I'm sure will be filled with tests to help our crew get stronger. It's been a wild ride that escalated quickly over the last three episodes, but I like the world they've set up for us. These Crunchyroll Originals will not be denied!
Looking Ahead to Season 2
Sang Mandeok seems to have infultrated the Korean government, or some party, and Park Mujin plans to put the kibosh on that. The blonde, Commissioner R is in the cut waiting on his next move.
Kim Ungnyeo and the older Six member used to have a thing. He's also Seo Hanryang's big brother.
Turns out Ilpyo is the key's guardian and has to gather up the key fragments that have been dispersed like the dam dragonballs.
Last but certainly not least, humans can't kill Gods, unless the key's power is unleashed, making them capable of pulling Gods out of the Holy Realm and delivering fades.

In the final moments, we see Jin Taejin locked up like Jaime Lannister after getting his hand chopped off. He was saying he knows Mori is strong enough to win against God, against fate…Against Grandpa Jin himself! Seems the bad guys plan on using the old man as a sacrifice to bring them a new God and he's ready for his grandson to kill him or stop him when it's time.
Watching God of High School? Check out our other reviews here!
Want to get Black Nerd Problems updates sent directly to you? Sign up here!
Follow us on Twitter, Facebook and Instagram!