Over the last couple of years, I decided to re-watch Pokémon very slowly. I watch it to lull myself to sleep or use it as a background noise as I work from home. There is something about being disappointed in Ash over and over again that feels awkwardly soothing. During quarantine, I imagine that many folks started diving into shows their friends have been begging them to begin years ago. After all, we're home, and this is the perfect time to dig into something you're not used to, but in times of anxiety I find myself returning to the shows that I enjoy. This started to make me reflect on the comfort levels we feel returning to the things we know.
Nostalgic Predictions
Whether it is television, video games, or books, I've seen this relationship time and time again with revisiting mediums that we are able to comfortably predict. I've always pondered why my father goes straight to Everybody Loves Raymond, Seinfeld or other sitcoms almost regularly. By the time I was 12, I was be able to perfectly predict the reactions of each character of his favorite shows. I thought about the homeliness of sitcoms and their formula. What about it makes audiences return even though each episode can be summarized by four specific actions? The basic formula being: Character A fails at this while B tries to console A and finds humorous ways of doing so. Characters C and D go on and adventure somewhere they shouldn't be going in spite of their friends' advice and they run into (insert predictable problem here). Granted, a plot cannot be successful without a conflict and this is why we consistently return to these templates, but is there a correlation to formulaic television and the soothing of anxiety?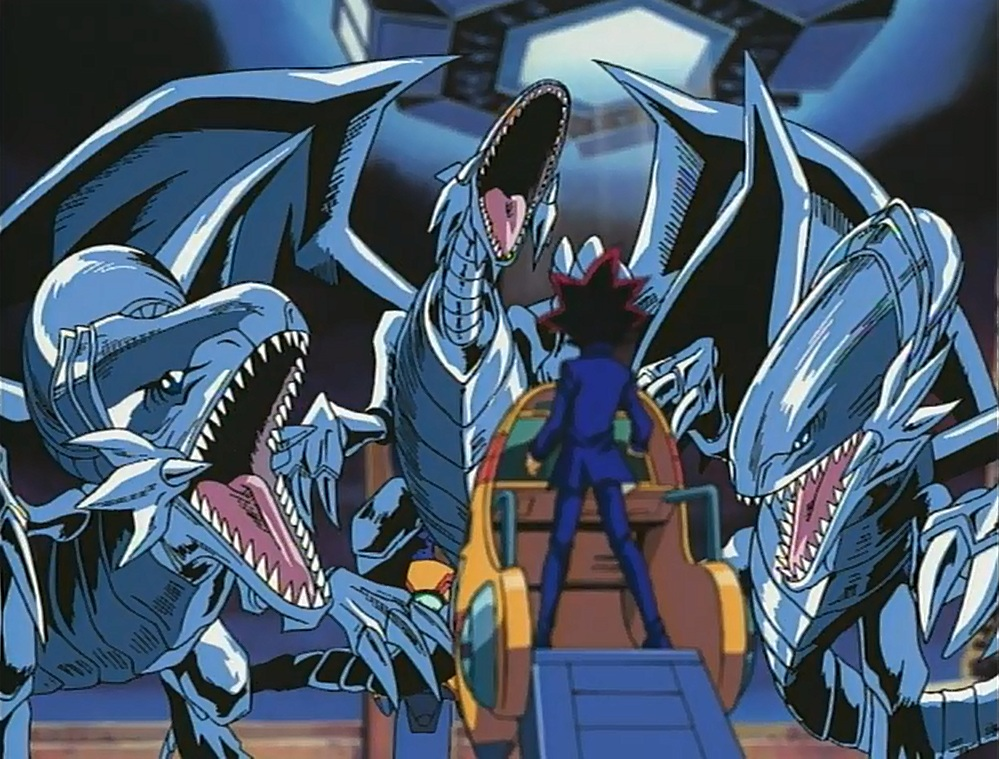 I first recognized formulaic television while I was re-watching Yu-Gi-Oh! (Pre-Yu-Gi-Oh GX). As I was at work, filling out graphs and templates I had Seto Kaiba's roasts playing in my ear like a soothing Christmas album. Whenever I knew his roasts were coming, I shifted at my desk and my spirits were lifted almost immediately before he even said something. This made me think about the reward triggers in our brain. Most sitcoms and cartoons have the perfect formula that release the reward trigger in our brain at certain designated times. Even when it seems like we're not taking in something physically tangible like maybe candy or physical affection, it grants us reward receptors in forms of "relief."
Instinctual Reward Systems
Watching television often feels almost like our brain solving a puzzle. People gravitate towards routines instinctually. What we consider to be routines are technically up for debate. Of course, even folks who gravitate towards something that breaks traditional routines arguably still follow predictable movements. Western television programming has been specifically catered to the 9-5 workday schedule with specific "primetime" hours catered for family togetherness. Jokes that don't cross a "line" as the children will still be awake, yet gives enough to push a giggle. So, when we think of famous "primetime" shows that happened back in the day, there is an emotional signifier that's meant to both trigger nostalgic and familial memories.
The science behind the sitcom was always dependent on time. Schedulers want viewers to come to their network with a specific emotion so that they would be able to keep their audiences. When schedulers want to introduce a new show, they would place it directly after one that already garners plenty of attention. Example: When Young Sheldon was introduced it came directly after Big Bang Theory. Granted, this is a prequel to their already successful series, but placing Young Sheldon before Big Bang Theory would not have a similar effect because convincing an audience to stay is easier than convincing the audience to come early. Young Sheldon was a different kind of production from its original series Big Bang Theory, and it could be hard to go from the "new" straight into a single cam production without a huge audience. This same analogy could be applied for Saturday morning cartoons. There was a line-up that networks had to pitch to keep kids engaged, each network had their "schedule pitch," and even up to this day there is a cultural attachment to this schedule.
If there is anything that television taught me is that sometimes emotions can be given a formula. What makes old television and sitcoms so alluring is its familiarity. Not to say that new projects do not excite us, or cause us to think, but the inevitable "nesting zone" of television is what allows it to keep going. It's one of the reasons why there's so much money going into remakes. As we hope for new content that invigorates us, I believe the first step is being able to dissect the "scheduled" attachment formula and decide on if we want to adhere to the models or reform them in order to best fit a new era of content.
Want to get Black Nerd Problems updates sent directly to you? Sign up here!
Follow us on Twitter, Facebook and Instagram!