We got the chance to interview the lead voice actor for Jessica's Little Big World, Lucia Cunningham (Jessica Williams), along with show runners, Tiffany Ford (EP/Co-Creator), Ben Levin (EP/Co-Creator), and Matt Burnett (EP/Co-Creator). We talk about the different dynamics that exist with Jessica taking the spotlight as the youngest sibling, the risks the show takes, and how Jessica's imagination plays out throughout the show. You can check that interview out above and read the review of the show below.
You can quote me on this. From 2018 to 2023, Craig of the Creek was the best cartoon on the air. It achieved greatest of all time status. The internet loved them 'creek kids' even when that Warner Bros. Discovery merger didn't love them back and canceled them. My heart was hurt then, but knowing we had the spin off Jessica's Big Little World waiting in the wings was enough to let me bump that Celine Dion because I knew with this spin-off, my heart would go on.
Jessica's Big Little World hits the ground running and captures a childlike wonder much different than its predecessor. In Craig of the Creek, we see the world through Craig Williams eyes and his dynamic with his family. With the spotlight now being on Jessica, the world as she sees it feels much softer than her older brother Craig. The background colors of Jessica's Big Little World are filled with soft pastels. The characters we've seen before are drawn with a lighter feel to them. Obviously, this is due to there being different artist, but it serves as such a great difference between Jessica and Craig's reality.
Little Jessica, Big Differences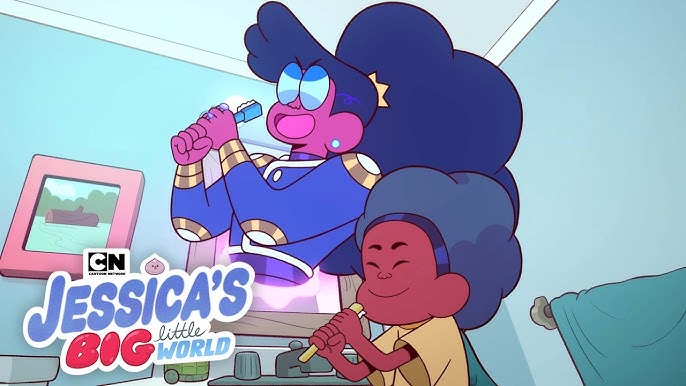 One of my favorite things about the show is getting to see the different dynamics between Jessica and her siblings. Craig is soft with Jessica but has moments where he is short with her like Bernard can be with him. However, Bernard is never short with Jessica. Bernard speaks softly to her, is patient with her, and serves as more of a guide. We see Jessica isn't antagonistic with Bernard but is often in awe of him. I am such a fan of how the mother, Nicole Williams, often says, Miss Jessica when talking to her daughter. Jessica's journey in the show is wanting to be a big girl, and I feel the nickname her mother gives her acknowledges that. That acknowledgment is important as we then start seeing how Jessica envisions her older self in the mirror, which then comes to life.
Big Jessica (voiced by Ozioma Akagha) is such a delight on screen. She's dressed like she stepped out of a Janet Jackson video. I'm a huge fan of her presence as it shows how Jessica's imagination works. Big Jessica is also entirely relatable as children often wonder and try to envision what their adult self will look like. Jessica's Big Little World captures perfectly the way that children see things. We see Jessica try to be more of a big kid, fail, then set plans for herself to succeed (just like a kid would).
The show is giving us an incredible look at Jessica Williams as a little girl headed toward her coming of age story, but first she's gotta master becoming a big kid. Lucinda Cunningham continues to do amazing work capturing not only Jessica's humor but innocence as well. We're seeing how Jessica makes friends, what it looks like for a child wanting to take on more responsibility, and most importantly, we get to see her flourishing in a loving environment. I am three episodes in and loving this series.
Although Craig of the Creek, got taken from us too soon. Jessica's Little Big World truly feels like a baton pass, movement, and most of all an avenger for a show that was doing groundbreaking work. Now, with Jessica's Big Little World sole focus on Jessica, we get to see her stepping up to take over and show why this spin-off not only stands on its own two feet but why it will be a contender for goat status as well.
Want to get Black Nerd Problems updates sent directly to you? Sign up here! Follow us on Twitter, Facebook, YouTube, and Instagram!