Writer: Max Bemis / Artist: Michael Dialynas / Boom! Studios
With a puny name like Lucy Dreaming, I can't help but be endeared to the latest addition to the young adult coming of age story pantheon. The opening panel of Lucy excitedly recapping the last of chapter of Reena & the Scarlet Menagerie to her wide-eyed parents are reminiscent of my childhood breakfasts, perhaps sans the knife.
Lucy looks like your typical teenage girl stereotype, but Bemis intelligently navigates and addresses the common tropes associated with the character early and often, and makes a cognizant effort to avoid the easy, reductive shortcuts. Lucy plainly states that she records everything in her fake blog because she's too pretentious to call it a diary. Lucy recognizes the "I'm not like those other girls" mentality and is quick to acknowledge that she doesn't see herself as separate or better than "other girls." It's a small thing, but it does go a long way.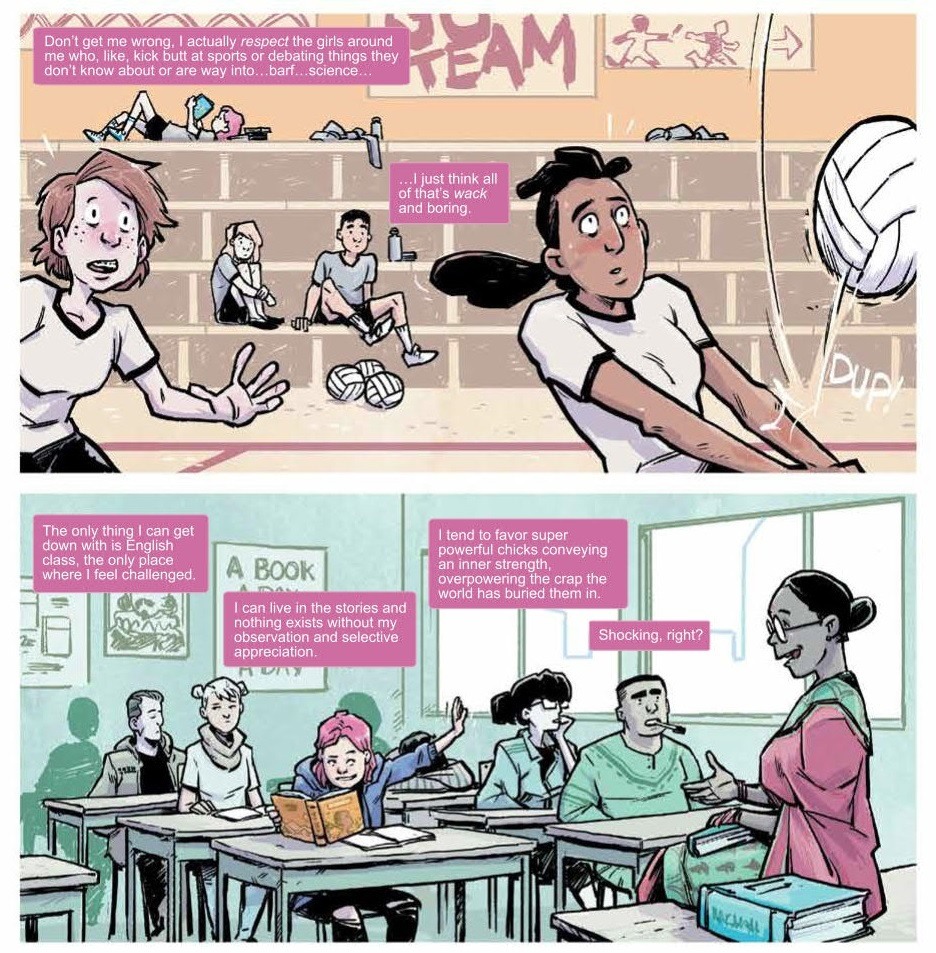 The second act of the issue kickstarts the plot in proper, and Bemis and Dialynas have a ton of fun in the Star Wars inspired world where Lucy finds herself playing the role of Princess Eleanor after mysteriously gaining golden pupils and falling asleep reading a book. Dialynas effortlessly switches style between the coming-of-age school story to sci-fi space opera, while Bemis lets his characters chew the scenery and it's campy in all the right ways. It's a great homage and also just great story telling as it slowly leads into the myth arc.
If you liked the 1994 film The Pagemaster or enjoyed Vertigo's more contemporary The Unwritten, you're going to adore Lucy Dreaming. If you have a younger reader that has a knack for daydreaming, they're going to love watching Lucy's opening chapter unfold. It's a familiar premise that has gotten a much-needed upgrades than to the thoughtful and fantastic creative team. It's fun and smart in all the ways you want a young-adult comic in 2018 to be.
Lucy Dreaming #1 gets 9 "Fake Blog Posts" out of 10
Are you following Black Nerd Problems on Twitter, Facebook, Tumblr or Google+?